Safe Steps For Driving In Mud
Last updated
Feb 17, 2021
0 comments
Driving is one such experience that most of the people love to cherish and enjoy. However, the rules for driving are different when it comes to driving through the mud. It is no more similar to playing in the mud as kids but it seeks much more attention while driving in mud. Don't ever think of mud driving unless it is not that necessary.
If you are on a route where driving through the mud has no alternative option, then you must be aware of the necessary tips and techniques to make it through. Here are some of the tips and techniques that will help you to make it through the muddy areas without many difficulties.
Best Ways To Drive Safely In Mud
Always remember that irrespective of these tips and techniques for driving through the mud, you can face some variations because of the different driving surfaces and muds.
1. Be Slow And Steady
When you are driving in a muddy area, you should try and maintain a steady speed. Do remember, never to go beyond a certain speed limit when driving in mud as it can be extremely dangerous. Driving in the mud requires you to drive as slow as possible and as fast as necessary. Don't make the mistake of rushing in the mud areas as the slippery surface won't be a good option to do so.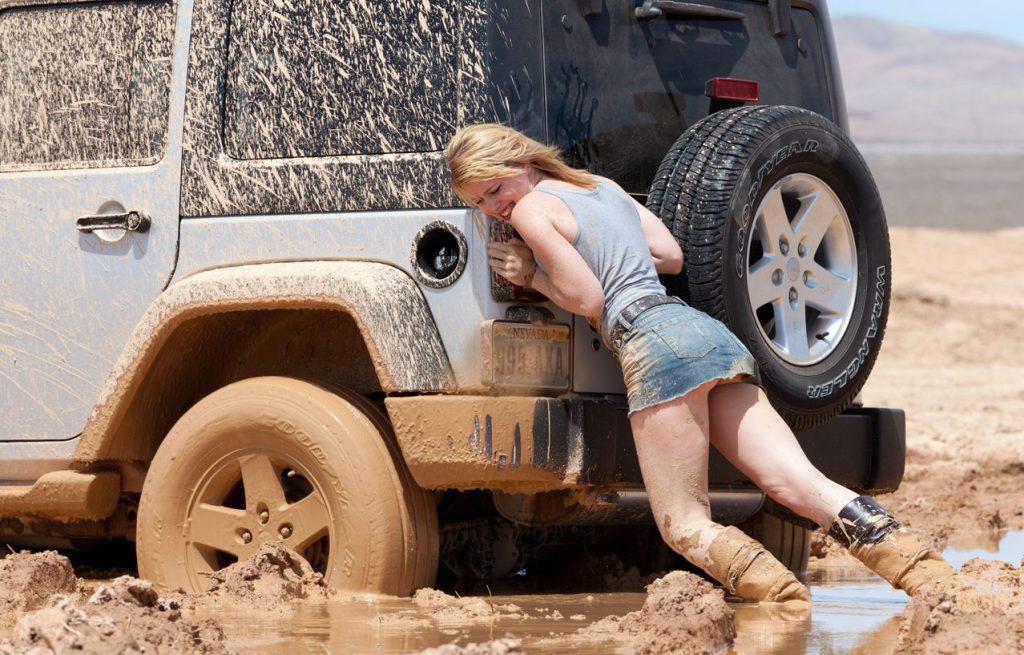 >> Buy a high-quality used car at best deal from Japanese authorized dealers here <<
2. Maintain The Necessary Control
Driving in mud is all about the needed control. Though, it is hard to maintain the required momentum and not to lose the control but handling the vehicle well is the utmost necessity in such areas. You must try and maintain the control for as long as your momentum allows.
You can try racking the wheel forth and back for maintaining the required control when driving through the mud. This will also help in treading the tires edges. One of the best ways of doing so is to try moving in one straight direction without moving the wheels much and unnecessarily.
3. Check The Mud Level
To avoid the problems of deep mud and water holes in between while driving through the mud, you should first check the level of mud. You can get down and walk through the muddy surface to have an idea about the depth of the mud. However, if this is something that you aren't much willing to do, then you can also try dipping a stick inside the mud to be sure that it isn't too deep for your vehicle.
This step is quite necessary in mud driving as it will help you to develop the required driving strategy. Avoiding this can sometimes land you in trouble as you will not be aware of the mud depth and thus can get stuck inside the mud.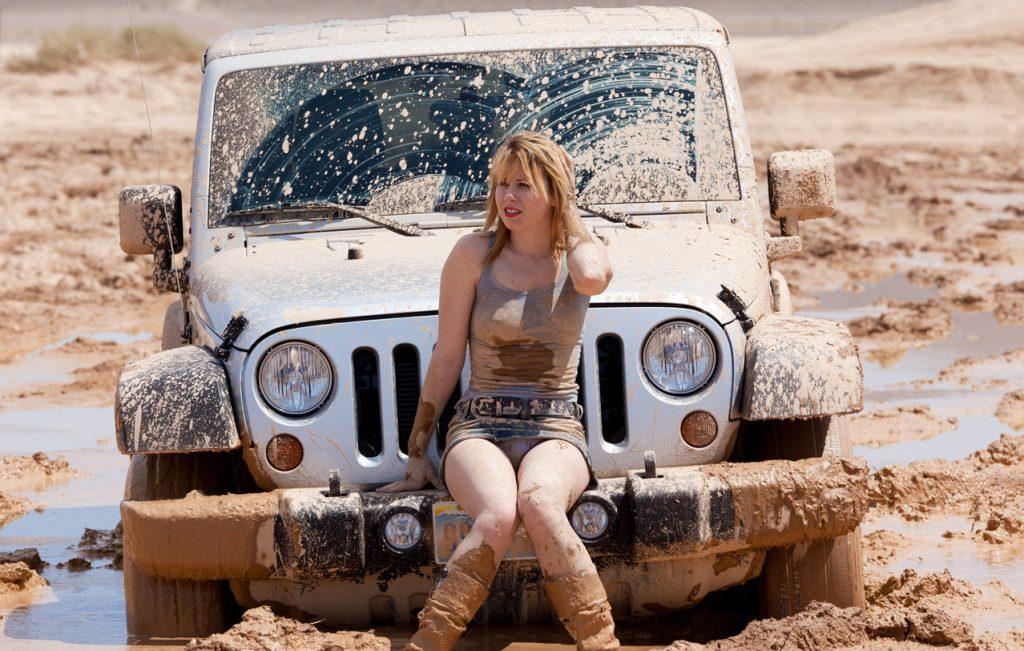 SEE MORE :
4. Avoiding Driving Through The Ruts
No matter, if it appears to be safe to drive through the ruts, it is not always a good option to choose while driving through mud. Ruts caused by the other vehicles reduce the steering ability to almost half and thus creates a lot of problems when you are driving. Therefore, it is always better to create your own path when you are driving in a muddy area.
The ruts also have the softest and wettest spots of the muds which can easily pull off the vehicles and as an end result; it becomes difficult to pull the vehicle out. It also reduces the clearance between the ground and vehicle's tires and thus makes mud driving quite a painful experience.
5. Driving Plan
As you drive through the mud, you can never be certain of the situation. Anything from anywhere can come in between and can make your driving end up in a mess. Therefore, it is always suggested to have a backup or recovery plan to avoid any painful or stressful situations. You should have a plan or strategy to move forward in the muddy regions.
All your required recovery needs and accessibilities should be at an easy to reach out distance, just in case you get stuck. Also, be prepared for the rapid deflation that can occur when mud makes in through the wheels and tires. You should be extremely careful to not have any possible mistake as it may land you in something worse than expected during mud driving.
Conclusion
Driving in mud is a challenge that can be balanced with the right techniques and tricks. All you need to do is to be sure of your driving planning and strategy for driving through the mud. Be sure and be safe to avoid the possible pitfalls while driving in mud.