Safe Exit Assist: How Does It Work?
Last updated
Sep 17, 2021
0 comments
You would be surprised how many accidents happen when oncoming vehicles collide open doors, and unsurprisingly, many of these incidents are caused by overly eager children. And while the plain old child-safety locks do work to prevent kids from rushing out as soon as the car stops, it might seem a little old-fashioned. At least the Korean automaker Hyundai believes there is room for an improved child safety feature. 
And such a safety feature designed for families with the young ones is the innovative Safe Exit Assist recently implemented and is part of Hyundai SmartSense™ active safety and driving assistance technologies. Read on to understand how this technology can prevent unnecessary accidents when back-seat passengers open the door into unseen oncoming traffic, as well as a list of Hyundai models that offer this feature.
How Does Safe Exit Assist Work?
How It Works
Kids, being kids, are impatient and after bombarding you with the "Are we there yet?", tend to rush out of the vehicle as soon as you're arriving at the destination. Clearly this is not safe for both your child and any approaching vehicles, cyclists or passerbys. Oncoming traffic can sneak up out of nowhere and from your blind spot, potentially colliding with the rear-seat passenger exiting and damage the vehicle door. Suddenly opening doors can also badly injure motorcyclists and cyclists.
Now you have another techy option on top of the good old child-lock. The Safe Exit Assist system uses existing blind-spot radar sensors to detect oncoming traffic and automatically keep rear doors locked if the system detects coming traffic or any moving objects, using existing rear-door and window controls. It will also sound a chime and/or provide some form of visual cues as an alert. Once the other vehicle has passed, the system will allow the rear-seat passengers to open the door.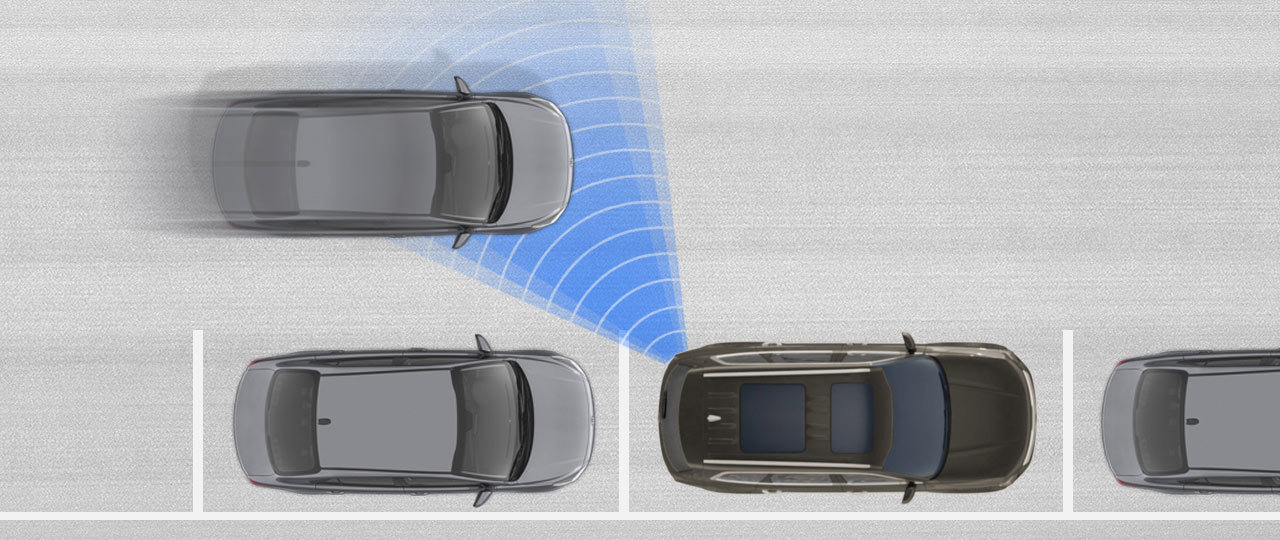 The Safe Exit Assist system is notable for its ability to detect non-vehicle moving objects as well, such as walking targets and approaching cyclists to prevent an unnecessary collision. 
To activate this feature, you only need to push a button located next to the main lock and power window controls in order to activate the radar sensors hidden in the back bumper of the vehicle. If traffic is detected off the vehicle's flanks, the system will keep the rear doors locked and flash a notification on the instrument panel to alert the driver that it is not safe to exit. Once you have taken a look and decide that the coast is clear, you can push the activation button again to override the locks and let the back-seat passengers exit safely.
Interestingly, it's worth noting that while the latest models from Hyundai now come with a wide array of high-tech driver assistance technologies designed to prevent collisions and minimize injuries, Safe Exit Assist is among a few features that operate when the car is parked or at a full stop.
READ MORE
While being more innovative and high-tech than the conventional child-lock, Safe Exit Assist is yet to be perfect. Hyundai admits that while this feature does detect motorcycles and bicycles, it might not be very effective in preventing collisions because of their more erratic movements. In general, while the technology could be useful to prevent cyclists crashing into suddenly opened doors in many cases, the system would likely require additional sensors with object recognition to be highly effective in this endeavor.
Also, there are debates among industry experts as to whether the feature will be really useful for its intended purpose. Any responsible parent should teach their children to never exit vehicles on the traffic side, regardless of whether they use automatic child locks. You don't want to let any rear-seat passenger out that side no matter what.
That said, it can be useful for the forgetful parents, and it can at least prevent those accidents when your mind zones out for a second. Of course, it doesn't replace your role in watching out for traffic and monitoring your children whenever you're making a stop. 
Its Implications
The addition of the Safe Exit Assist feature is relatively straightforward and seems to be a natural technological development in the auto industry, because it doesn't require major reconfiguration on the automaker's part, and thus is not expensive to do. Terry Tizard, training manager for Hyundai Canada said that "This is essentially the engineers repurposing the sensors that already exist just to have a new feature. It's meant to continually make a Hyundai the safest purchase you can buy." The only thing Hyundai engineers had to do was to write new lines of code.
Industry experts expect that in the near future, other manufacturers will adopt a similar approach to introduce new safety features that capitalize on existing features and systems. The trend is to integrate several separate systems, each of which was designed to do only one job, so that they can also serve other purposes. It's a really creative opportunity. 
For instance, as more and more of these types of sensors become standard across more models, they will serve as a foundation for more innovative collision-prevention systems as well as convenience features. One such example for convenience is adding facial-recognition software, so that, for example, the rear camera typically used for backing up can detect when the vehicle owner is nearing and automatically open the trunk.
READ MORE
Models with Safe Exit Assist
The three automakers Hyundai, Genesis, and Kia are different subsidiaries of parent Hyundai Motor Company. What they share in common are powertrains and technologies, including safety features. They have made safety an utmost priority in recent years. 
These closely related automakers currently offer the Safe Exit Assist feature in several models, all of which are the most recent 2020 model years onward. Do note that while some models offer Safe Exit Assist as a standard feature, on other models it is only available on higher trim levels or with option package:
Hyundai Palisade

Hyundai Santa Fe

Hyundai Sonata

Kia K5

Kia Seltos

Kia Telluride

 

Genesis G80

Genesis G90

Genesis GV70

Genesis GV80
Although not called Safe Exit Assist, a similar system is also available in the 2019 Elantra. 
To learn more about car safety technologies, as well as other interesting and important information, visit our library of articles on car reviews.