We Love The Honda Ridgeline! Check out the 2017 Model
Last updated
Feb 07, 2018
0 comments
Honda has always gone beyond expectations, never settling down for the norms. Again it has gone beyond expectations to bring you this entirely new breed of truck – the 2017 Ridgeline. The Honda Ridgeline reviews are quoting its cool features and proving that this new variety is a compelling package for any driver.
Combining the thing that truck owners look for in a truck like bed storage and towing capability and features that they are still unaware of, Honda has managed to create this classic model like no other. Roomy for seating five adults comfortably, this truck boasts of carrying more than just gear, it takes family and friends too.
Feature of Ridgeline 2017
The innovative Honda Ridgelines specs make it very versatile in its spaciousness. The pickup bed is 4 inches longer than previous models, while overall length is up by 3 inches. It has a high capacity of passenger volume, but it does not end there. There is storage space under the rear seats, or else you can lift the whole seat up for keeping larger items.
Moreover, it has a modified truck bed with the Ridgeline's exclusive lockable In-Bed Trunk for keeping your valuable tools, wetsuit and even storing ice. There are also eight cleats that can tie down a couple of motorcycles.
Its innovative dual-action tailgate can either swing out or pivot down to open. The new Honda Ridgeline Sport includes features like quick entry, fog lights, sports badging, etc.
The engine available on the Ridgeline is an advanced model of the old 3.5-liter V6 with direct injection, cylinder deactivation and variable valve timing, capable of enhancing peak power up 30 hp to 280 and torque up 15 lb-ft to 262. The old five-speed unit is replaced by a six-speed automatic, and buyers can now select either front-wheel- or all-wheel-drive configurations.
This powerful and innovative truck may fall flat for some when it comes to style. Its styling is more or less an improvisation of the previous model. The front end has a squat lower fascia and the doors continue the rather squarish looks, with very erect openings.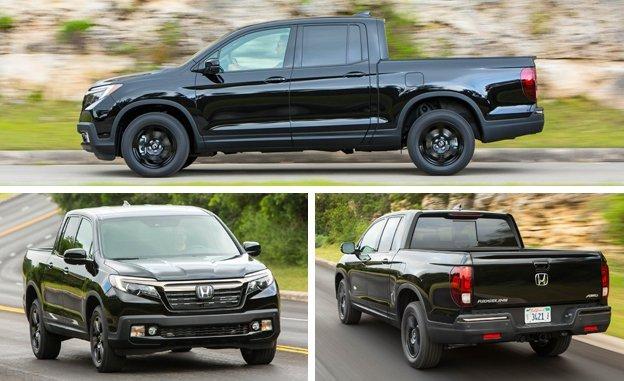 Driving Experience in a 2017 Model
Most trucks have a less rigid structure which makes these kinds of vehicles synonymous with rough rides.
The Specification of Honda Ridgeline includes this unique unibody construction that uses a combination of steel grades welded together giving it a sturdier yet lightweight structure. This unibody is what make you drive smooth and sophisticated experience.
As per Honda Ridgeline reviews, "while the on-road driving feels is a pleasant one, the new Honda Ridgeline off-road and towing capabilities are of medium-duty".
Honda has accelerated the steering ratio as well. This builds up the confidence of novice truck drivers. The Ridgeline may have the looks of a sturdy vehicle, but it doesn't drive like one. It gives a more familiar driving experience to its drivers coming from a new crossover.
The 2017 Ridgeline in New York is a complete package for drivers who wants occasional truck efficacy without dealing with body-on-frame fuel economy. Priced for under $35K, Honda can expect a stream of buyers for this 2017 model.