2022 Mercedes EQS: A New Milestone for Electric Vehicles?
Last updated
May 11, 2021
0 comments
The 2022 Mercedes EQS is going to be one of the fanciest and performance-driven electric vehicles ever. The exterior design of this vehicle is streamlined with curvaceous, elegant bodywork, showcasing the luxury look in every way possible. Being the perfect blend of sporty, sophistication, and grandeur, it's the perfect candidate to be the flagship EV of the German automaker giant.
The Features of 2022 Mercedes EQS
This luxurious electric car has plenty of perks for those who want comfort without sacrificing performance.
Interior Comfort Features
The interior is well-designed with plenty of room inside. Headrest pillows in rear and back seats bring comfort to all passengers. The Executive Rear Seat package is a genius addition, offering a heating facility, massaging, and adjustable seating options. All seats are so comfortable that it feels like sitting back into a living room chair rather than behind the wheel.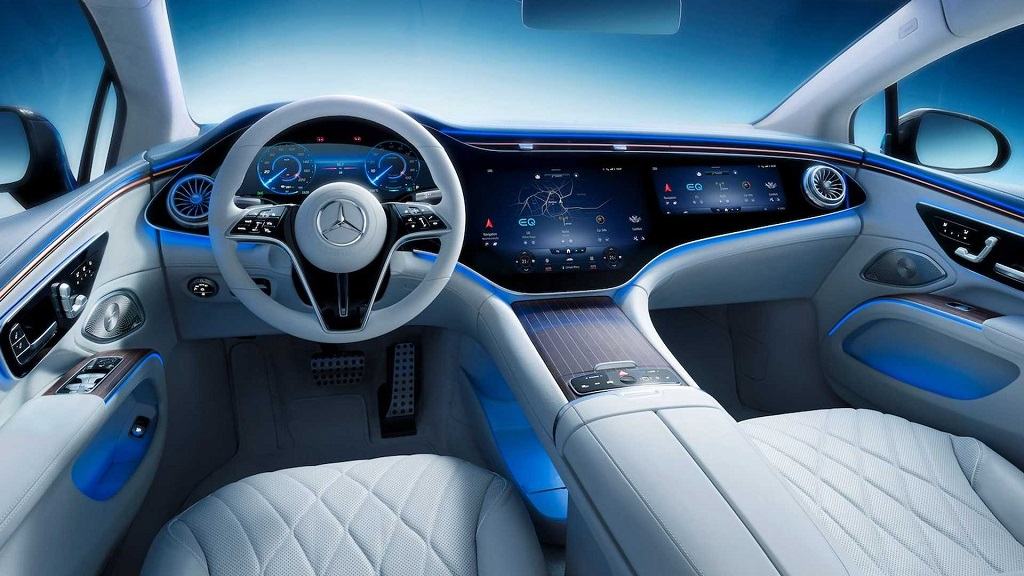 Entertainment
A wall-to-wall Hyperscreen panel will take care of all entertainment needs. However, this 56-inch screen is not the only attraction of the intuitive MBUX infotainment system. There are voice command, fingerprint scanner, a Burmester audio system, and augmented-reality navigation features.
The dashboard layout comes naturally to any car lovers who are used to driving a Mercedes or other luxury vehicle.
Performance
The Mercedes EQS is a smooth, powerful vehicle that provides the thrill of an electric drive in every way possible with its high-performance battery pack for long journeys.
The EQS450+ rear-wheel drive can hit 0-60 mph in 5.5 seconds, which the EQS580 AWD achieves that speed in 4.1 seconds. Both versions generate plenty of power. The RWD produces 329 horsepower from an electric motor and 406 lb.-ft. of torque available on demand. With electric motors on each axle, the AWD produces a total output of 516 hp and 611 lb.-ft. torque.
With all these features combined, you'll feel like royalty riding around town comfortably.
Battery Life
Both the RWD and AWD variants get their power from a 107.8 kWh lithium-ion battery pack. It can crank out 478 miles but the mileage will be lower in taxing conditions.
A 240-volt (Level 2) charger will take around more or less 11 hours to fully charge the battery pack. For a DC fast charger, it won't take over 35 minutes to go from 10% to 80%.
SEE MORE
Which One to Choose: EQS or Tesla's Model S?
The Tesla Model S is currently dominating the top-tier EV market but Mercedes-Benz EQS will undoubtedly give it competition. Some people will have a hard time deciding between these two cars but it's not hard to make a decision!
Compared to the Model S, the EQS has an uninspiring design but it has already impressed many with the MBUX infotainment and a HEPA filtration system. But the real selling point is the 478 miles (769 km) mileage, which is 62 miles (100 km) more than the Model S.
Conclusion
In conclusion, the Mercedes EQS is a great car that will be perfect for anyone who needs to go on long-distance trips or wants an environmentally friendly vehicle. It's sleek and stylish with more range than Tesla's Model S.