2008 Honda Fit Review – A Quick, Simple and Affordable Car
Last updated
Feb 02, 2021
0 comments
Get full information about 2008 Honda Fit – one of the smallest cars on the road – features with a huge inside, fun driving experiences and tremendous value through our 2008 Honda Fit review.
2008 Honda Fit Review: Overview
Strength
A huge cargo space in a compact car

Flexible floor

Fuel economy

Adult-sized room front and rear

Substantial feel

Great visibility

High driving position

Secure roading
Weakness
Using classic Honda design

Very little tech than expectations
I brought my '08 Fit Sport used at 10k miles. I love the small foot-print when driving in the urban area, fuel economy, exceptional cargo space, flexible backseat configurations, and most of all – Honda reliability. I've only put 60k on it so far. No major issues (knock on wood) with only synthetic oil changes every 5-6k miles as indicated by the oil meter. Fuel economy is good at around 26mpg around town and 33mpg on hwy. Nevertheless, these are still good numbers even though I've read 40+mpg on some other reviews. I dont know much about car dynamics, but I feel the car steering is precise. 109hp is not excellent, but with manual transmission, it is way much more responsive than automatic transmission when stepping on the throttle (instead of hearing the engine revving, then the power comes in a second or two later). After 7 years of ownership, I've started car hunting again in hope to get a subcompact/compact SUV. However, I have yet found an ideal replacement for my beloved Fit. Until then, I am still a happy Fit owner.

—————
Mr. Dee – a trusted auto fan reviewed about Honda Fit 2008 on www.edmunds.com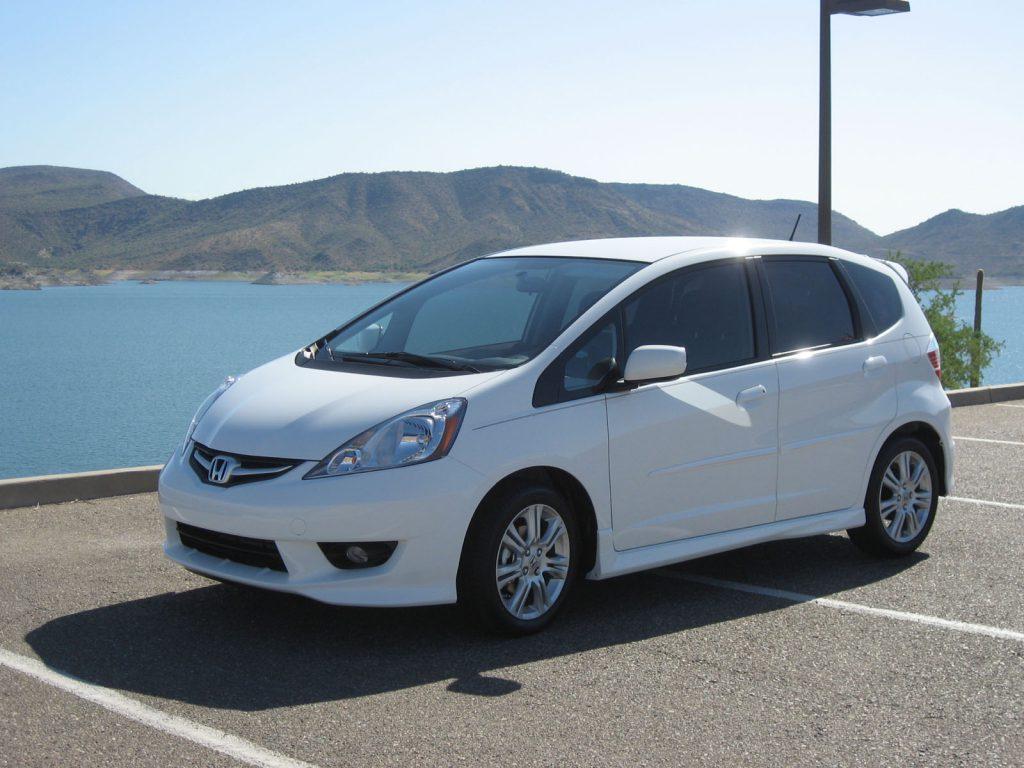 The 2008 Honda Fit is a compact 5-door car that slots in below the Honda Civic. Honda Fit comes in 2 models which are:
– The Base Model is equipped with AC system, mirrors and door locks, power window and AM/FM stereo with single-disc CD player.
– The Sport Model comes with cruise control, appearance upgrades, 15-inch wheels, steering-wheel paddle shifters (with automatic) as well as an improved 200W audio system.
2008 Honda Fit Review: Style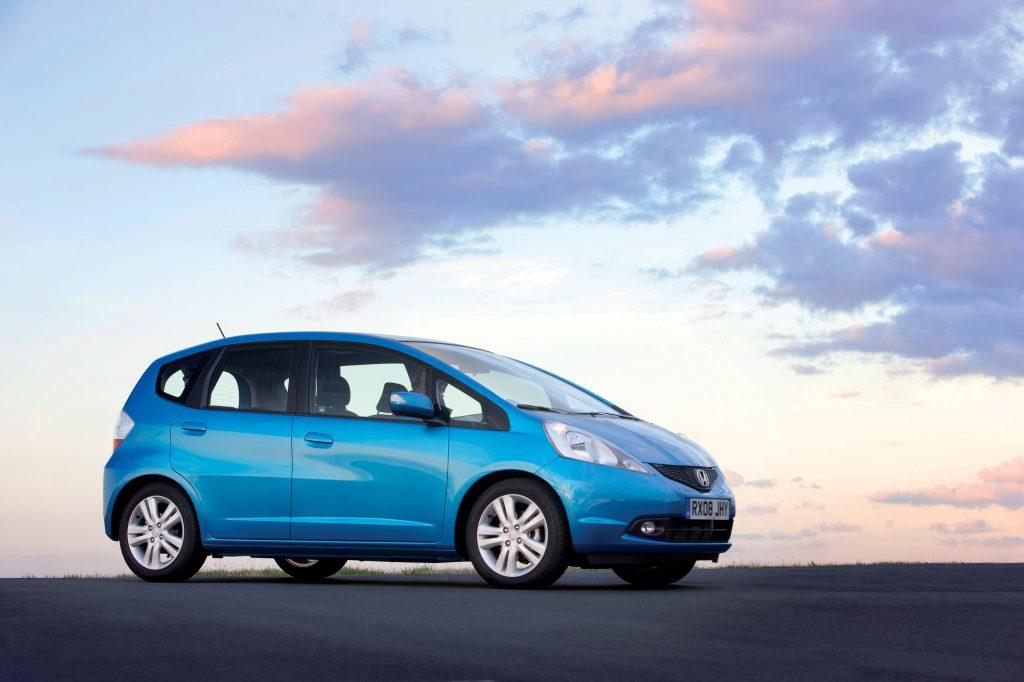 If you are looking for a car with practicality and frugality , the 2008 Honda Fit will be a "good fit" for you. But if a nice design car is what you are seeking for, you shouldn't buy this vehicle.
Honda Fit uses a pretty classic design, therefore this vehicle will certainly lose in any beauty competition… but you should know that looks aren't really the strong point of this cool vehicle. Honda Fit is manufactured for economy. If you are looking for a small, simple, quick and affordable car, 2008 Honda Fit is good choice for you. The car is notable for its comfort and interior space rather than its outward appearance. It owns a roomy space and extreme huge cargo space (what we will describe below) compared to its serious competitors.
2008 Honda Fit Review: Exterior
2008 Honda Fit has a better look than they do in pictures. The slash-cut headlamps and sharp-sloping nose give the car a modern face but the degree of drop-off at that nose means if you sit in driver's seat, you will never see the front end of the car. Compared to the Honda Civic, the Honda Fit is 2.8 inches narrower, 19.2 inches shorter and 3.5 inches taller. From the side view, we can see that 2008 Honda Fit is a small and tall vehicle, hinting at the utility inside. The car has its rear section ending abruptly with a little bit lip.
Overall, 2008 Honda Fit is a functional car rather than a fashionable one.
2008 Honda Fit Review: Interior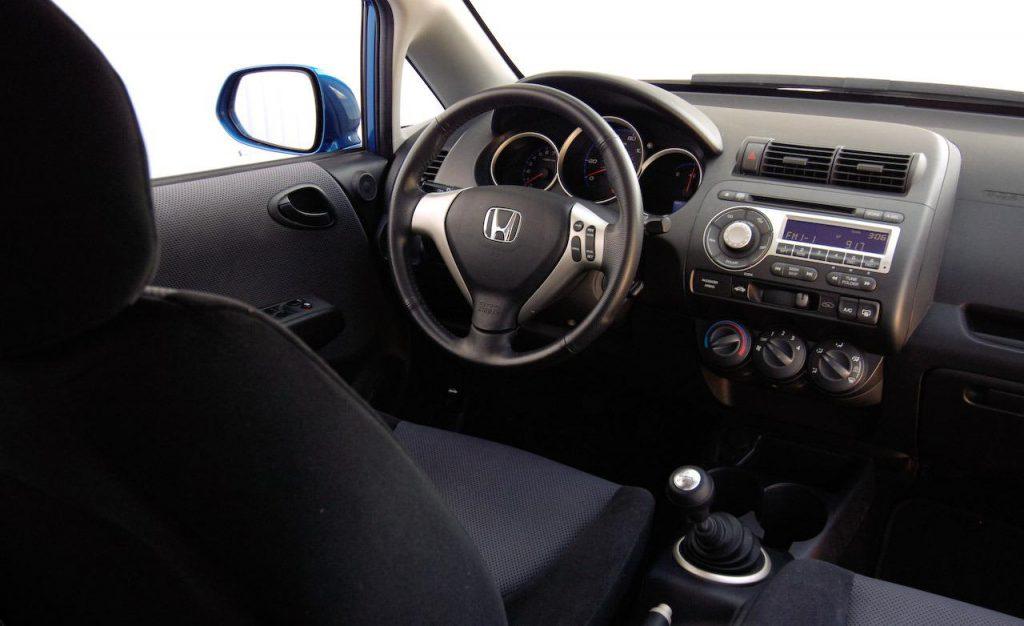 SEE MORE
Now, let's discover what are inside the cabin of a 2008 Honda Fit!
First of all, you will be surprised with the general look and materials of the cabin. Honda gives smooth and hard plastic where it counts and soft surfaces where they make sense. The interior space of the car is pretty roomy, partly because of the car height. Therefore, it is spacious for 4 adults with plenty space of legroom.
Its driver window is automatic down but not automatic up. The car has a really nice electric power steering wheels wrapped by leather with bolster extension, thus it feels really good in your hands. Next, the car has a standard manual zone climate control with 3 knobs which are very easy to use. It also has a cable for engaging the research and the fresh air mode.
There are an auxiliary port and a power outlet under the dashboard of the car, but there is no USB port. The glove compartment of the car looks cheap but it is spacious enough for your needs. And unfortunately, the car doesn't come with a sunroof and a map light.
The only sole piece of tech in the cabin is the stereo but this stereo isn't as impressive as we expect. The audio system uses 6 speakers – better than 4 – but it doesn't product the best sound. To be honest, the quality of the sound is quite rough and muddy.
So now let's look at the back of the car, 2008 Honda Fit is one of the first subcompacts to introduce a roomy back seat. Because the fuel tank is located underneath the front seats as opposed to underneath the back seats, the floor of the car is very low which gives passengers a very good knee room. There is no armrest in this car but passengers have got a very large headrest. And they do have a cup holder and just on map pocket.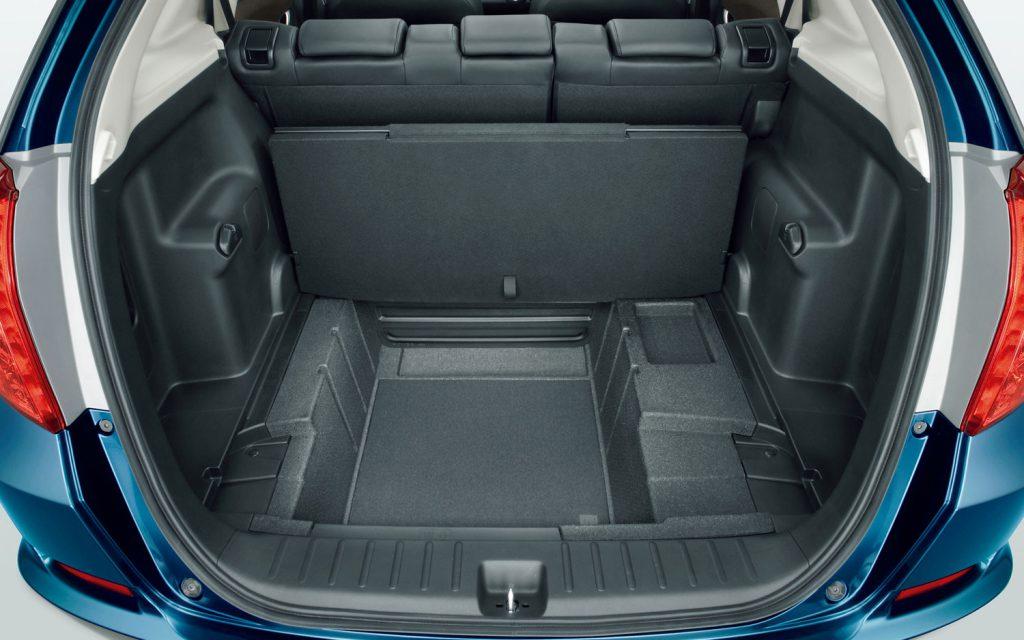 >> You are interested in a used car from Japan, buy now <<
The main selling features of this car is that it has magic seats which give you more cargo space. When you fold the rear seats down, you get about 50 cubic feet of space compared with 18 cubic feet when you put them in normal positions. With this huge cargo space, you can put a standard-sized bicycle into the car easily.
Under the Hood
2008 Honda Fit offers to customers one engine and two types of transmission. Even 1.5-liter engine sounds small in size but it has enough power for you to drive around town with lively feeling and at highway with lots of comfort. Drivers who opt the Sport Models with 5-speed automatic transmission have the choice of using paddle shifters on the steering wheel. Paddles are a new outstanding feature in this segment, in case you want to shift it yourself, you are recommended to try the 5-speed manual. The shifter brings a fun feeling and a short throw and the engine is more reactive with the stick. If drivers want to accelerate harder, the engine will get a little bit loud in its upper registers.

Watch this 2008 Honda Fit Review video too see more details:
2008 Honda Fit Review: Safety
The 2008 Honda Fit has a good safety package, but its design and size don't make for impressive passenger-side influence ratings.
With this model, Honda gives it standard offerings like what are available on the base vehicle, this means the 2008 Honda Fit does not have pricey options. The car is equipped with a tire pressure monitoring system, anti-lock brakes with electronic brake-force distribution.
Therefore, the 2008 Honda Fit received 5-star ratings from the National Highway Traffic Safety Administration (NHTSA) in all aspects except for rollover ratings and passenger-side impacts; the car got 4 and 3 stars respectively in these aspects.
Common 2008 Honda Fit Problems
2008 Honda Fit is a vehicle ranking very high by buyers and consumers as it has an excellent fuel consumption, a flexible interior and many high-level standard features. This car is an perfect choice for people who often drive in small cities. However, this car has a few problem that many be a factor affected to your decision of buying a 2008 Honda Fit.  
1. 2008 Honda Fit Problem: Brake System
Some Honda Fit owners experienced problems with the brake system. The brakes are tend to be "soft" shortly after being used for a short period of time. Other owners had to send their vehicles back to the dealers due to ABS malfunction and problems. Bear in mind that ABS system operating will produce an odd grabbing noise when you drive it in slick conditions. Additionally, breaking in the brake system by working the new brake pads for 200 miles put on your car is what you will need to do. If the problems you face are beyond this, you should go to an auto repair shop to take advice from a mechanic.
2. 2008 Honda Fit Problem: Weak Spots
Honda Fit still has some small weak spots that may not threaten your life but may make you confused while buying this car. When driving a 2008 Honda Fit, most of drivers have to face excessive road and wind sound. Also, the low front bumper of Honda Fit is easy to get scratches compared to that of other vehicles. The smaller tires on the 2008 Honda Fit are prone to be worn out. Moreover the front seats of 2008 Honda Fit lack of height adjustment, causing discomfort to the driver.
3. Honda Fit Recall
Honda had to made a recall of model year 2007 to 2008. According to Honda, the wiring of the light switch may be malfunctioning, resulting in the connector becoming hot and damaged after repeated use. This degrades the function of low-beam. However, the operation of high-beam are unaffected. Several incident of this problem have been record in the US, but there is no one injured from this.
To fix this problem, new Honda Fit models are designed with a new switch, while the rest only require to install a water-tight skirt to protect the switch from liquid. And Honda Fit drivers are advised to spend special attention to the amount of liquid which drops onto the window switch and set up rain window rain guards for their car, if necessary.

Conclusion
Through this 2008 Honda Fit review, we can see that this car is an excellent car for fuel consumption, not for a beauty contest. If you are looking for a simple and affordable car with roomy space and a large cargo space, the 2008 Honda Fit is such a good choice for you.
But where to buy a used 2008 Honda Fit for sale?
We, Car From Japan company, is one of the largest car platform selling used cars directly from Japan to other countries in the world, we have a lot of used Honda Fit cars in our stock list. Every aspect like 2008 Honda Fit specification, 2008 Honda Fit gas mileage, 2008 Honda Fit MPG or Honda Fit 2008 price,… is showed clearly on our website and in cases you need more detailed information, our professional customer support team will be ready to support you for 24/7/365. Thus, go for us to pick the right car for you.