2014 BMW X5 review – Price, Specs, Interior and More
Last updated
Feb 23, 2021
0 comments
Get full information about exterior, interior, accessories and specs of one of the best-selling SUV with excellent driving dynamics through our 2014 BMW X5 review.

Introduction
Knowing as a strong competitor to Mercedes-Benz M-Class, Infiniti QX60, Acura MDX, Land Rover Range Rover Sport, Cadillac Escalade,… The BMW X5 is a luxury midsize crossover SUV produced by BMW – a famous German multinational company. There are 4 generations of the BMW X5 and what we are going to discuss today is one of the cars in its 3rd generation – 2014 BMW X5. Most 2014 BMW X5 versions are AWD (all-wheel drive), although a RWD (rear wheel drive) version is available. The 2014 BMW X5 is equipped with an inline 6-cylinder engine, turbocharged V-8 or a diesel engine. The German automaker also offers a wide range of custom options for customers including packages + individual accessories and options.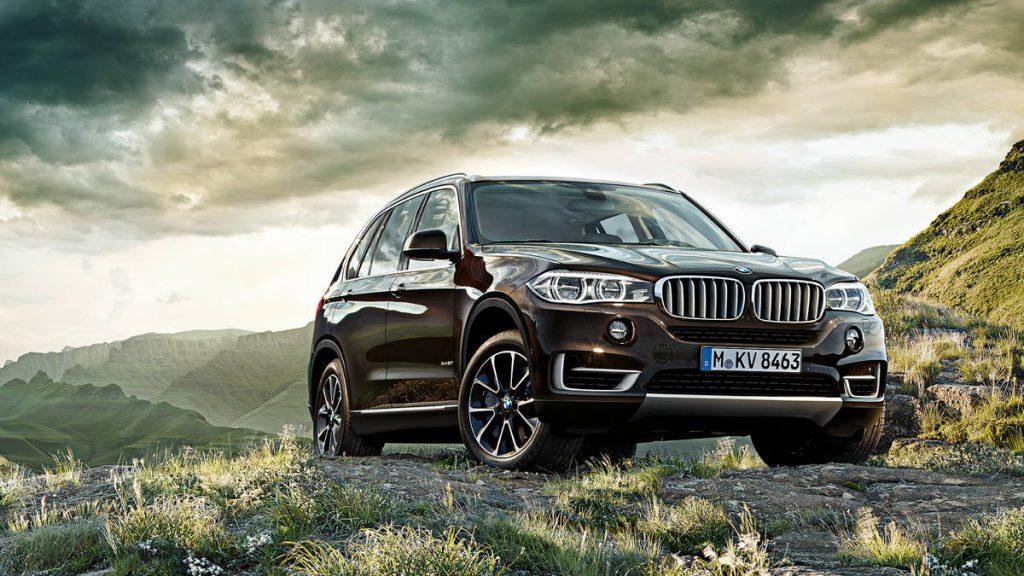 4 trim levels of the 2014 BMW X5 are:
And each level also has 3 lines in addition to the base model: M Sport, xLine and Luxury.
Let's take a look at the 2014 BMW X5 review to learn more about this powerful car.
Overview 
According to the 2014 BMW X5 review of auto experts, the model is outstanding with:
V-8 engine features increases power
Diesel engine working with 8-speed transmission
More interior room
2nd-row seats feature 40/20/40 split
The 2014 BMW X5 is the first car of the 3rd generation (2014-2018) of the X5. While BMW designs the 3 Series and 5 Series with a lot of dramatic changes in their design generation to generation, there are only some small changes in the design for the X5. The reason for this is that BMW just wants to add marginal improvements to a car having a loyal customer base. Therefore you can easily see that every new model of the BMW X5 has the accurate same wheelbase as the prior generation and also has a similar overall length.
Compared to its predecessor, the 2014 BMW X5 dimensions are larger because it has the stretched front grille proportions and headlights. Additionally, the 2014 BMW X5 model is designed with more stately and elegant than its older brothers.
1. Exterior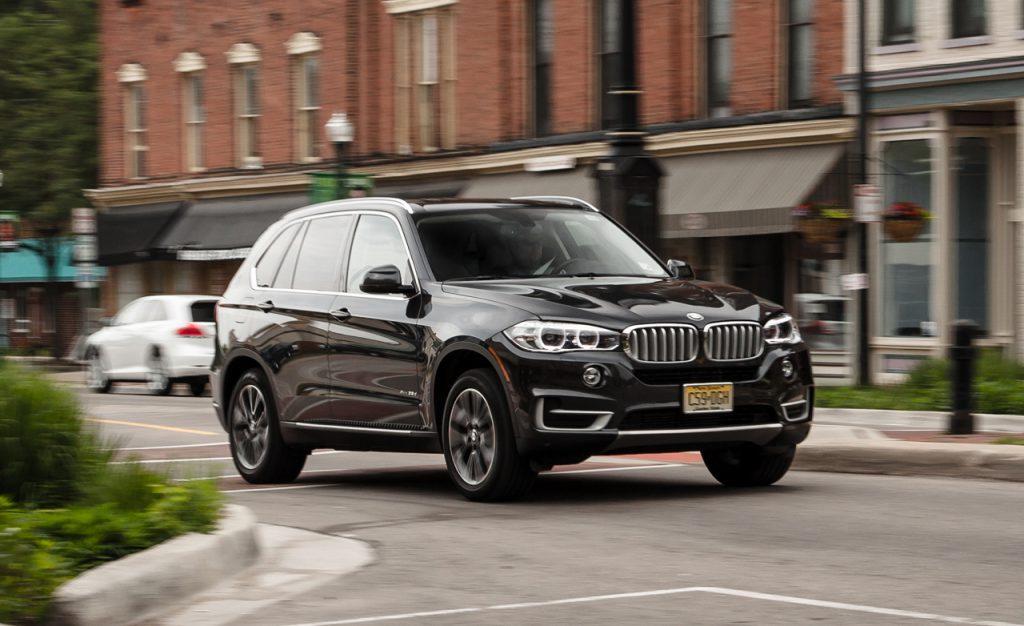 BMW equips for the 2014 X5 with:
Light alloy wheels with run-flat all-season tires
Xenon adaptive headlights with auto-leveling
Intermittent rain-sensing windshield wipers with adjustable and vehicle-speed-sensitive wiping intervals
Chrome-line exterior trim
Rear-window wiper/washer with adjustable wiping interval
Windshield-washer system with heated washer jets
Roof spoiler with center brake light
Body-color exterior door and tailgate handles
Let's find out how auto experts say about the exterior of this car. According to them, starting with the bigger front grille with integrated headlights, you will spot the gills in the front bumper and behind the wheel arches which reduce drag and increase fuel efficiency. Fuel economy is an important part of the equation here. The 2014 X5 has cut out about 200 pounds weight thanks to weight saving measures like the use of aluminum on the front hood. You will also spot these vertical spoilers at the back of the car. BMW calls them as arrow blades which help channel and improve aerodynamics. Overall, the car styling reflects what it is: modern and muscular but not rugged like its competitors.
2. Interior
The interior of this model features with:
Leather upholstery
Poplar wood trim
20-way power multi-contour front seats accompanied with standard 10-way power seat functions + 2 manual ways for lateral headrest adjusting + additional power adjustment functions for thigh and shoulder support, lumbar support and backrest width (position and contour).
Front-seat center console with armrest, auxiliary input and storage compartment
Rear-seat center armrest
40-20-40 split-folding rear seats
A fully finished cargo area with cargo cover, velour carpeting and remote trunk release
Third-row seats
Total cargo space behind the rear seats is 22.9 cubic feet, if we fold the rear seats, total space for cargo is 66 cubic feet.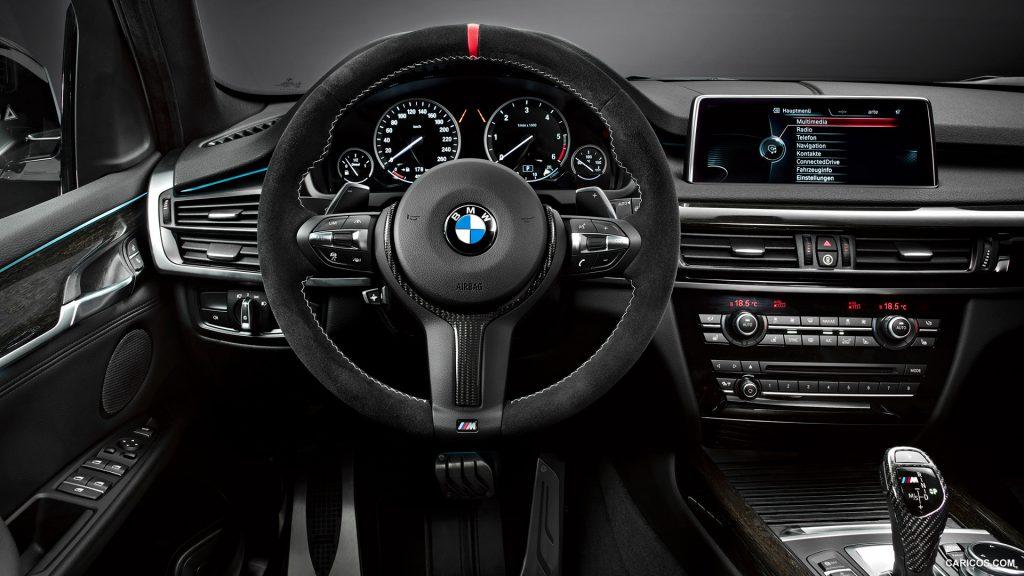 In-car Electronics: speakers, communication system (e.g: Onstar), voice control commands, portable music device interface (eg.g: MP3 Player/iPod), phone pairing (e.g: Bluetooth), display screen freezes or goes blank, backup and other camera/sensors.
According to auto experts: Here are some 2014 BMW X5 review in terms of interior you should know:
When you come into the 2014 X5, it's easy to like its elegant interior design. For starters, everything in here is made of high-quality fabric and materials. And nothing feels like out of place for this luxury midsize crossover SUV. Check out it's really nice brown Nappa leather and the little details like its scream stitching really stand out to you. The seats feature a ton of adjustability and are well bolstered. They are supportive and very comfortable. It really helps the 2014 X5 feels like a cozy and comfortable car.
There is one issue with the X5 and it comes to the interior space. For a second, let's consider the X3 which is a smaller SUV in the BMW lineup. That car features just as much or more seat head and legroom. So if you are buying your vehicle for family hauling capability, the X5 won't do everything as well as the X3 which is surprising because the X5 is more expensive. But if you are buying a vehicle to please the person behind the wheel, well the X5 really stands out. When it comes to vehicles in this segment space and utility is a big concern. BMW still offer the 2014 X5 with a split lift gate but open up the lift gate and check out the below average cargo space while it's an improvement over last models, it's certainly doesn't stack up to the competition. We dropped that second row, the X5 offers a total of 66 cubic feet and that sounds good but comparing to the Mercedes – Benz ML when you drop its second row, you've got 80 cubic feet of space. Buyers can also get an optional third row of seating but if you are going to find the second row uncomfortable, imagine what the third row will feel like.
Our car also features with Bang & Olufsen sound system which sounds great but it's a little pricey. Our car experts fail to see how this can be a huge upgrade over something like the Harman Kardon system which is also offered on this vehicle for a little less money.
Watch the interior 2014 BMW X5 review in the video below:
3. Accessories included
Next thing in this 2014 BMW X5 review, we will tell you more about the car's accessorites. The luxury line includes a steering wheel wrapped by leather, roof rails, extra chrome, upgraded wheels. The xLine model offers many versions of those enhancements. Besides all cars of the M sport line offers special footrest, sportier transmission and seats, steering wheel, upgraded wheels and door sills.
No
Package
Details
1
Executive package

A premium-priced Bang & Olufsen sound system (or a Harman-Kardon surround-sound system).
Soft-close automatic doors
Head-up display
Keyless entry
Rear manual side window shades
Satellite radio with one-year subscription and ceramic control
Mocha Nappa or Ivory white leather are also available.

2
Driver Assistance Plus

Active blind-spot detection
Speed limit information
Surround view camera
Active Driving Assistant.

3
Lighting package
4
Dynamic Handling package

Performance control
Roll stabilization.

5
Cold weather package

Retractable headlight washers
Heated front and rear seats
Heated steering wheel
Individual options adds dynamic damper control, active steering, park assist, a rear-seat entertainment system, front ventilated seats, concierge services, comfort rear seats, aluminum running boards, 4-zone climate control, Nappa leather dasd and third-row seats with rear axle air suspension.
4. 2014 BMW X5 Specs 
Take a look at 2014 BMW X5 Specs and features to see the difference between each trim level.
| | | | | |
| --- | --- | --- | --- | --- |
| No | xDrive35i 4dr SUV AWD (3.0L 6cyl Turbo 8A) | sDrive35i 4dr SUV (3.0L 6cyl Turbo 8A) | xDrive35d 4dr SUV AWD (3.0L 6cyl Turbodiesel 8A) | xDrive50i 4dr SUV AWD (4.4L 8cyl Turbo 8A) |
| Engine Type | gas | gas | diesel | gas |
| Total Seating | 5 | 5 | 5 | 5 |
| Drive Train | all wheel drive | rear wheel drive | all wheel drive | all wheel drive |
| Transmission | 8-speed shiftable automatic | 8-speed shiftable automatic | 8-speed shiftable automatic | 8-speed shiftable automatic |
| Cylinders | inline 6 | inline 6 | inline 6 | V8 |
| Combined MPG | 21 | 22 | 26 | 17 |
| Basic Warranty | 4 yr./ 50000 mi. | 4 yr./ 50000 mi. | 4 yr./ 50000 mi. | 4 yr./ 50000 mi. |
5. Road test – 2014 BMW X5 review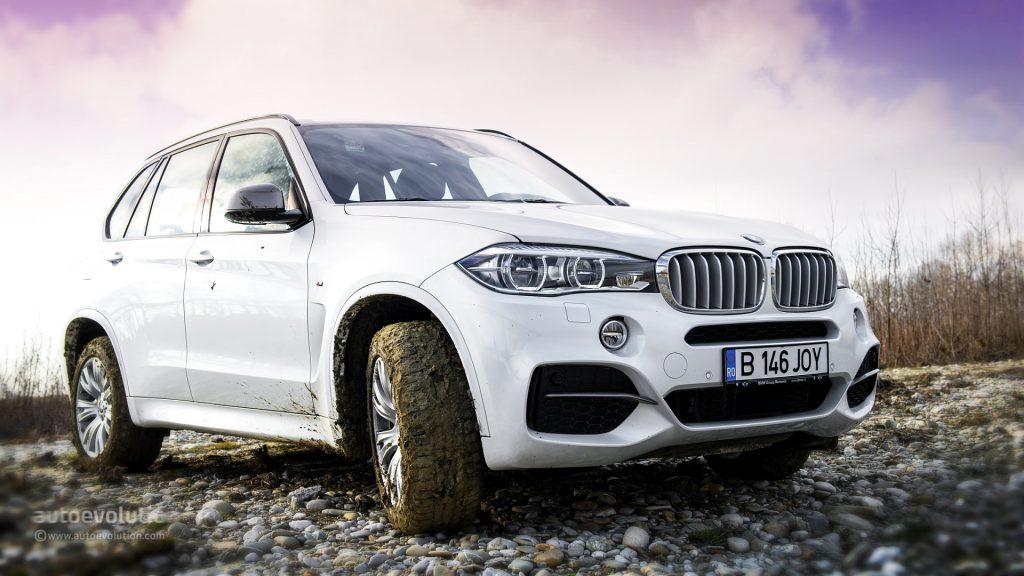 >> Finding cheap used cars from reliable Japanese sellers? Click here <<
Once you get on the road, you quickly realize why this BMW is the best selling SUV. It doesn't like a big lumbering truck. It's really solid feeling. It's clear that BMW put a little bit of it's sports sedan DNA into the X5. It's really smooth and predictable and with this all-wheel drive system, it really feels planted even in snow and mud roads. Occasionally at low speeds, you mind find that the steering is a little artificial, a little over boosted but at higher speeds, it really feels heavy and solid. The car is a little firm for a luxury cruiser so if that's what you are looking for in a car, the 2014 X5 won't really cut it. This car is supposed to be a lot more like the sports sedan of the luxury SUV market and it really does deliver on that promise.
There is also several driving modes from Sport to Comfort and Eco Pro if you want to save some gas when driving your car. Each one changes the driving dynamics of the vehicle either to give you much more heightened sense of sportiness or to smooth the car out and feel a little bit more comfortable, the 2014 X5 is available with 3 engine options.
The 6 cylinder gas motor is not a option that our auto experts take.
The 6 cylinder diesel provides excellent fuel economy and delivers a lot of torque.
But if you are looking for the ultimate driving machine that twin turbo V8 that's also available in this car, it's hard to be.
6. 2014 BMW X5 price 
The prices for used 2014 BMW X5 for sale are oscillated from about $49.000 to a little bit over $52.000. Because they are all used cars so the prices for them depend on the car's condition.
Car From Japan is a famous car platform selling used cars from Japan, if you are looking for a 2014 x5 bmw for sale, just go to Car From Japan and take one for your self at best prices.
Watch the video about 2014 BMW X5 review to see more in details:
Conclusion
BMW makes an excellent luxury SUV but it comes at the cost. The second row seating and the cargo space isn't what the vehicle is all about. But if you are looking for a vehicle with excellent driving dynamics and a beautiful interior then you can do not better than the 2014 BMW X5.
Hopefully this 2014 BMW X5 review is useful for you. If you have any question about this review or other car questions, feel free to leave us a comment below, we will answer it for you. Don't forget to read on Car From Japan for reading more car articles written by car experts which are updated every day.