Read Reviews of 5 Best Portable Jump Starter and Thank Us Later!
Last updated
Jun 04, 2018
0 comments
Think about getting into your car in an empty parking lot after the office or shopping only to find that it won't start. Also, car batteries tend to freeze in cold weather and need to re-start. You will need jumper cables in those situations to bring the dead vehicle back to life. But, most drivers don't carry a car starter because it is as heavy as a car battery and quite cumbersome to handle. The solution is to use portable units but how to find the best portable jump starter in the market?
The Best Portable Jump Starter: Top 5 Picks
There is no shortage of options when you shop for the best portable car jumper units. But, how to determine if they are value for the money? Don't worry! We've rounded up a list of five best portable jump starter units that will save you whenever you are in trouble.
1. NOCO Genius Boost Pro GB150
Not only for gasoline, but it is arguably the best jump starter for diesel engines too. With 7.5 pounds of weight, it is slightly on the heavier side but for good reasons. The GB150 is packed with features including an integrated digital voltmeter, a 10XLED flashlight, a 12-volt power port, and 2.1A USB port that is great for charging your smartphone, tablets, and other small devices.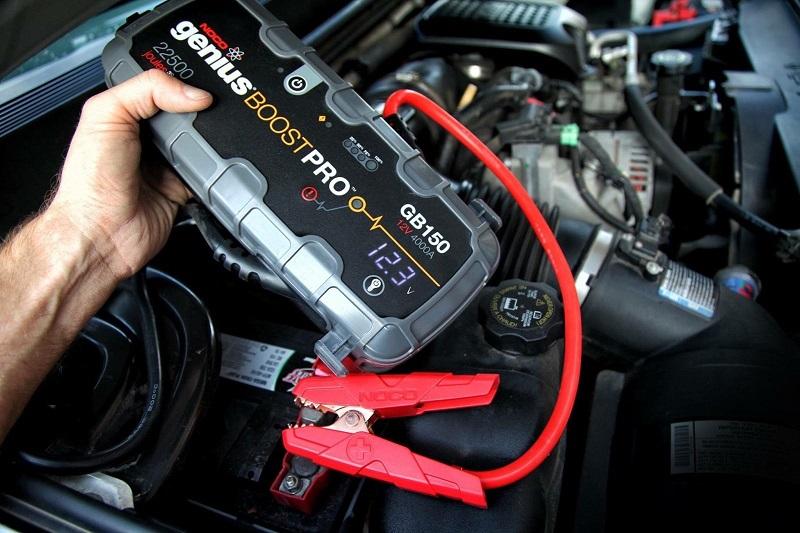 With a huge power of 4,000 amps, you will never have to worry about running out of jumpstarts because it offers 80 jump starts on a single charge. The device is powerful enough to restart 10L gas and diesel cars, boats, commercial vehicles, trucks, and plenty of heavy-duty equipment.
2. DBPOWER 600A Peak DJS50 Portable Jump Starter
It is one of the top-selling products among the best portable jump starter units. Weighing just 2.8 pounds, the device is small enough to fit into your glove compartment. The DJS50 produces enough power to restart 6.5L gas or 5.2L diesel engines and you can attempt 30 times on a single charge.
>> Buy a used car from reliable Japanese sellers here <<
It features a smart charging port with a laptop adapter unit, allowing the user to plug in various types of electronics for recharging. The LCD screen is something unique as it displays the remaining battery power. The cable clamps are a lifesaver as they provide protection against various dangerous conditions – over-charge, short circuit, electricity overflow, and over-voltage.
Last but not the least, the DJS50 has a cool design and solid construction. It might be not good enough for heavy-duty vehicles but it's the best portable car battery jump starter for light vehicles.
         SEE MORE
3. Beatit BT-D11 800A Peak Jump Starter
Just like the DBPOWER DJS50, the BT-D11 from Beatit also has a compact design to fit into your glove box. With a stylish design and lists of features, the device yields 800 amps of peak current that is more than enough for most of the vehicles. However, the official limit is up to 7.0L gas or 5.5L diesel engines and you can use it 30 times on a single charge.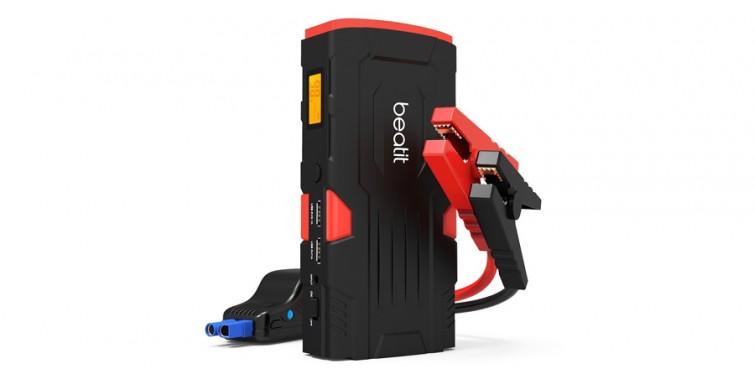 It has dual USB ports that are suitable for recharging plenty of electronic devices. It is also equipped with an SOS flashlight, a small LCD screen, and smart clamps.
4. Stanley J5C09 1000 Peak
Unlike other products on this list, Stanley J5C09 is bigger in size and weighs about a massive 18 lbs. You cannot keep it in the glove compartment, but it is portable nonetheless and is one of the best portable jump starter units restarting heavy-duty vehicles. With 1,000A peak, the starter is most suitable for heavy trucks and medium-sized cars.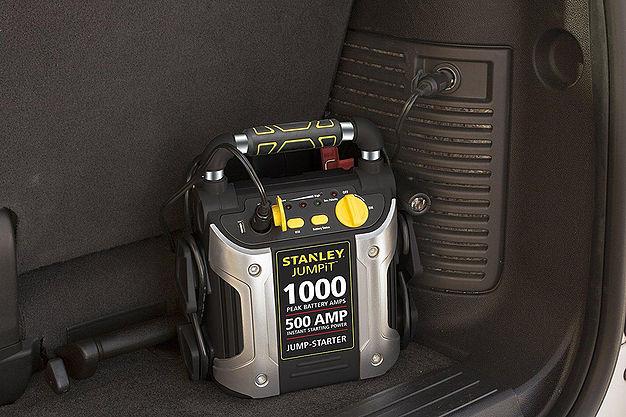 There is a high-powered LED swivel light for casting light in any direction, USB outlets for charging electronics, and an alarm for giving a warning about incorrect connections. The air compressor is a great feature that allows you to inflate tires at 120-PSI.
The Stanley J5C09 is built to last for a long time. However, you should charge it at every 30 days when not in use.
5. FlyHi 500A Peak
Budget shoppers will definitely love this jump starter as it's the least expensive of all the entries on this list. FlyHi means business, so you won't get plenty of features in it but it will get the job done by keeping the basics right. Sized similar to a power bank, the starter operates at 500A peak, allowing you to use it for 20 times on a single charge. It can restart 4.2L gas and 3.0L diesel engines. You can also use it for boats, motorcycles, RVs, and so on.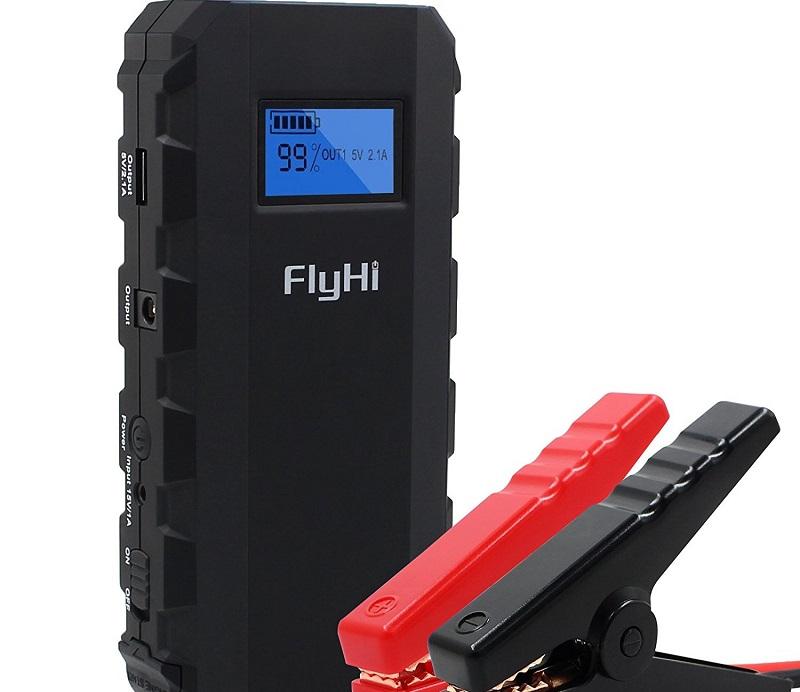 To name the extra features, the starter has a USB charging port, 8-in-1 laptop charging port, an LCD screen, and a three-mode LED flashlight. There are 19V/16V/12V outputs that you can use for powering up various types of devices. It comes with a safe design that provides overload, overheating, short circuit, over-current, and over-discharge protection.
How to use Jump Starter on a Dead Battery, check out the video below:

Hopefully you can get to know 5 picks of best portable jump starters to buy for your car. If you have any question about car maintenance tips, feel free to leave us a comment in the box below, our car experts will answer it for you.