How To Clean The Car Dashboard in Simple & Easy Steps?
Last updated
Jan 06, 2023
0 comments
How to clean the car dashboard? A question is raised. A lot of people think you need all different cleaners and special products to clean your car dashboard but it's actually simple to do and it doesn't take too much time to do this process. Let's deep down and find out how to clean a sticky dashboard. Specifically, the dashboard vent, the gauge cluster, and the infotainment screen.
A car dashboard is an important part of the car cockpit, located right behind the steering wheel to help the driver easily monitor while driving. In addition, this is also a part that is often impacted, so it is easiest to get dirty. It's necessary to clean your car dashboard because it's designed at the front of your car and is a place for us to observe and know the parameters as well as the operating status of the vehicle. Before learning about detailed steps, let's see what we need to prepare before doing this process.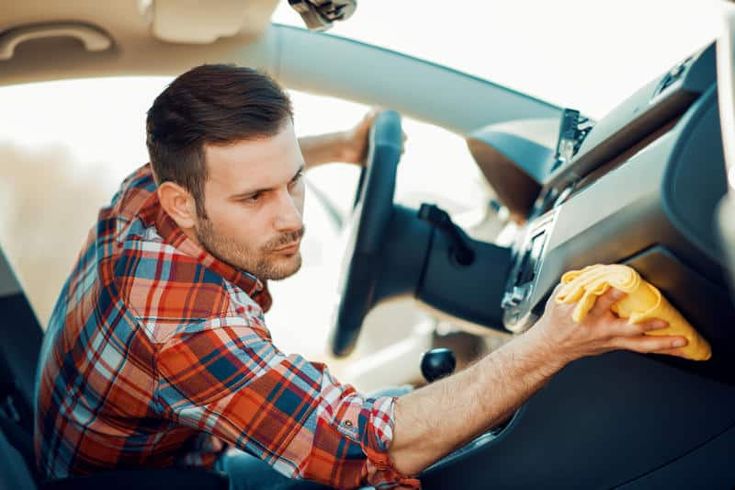 Things You Need To Prepare To Clean Your Car Dashboard
To make the process at home, you will need some tools below: 
A spray bottle of full water or commercial cleaners 

A screen cleaner or sensitive plastic cleaner

Clean microfiber towels

A soft-bristled, detailing brush or if you don't have one of those, you can use the toothbrush

A household vacuum cleaner

Shop VAC from your home
All of these tools are easy to find, you can grab anything in the shop, or local stores or they are available in your home. 
Note: You need to be sure that when cleaning the console center or the dashboard, you should stay away from harsh chemicals that can harm any sensitive equipment such as screens, or instrument panels…during the cleaning process. Your dashboard can be made of vinyl plastic or suede Alcantara so it will be easy to damage if you don't apply a suitable cleaning method. So we recommend, you use a very light cleaner like a window cleaner to clean your dashboard. You need to consult your owner's manual before putting any products on your dashboard. 
>> Related post: Best Methods for How to Clean Mold Out of Car Interior
How To Clean The Car Dashboard?
The car dashboard is often an easily overlooked part when car owners make a car interior cleaning. However, you don't know that this is one of the most ideal places for many types of bacteria and molds to live and grow. Every day, the driver comes into contact with a lot of tools and items with his hands and then holds the steering wheel for a long time, which is easy to sweat. All these factors will create conditions for bacteria to accumulate. To make your dashboard is always in good condition, follow these steps: 
Step 1: Vacuuming the car dashboard
One of the first things to do when cleaning your car dashboard is vacuum. This step makes the cleaning process easier and cleaner. You can use a handheld vacuum to get rid of any debris on your dash to knock out everything like dirt or hair that sticks on the car dashboard. You should do this step carefully and don't ignore the crevices where dirt often hides. The purpose of this step is to help you get rid of large debris before proceeding with the wiping. If you don't make sure that your dashboard surface is free of dirt. It can be dragged by the fabric or cleaner and leave scratches on your dashboard.
Note: When you are vacuuming, you should vacuum your car interior. Particles from the rear seat and other parts can move around the cockpit via open windows or the air conditioning, and you don't want all your hard work to go to waste.
Step 2: Using the microfiber and cleaning solution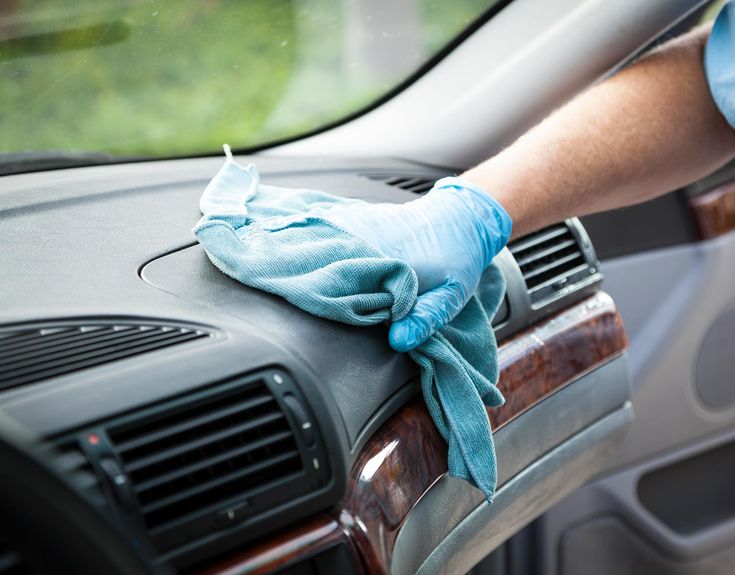 In this step, you would spray a small amount of the cleaning solution with a microfiber towel and gently clean your car dashboard. Microfiber towels are great for picking up dust and lent. You shouldn't spray directly the cleaner on the dash to avoid any overspray on your sensitive materials or even on the windshield. Normally, the right and top sides of your dashboard will be the easiest areas to approach and clean as they are usually relatively flat and open surfaces.
In places where small crevices cannot be wiped with a cloth, you can use a soft bristle brush to clean them, then use a cloth to wipe them around. It is also important to brush any vents and all areas again that are just hard to reach. We recommend using side to side and up and down motions to minimize the streaks when putting the cleaning products. And so what you are going to have is a clean, lint-free area after you have finished wiping it out.
Step 3: Cleaning your gauge cluster
A gauge cluster is a very important part of your dashboard, it displays vehicle speed, oil pressure, fuel level, battery voltage, and much more crucial information. However, this part can be particularly hard to clean in the dashboard areas because they both have sensitive materials in them and many crannies and nooks that are not easy to clean. Be sure to clean your instrument cluster regularly to help you see all the important gauges. You also use the microfiber cloth and cleaners to clean your gauge cluster. However, this part is very sensitive, so you should use the cleaning solutions that are specified for that kind of material.
Step 4: Cleaning the surrounding area
Don't forget to clean your dash cover, steering wheel, and center console. The cleaning process is the same as in the steps above. After finishing this process, you should let it dry naturally before moving to the last step.
Step 5: Polish your car dashboard
Polishing the car dashboard is one of the best ways to help you remove any unwanted scratches on the surface while still being polished. In most situations, the polishing product comes with a cleaning solution when you use the right cleaner. We recommend a product like a Power Clean. This product not only protects your dash but also leaves the car dashboard with a satin finish that is not overly shiny that'll blind you in the sun while driving. This is the reason why we recommend avoiding excessively shiny products.
>> Read more: Clicking Noise In Dashboard When Car Is Off: Top 4 Reasons
Final Thoughts: How To Clean A Dashboard?
In reality, there are many opinions about what is the best way to clean a car dashboard, however, whatever solution you use, proper and regular cleaning is very necessary for your dashboard. Different materials of the dash will require different solutions. Before making a cleaning process, you should know what your car dashboard is made of before wiping it out.