How Much Does Car Interior Detailing Cost?
Last updated
Apr 28, 2023
0 comments
To always keep your cabin or car interior in tip-top shape, you'll need a detailed and consistent detailing schedule with a skilled team to help you do all the job professionally. So if you are wondering about the procedure and cost to detail interior of car, follow Car From Japan article right now.
What is A Car Detail?
The car cabin is a part that considerably affects the health and spirit of the driver with countless utilities. Most of the time, the driver will be here and controlling everything. So, this is one of the places that need the most attention and care if you always want your driving experience to be comfortable in a clean space. And to get to that status of comfortable, car interior detailing is a must.
Detailing car interior is gradually becoming a familiar term to car owners due to its good-covering function. However, when the auto washing/detailing trend changes, the concept of car detailing becomes more popular, replacing old ones such as car spa or car care.
Overall, car interior detailing is a high-qualified interior cleaning and caring service, applying more meticulous quality as well as a higher level of detail protection than conventional car care approaches.
Why You Have To Detail A Car Interior?
According to general recommendations from car care and maintenance experts, you need to carry out car interior detailing every 3-4 months. Doing such occasional car care procedures will protect the space inside and ensure its aesthetics as well as the driver's safety.
Because if it is left unclean for a long time, dirt and sweat will cling to the interior gradually, causing an unpleasant smell and unpleasant-to-look stain. If not cleaned regularly and carefully, it can also form pathogens and affect passenger health.
If left for a long time, cars with seats equipped with materials such as felt will make cleaning difficult. As for the leather, although it is less dusty, over time, the color will not be maintained as it was at first, and there can also be a cracking phenomenon.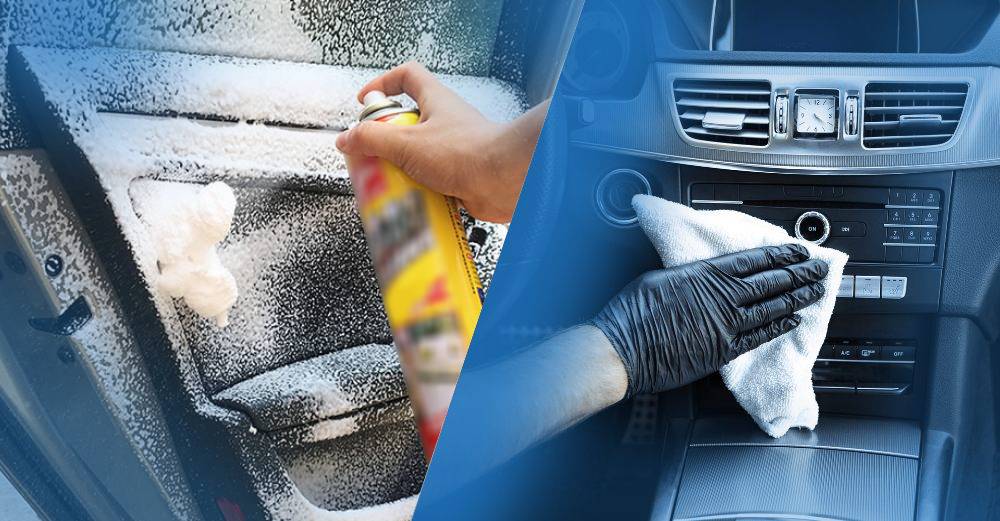 Interior cleaning
A car is a closed space, so the amount of air circulating is not as abundant and cool as the outside. Therefore, it contains many unpleasant odors, causing a sense of frustration in traffic for people in the car. So overall, car cleaning helps to remove harmful bacteria and unpleasant odors.
Maintain the condition of your car
The smell of mold and dirt accumulated in the car interior over a long time, especially the car mattress, or the state of the car seats are somethings that make your car look "ten years old" when it is not regularly refurbished and detailed. Vacuuming, sweeping dirt, and cleaning surfaces will help to reduce clogging and overloading of sanitary equipment in the car. This will keep the vehicle in good condition for a longer period. As they always say, it's better to prevent your car interior from being damaged than to cure it after.
Enhance the value and driving experience
A car that looks a little new will make your car more valuable than it is. Because it impresses at first sight with glossy paint like new, no dust, clean-detailed interior, car seats are free of excess garbage, and smooth with carefully groomed leather. Whether it's your family or customers using your car, the feeling when stepping into a clean vehicle is still a great experience everyone deserves to feel.
Therefore, interior detailing and maintening are vital and can never be ignored.
Cost To Detail Interior Of Car
Typically, the car interior detailing process includes cleaning and detailing the seating area, dashboard, windows, glass, ceiling, door, carpet, leather, and plastic on the surface of the interior. And this process also requires the use of chemicals as well as specialized solutions.
In addition, it is also necessary to use specialized equipment or technology to ensure that materials such as leather and plastic are not changed too much during detailing.
And the price for the interior detailing process depends on the size of the car, large or small, which has different costs. While decontamination is not included in the price, we will break it down and presume drivers would keep their vehicles in good condition.
Coupe, Hatchback, Sedan – $150
Crossover, Wagon – $200
SUV, Minivan – $250
3-row SUV, Pick up Truck, Large Truck, Truck Van – $300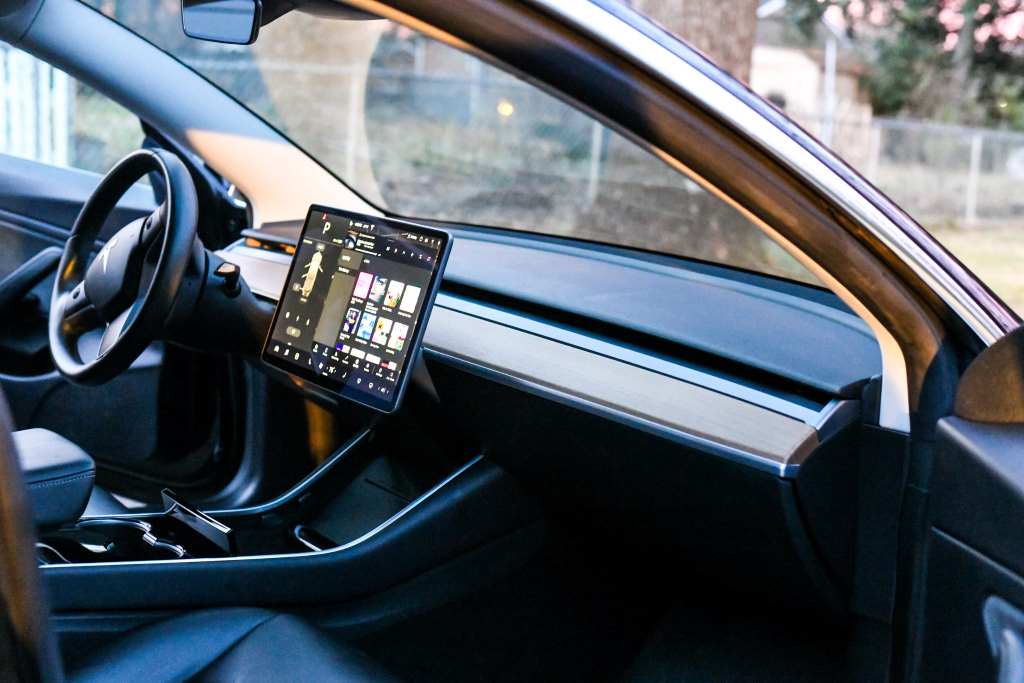 Breaking Down Car Interior Cost In Details
Quick interior detail: ~$70
Vacuum carpets, floor mats, and upholstery
Clean glass inside and out
Apply skin protectant and vinyl
Finishing interior details: ~$150
Vacuum carpets, floor mats, and upholstery
Clean the ceiling, leather, vinyl, and plastic surfaces with steam
Deep clean carpets, rugs, and upholstery with a hot water extractor
Clean the door handle
Clean glass inside and out
Apply skin protectant, vinyl, and plastic
Interior deodorizer: ~$75
Use deodorant or use an ozone machine
Ventilate inside with a high-speed fan
Deodorizing the interior should only be done after the interior has been completed
Wash and wax: $70
Hand wash paint, glass, and wheels
Apply a layer of wax or paint glue
Engine compartment details: ~$75
Apply all-purpose cleaner to the engine compartment
Clean the engine compartment with steam
Apply plastic and rubber protectant
Convertible restoration: ~$150
Hand wash paint, glass, and wheels
Apply convertible cleaner and rinse
Apply for convertible top protection
Paint correction cost
Build A Car Interior Detailing Package
After grasping the detailed cost to detail interior of car, the next issue of choosing a suitable car care service from tons of options can be confusing. The most important factors for you to decide may be time and budget. How long can you go without your car, and how much are you willing to spend to detail it?
The time it takes to complete a comprehensive automotive detailing can be measured in days, not hours. At the same time, the cost can be as high as $1,000 for a small car with a significant paint job, interior finishing touches, and engine compartment details.
In detail, the complete interior and exterior detailing combination is a popular and recommended car detailing package. Under average driving conditions, a vehicle should be subjected to a detailed annual inspection. Most cars will benefit from quick detailing, four to six months after a deep cleaning.
Moreover, when looking for car care services, you should know the year of manufacture, make, and model of the vehicle. Be ready to share how long since the car was last detailed to the center staff. Also, mention any problem areas that may need extra attention to get the most accurate estimate prices and suitable solutions if you book the car detailing online or through apps. Of course, all estimates are subjective until a car care worker performs an in-person visual inspection.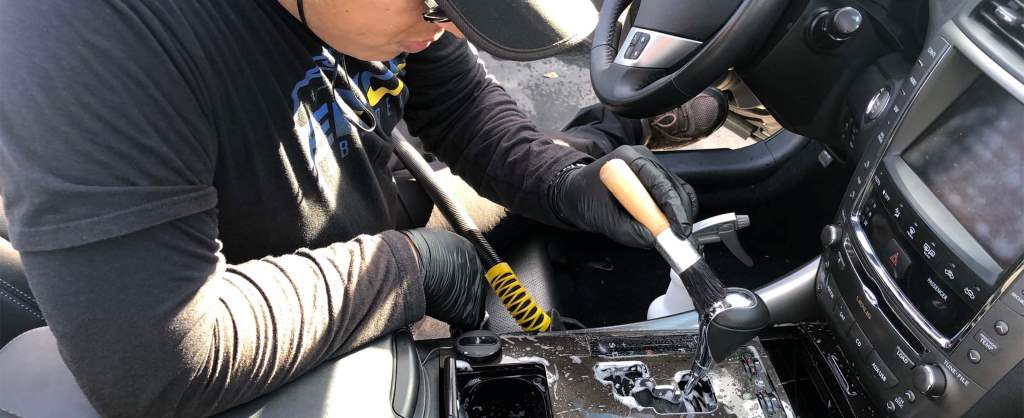 Things To Note When Detailing Car Interior Yourself
If you bring your car to a reputable detailing center, you will not often encounter warnings like this. But if you want to detail the car yourself at home or in new center, you should pay attention to these notices
Before embarking on cleaning the car interior, you should vacuum the carpet and floor thoroughly.
When cleaning the car interior, washing the car seats is a must. Because when car seats stay still for a long time, the surface will be dirty and an ideal place for bacteria to breed. If you sit for a long time, the back and the parts in long contact with the seat surface may be uncomfortable and cause acne.
Use a specialized chemical solution to clean, both to avoid damaging the leather of the chair and still be able to effectively remove bacteria. The types of solutions you can refer to can be high-end ones imported from the US and Europe.
Use a specialized towel to clean to ensure the safety of plastic and leather surfaces. You should also use a specialized cleaning cloth and must be a clean one.
Avoid using harsh scrubbers as they can damage the plastic or leather seats. And brushes for cleaning gaskets or other places must be of different sizes.
As you can see, detailing a car interior at home is not easy because you have to prepare many tools and a well-based knowledge yourself. Therefore, you should look for places with reputable services to clean and detail your car.
FAQs About Cost To Detail Interior of Car
How much does a piece of interior cost?
A thorough car interior detailing costs between $150 and $225, depending on the size of your vehicle. Detailed interior estimates consider the number of frequent passengers in cars, trucks, or SUVs. The cost will be higher if the car interior has above-average levels of pollution (pet hair, sand, salt stains, food/drink spills).
How much does an exterior detail cost?
A comprehensive exterior detailing costs between $150 and $230, depending on the vehicle's size. Mileage traveled and driving conditions are important factors when purchasing detailed exterior estimates for your car, truck, or SUV. The cost per part will increase if the exterior has a significant accumulation of brake dust, tar, sap, or bug gut.
What is the cost to detail a SUV?
The cost to detail an SUV inside and out starts at $350. The most expensive SUVs are down to the details due to the spacious interior, especially for models with a third row of seats. SUVs tend to be taller than cars and require a work platform or ladder to clean the roof, which adds to the cost required to perfect an exterior detail.
SUV interior details: $170 to $250
SUV exterior details: $170 to $250
What is the cost to detail a truck?
The cost to detail a truck inside and out starts at $350. The interior of the pickup truck is similar to the interior of a car, so there is less detail compared to a SUV in a similar condition. Trucks have a higher starting price because they have larger surface area than some SUVs. If the pickup is raised or has a bed cover, that detail may incur additional costs.
Truck interior details: $150
Truck exterior details: $200 to $250
Conclusion
In general, car detailing is always necessary for any car when it comes to its due time. If this is not done as planned and is ignored, the comfort and cleanliness of the cabin will affect your everyday driving experience. As the overall cost to detail interior of car is not at an extreme level, make sure your car is protected and cared for reasonably so that you will always have happy and comfortable daily rides.
For more Car maintenance tips, follow Car From Japan today.