Car Dimension: Average Measurements of Common Models
Last updated
Mar 12, 2021
0 comments
We all think about the make, model, and features when buying a car. Most of us forget to consider an important point: the car dimension. You must have a clear idea about the height and width of a car, so it suits your needs perfectly.
Too big automobile dimensions will make it inconvenient for the car to park in a garage. If a car is too tall, it won't fit into a parking space with a low ceiling. So, it's important to know the average length and height of a car.
Car Dimension: How Long Is My Car?
Car measurements are done by their exterior dimensions. To figure out whether a vehicle is right for your needs, you should know about its height, width, and length.
Cars have been getting wider day by day. For example, a Mini Cooper is now 61% bigger than the models released in the 1950s. Let's find out the average auto dimensions of some regular categories:
City Cars
Dimensions: 2695 to 3665 (L) x 1460 to 1610 (H) x 1475 to 1665 (W) mm
Examples: Toyota Aygo and Volkswagen Up.
These cars are great for first-time young buyers because of how easy they are to drive and park, and their low maintenance costs. Due to the compact size, they are perfect for cruising through city roads.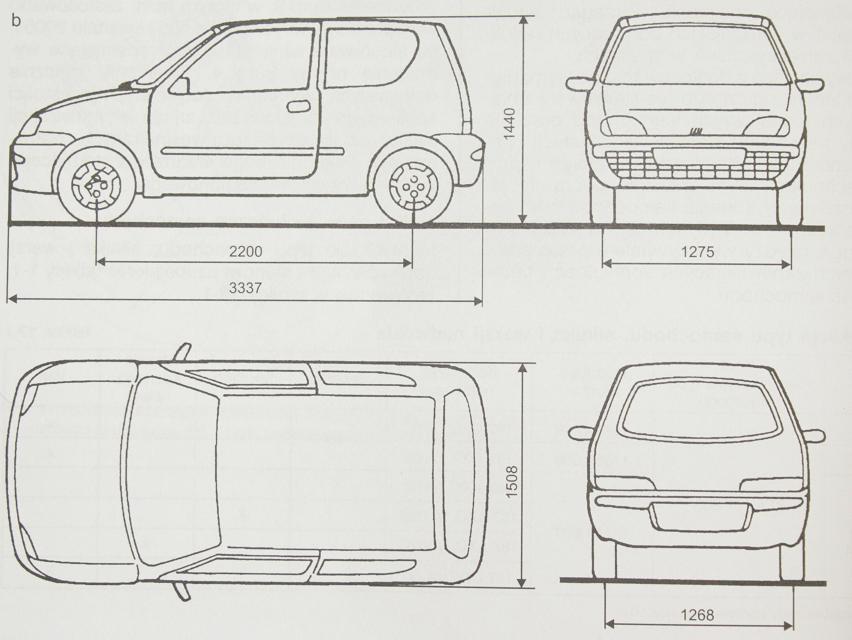 Superminis
Dimensions: 3821 and 4084 (L) x 1414 to 1578 (H) x 1665 to 1780 (W) mm
Examples: Audi A1 and Renault Zoe.
In terms of car dimension, Superminis stays between city cars and hatchbacks. Perfect for a small family, these compact models offer fuel economy and a smooth driving experience.
Compact Cars
Dimensions: 4109 to 4370 (L) x 1424 to 1530 (H) x 1729 to 1823 (W) mm
Examples: Honda Civic and Citroen C4.
Despite having a compact design, these models have generous interior space. These are a good option for small families.
Hatchbacks
Dimensions: 4425 to 4726 (L) x 1418 to 1575 (H) x 1703 to 1871 (W) mm
Examples: Honda Civic and Mercedes-Benz A-Class.
Hatchbacks are among the most popular models for growing families. Besides having enough interior space and a sturdy framework, they have powerful engines and offer fuel economy.
Multi-Purpose Vehicles (MPVs)
Dimensions: 4068 to 5130 (L) x 1530 to 1860 (H) x 1695 to 1928 (W) mm
Examples: Ford S-Max and Volkswagen Sharan.
MPVs are available with both 5 and 7 seating options. They are good for transporting both people and cargo.
Saloons and Estate Cars
Dimensions: 4236 to 4966 (L) x 1429 to 1550 (H) x 1693 to 1895 (W) mm
Examples: BMW 3 Series and Volkswagen Passat.
These economical and reliable vehicles offer luxury and a smooth driving experience. They also come with a generous boot capacity.
SEE MORE
SUVs
Dimensions: 4662 to 5130 (L) x 1624 to 2035 (H) x 1760 to 2008 (W) mm
Examples: Toyota Highlander and Kia Telluride.
SUVs are the best choice for both highway and off-road performance. With huge interior space, they are comfortable for both small and large families.
Pickups
Dimensions: 5205 to 5632 (L) x 1775 to 1815 (H) x 1760 to 2008 (W) mm
Examples: Ford Ranger and Mitsubishi L200.
Mainly used for carrying cargo, these heavy-duty vehicles are suitable for multipurpose use.