Top 5 Best Factory Car Audio Systems
Last updated
Nov 30, 2020
0 comments
Some of us love listening to music while driving. Many people upgrade their built-in audio system because the factory unit is a cheap and low-quality product. Thankfully, some cars nowadays are equipped with genuinely advanced and mind-blowing in-car audio systems! In fact, if you look around, you will easily find some best factory car audio systems.
Top Picks: 5 Best Factory Car Audio Systems
Usually, cars with best sound system are the ones that belong to a luxury brand. Here are the top five picks:
Harman Kardon
This is another best stock car audio transpiring from Samsung electronics. Renowned automobile manufacturers like Volvo and Subaru have this audio-system incorporated in their cars.
Being one of the oldest-serving brands in the market, it gives emphasis on the quality and durability of its products. So, depending on the car brands, you will get around 12 to 13 highly-balanced speakers and amplifiers within 432 to 792 watts.
The audio systems provide you the top-notch output, allowing the users to enjoy a quality time when in the car.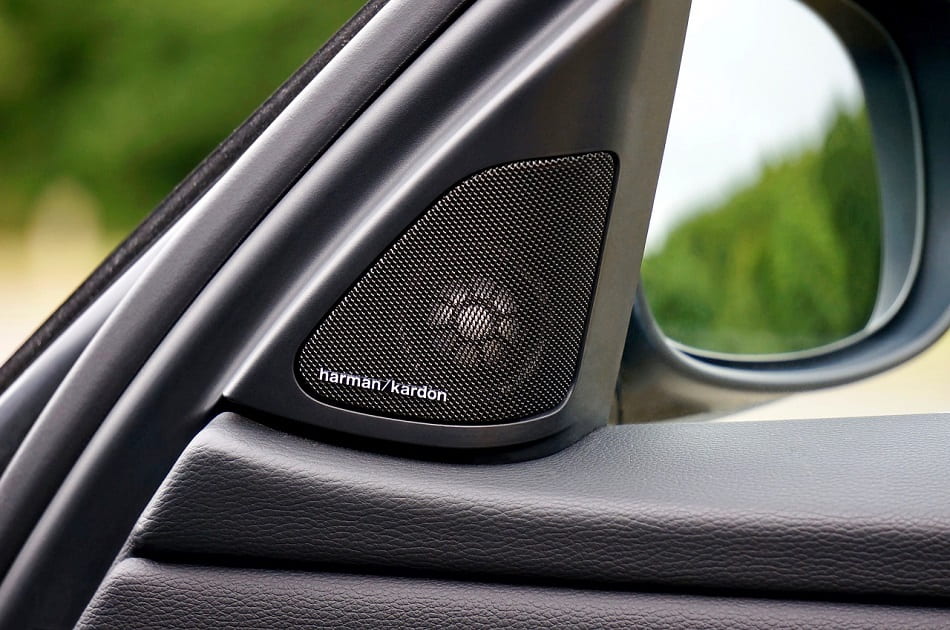 Burmester
The German audio system manufacturer is distinguished for making premium-quality audio systems. You will find this company in two most prominent car brands: Porsche and Mercedes-Benz.
This company has a knack for making custom audio output for different automobile brands. In fact, it builds only 3D output with a 300-watt subwoofer and 12 controlled speakers.
With this superb in-car audio system, you can discover new aspects of specific music and minute details of instruments.
Monster
This factory-set in-car audio system has clinched its place in the best car audio systems with an immaculate sound creation. Lamborghini, a superstar in the sports cars genre, has this sound system integrated into its entertainment arrangement.
With high-quality speakers and auto-adjustable amplifiers, Monster sound systems can render distortion-free sound. In fact, you can completely rely on it for upbeat music. It yields music as how it has been recorded in the studio.
Bose
Literally, it's another name for luxury because it's a full package. This brand offers 13 to 15 hi-tech speakers that can convert from mono to multi-channel tracks. Also, heightened noise-canceling technology allows you to get engrossed in the original form of music. Thus, it's one of the best car audio systems.
This in-car audio-system manufacturer is associated with several automobile brands, including Cadillac and Infiniti.
SEE MORE
Bowers and Wilkins
It's a British audio equipment manufacturing company. If you desire to apprehend exceptional music quality, Bowers and Wilkins audio systems are the one for you.
The best thing about this audio system comes with a streamlined in-cabin configuration and there could be a set of 17 to 20 speakers in a unit. Because of amplifiers with a range of up to 1280 watts, you will get the best musical session when driving.
Bowers and Wilkins audio systems are available in BMW, Jaguar, Volvo, and Maserati cars.
Final Thoughts
From the discussion of the best factory car audio systems, you can tell that the infotainment system of modern cars is better than the older models. Undoubtedly, it's great news for music-lovers as they can get an excellent music system in their car.