Top 10 Best Car Air Freshener Products of 2023
Last updated
May 09, 2023
0 comments
Does your car always feel like smelling something? If you spend too much time in the car, it is not unusual for odors to hang around there. It could be the sweat odor from your gym clothes or the rotten stench from the crumbs of sandwiches you had last month. Cars can get smelly if you often drive with your furry friend. The solution is to use the best car air freshener product because these lingering smells don't go away even if you keep the windows rolled down.
Best Car Air Freshener: A Selection of 10 Products
When you are looking to freshen up the car environment, you might want something that works quickly, lasts longer, and does not contain any harmful chemicals. Some products are chock-full of chemicals that can not only damage the delicate leathers and plastics in the car but also cause health problems.
We've made a list of 10 best car air freshener products that will make a lasting effect without doing any harm.
1# MOSO NATURAL Air Purifying Bag
When you are looking for a natural air freshener product free of harsh chemicals, this natural air purifying bag from MOSO is a perfect choice.
This is just a linen bag containing natural bamboo charcoal. It means there is no harmful ingredient to damage the car's expensive leather or cause you health problems.

Activated charcoal absorbs excess moisture from the air. In fact, moisturized air is the breeding ground for various harmful elements like bacteria, mildew, and mold. The absence of these things means there is no odor in your car.
You just have to sun-dry the packet once in a month to re-activate the charcoal. The product is usable for two years but you can just feed them to plants instead of tossing into the trash can.
2# FRiEQ AP-C Car Air Purifier
This one looks like a cool gadget rather than an air purifier product. Like the MOSO air purifying bag, it also removes the causes of bad smell so the air stays fresh and germ-free.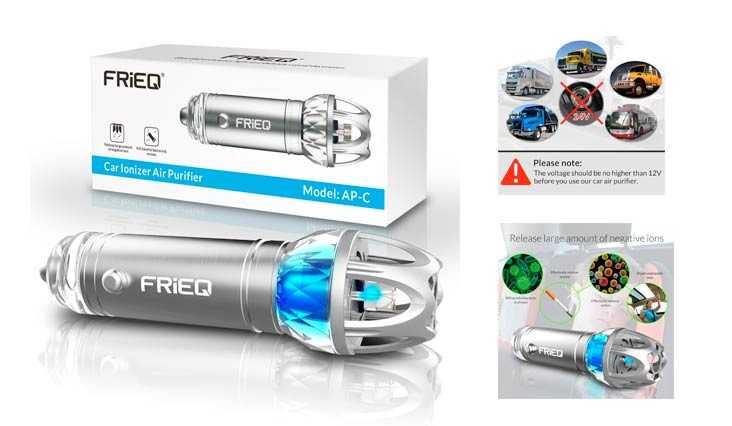 This torch-like device releases 4.8 million negatively charged ions per cm³. Keeping it into the car cabin destroys things like mold and bacteria, which are the main causes of creating odors. It even eliminates dust, pollen, and the lingering stench of cigarette smoke.
The best thing about this gadget is that you will need no filter or refill over its lifetime. Just plug into a 12-volt charger and it will keep releasing negative ions.
3# MEGUIAR'S G16402 Whole Air Re-Fresher
People who love the smell of new cars will definitely like this G16402 air refresher from Meguiar's.
It is a spray can that contains a liquid that removes the bad smell sources from your car. Targeting at a molecular level, it works quickly to remove bacterial elements and mold spores.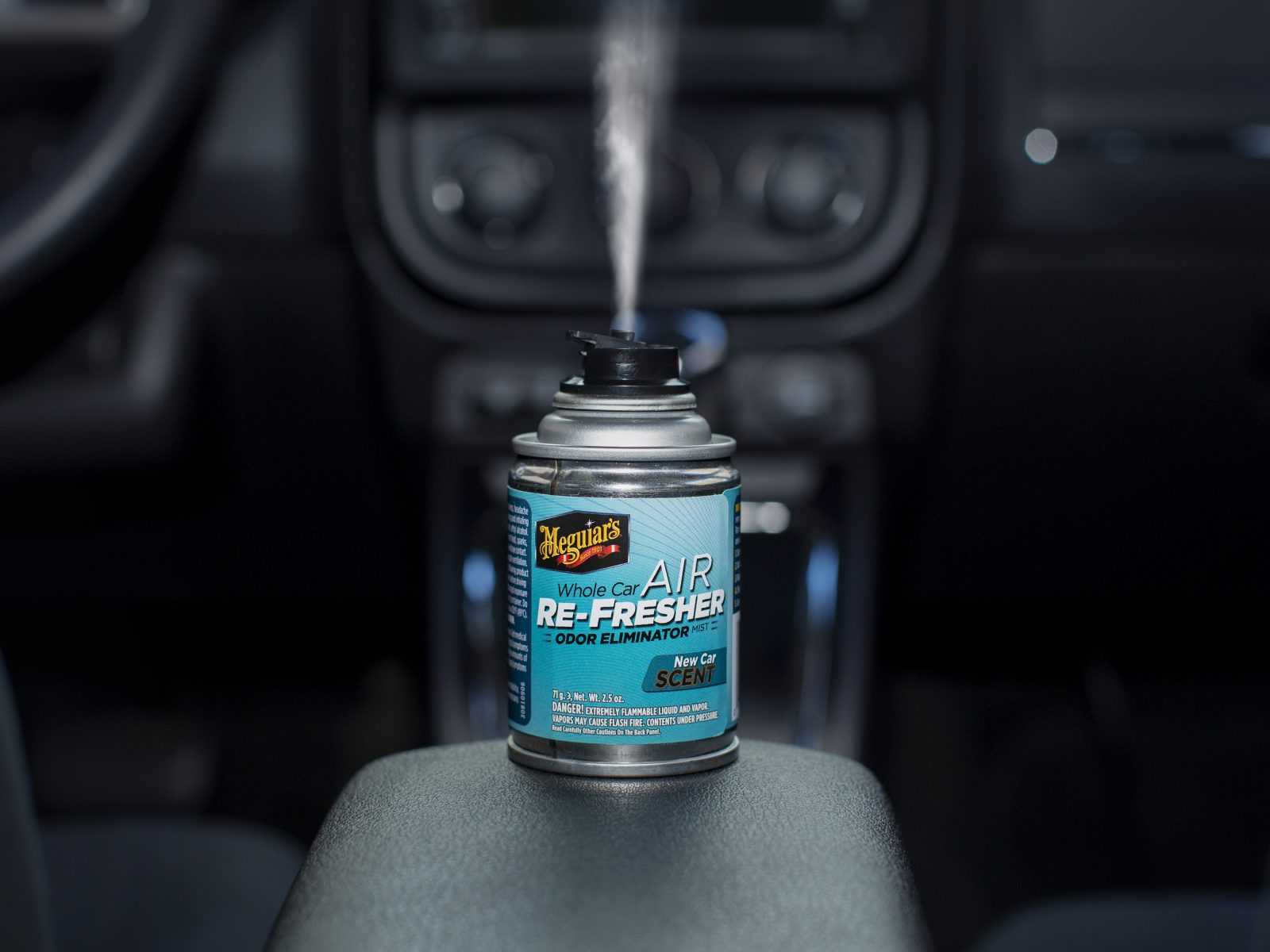 Being in a gaseous form helps it spread through all nooks and crannies, removing odors from everywhere and pervading the entire cabin with a new car smell.
4# Air Spencer 000400 CS-X3 Squash Scent Air Freshener
The CS-X3 from Air Spencer is one of the best car air freshener products that work in a traditional way, instead of absorbing moisture or shooting ions to kill bacteria. You just have to tape it to a specific place like the door or dash and it will do its job.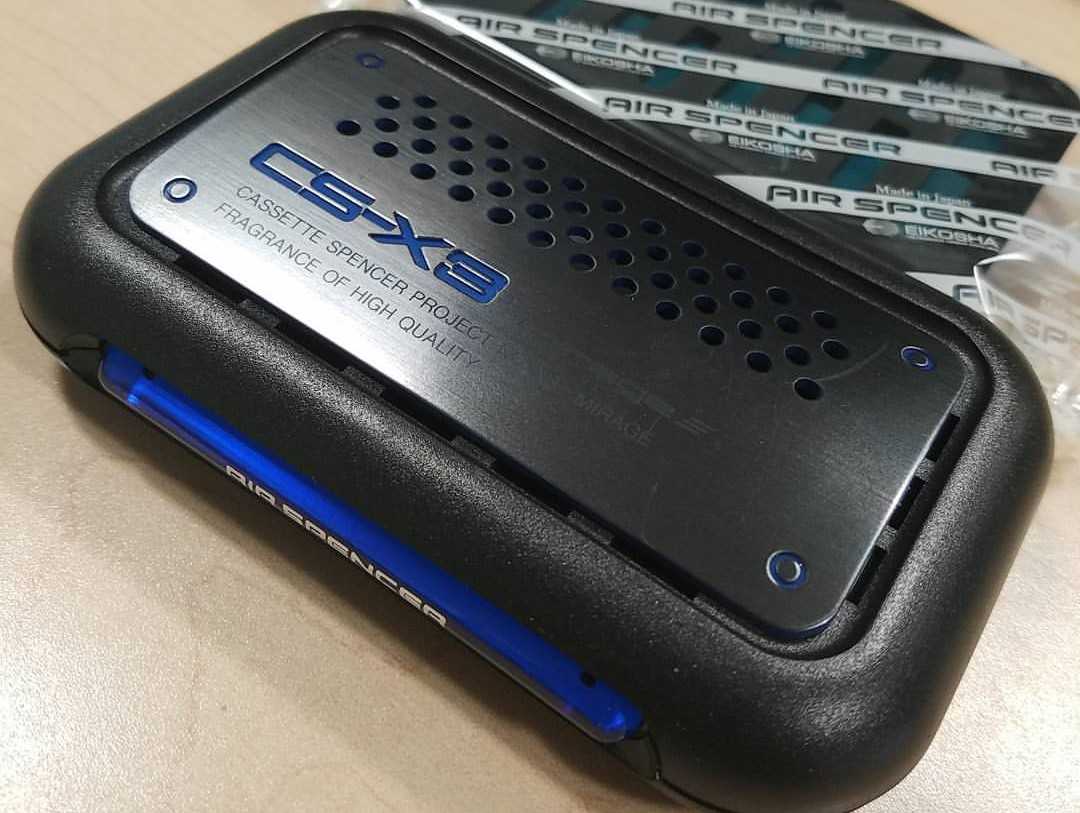 It will repel bad smells and fill up your car cabin with a nice aroma. The squash scent lasts for a month, but you can extend the lifespan by using refills (sold separately).
5# Chemical Guys AIR_101_16 Premium Air Freshener
Chemical Guy is a renowned brand when it comes to high-quality car care chemicals. This Air_101_16 air freshener is a high-quality product that eliminates the elements that cause bad odors, just like the MOSO air purifying bag and FRiEQ air purifier.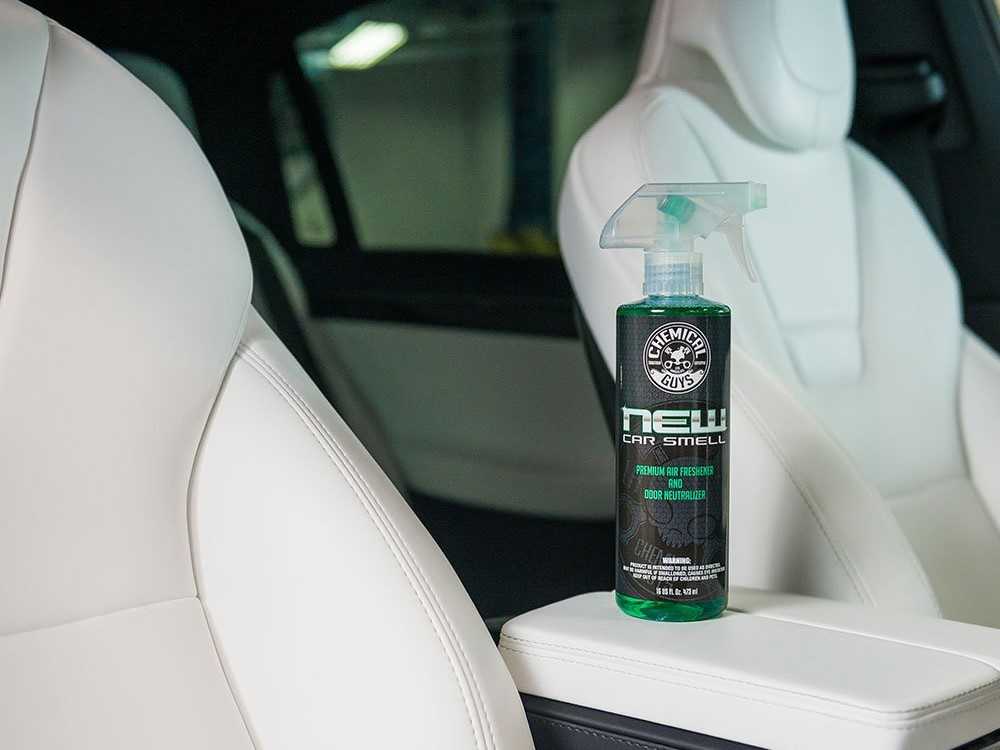 Spraying from the freshener bottle releases natural enzymes that remove molds and bacterial and fill up the car with a 'new car' smell. Another good thing is that you can spray it to any particular area at any amount you want.
This is one of the longest lasting air freshener products because of its high concentration. So, spraying just a little amount is enough to refresh the car.
SEE MORE
6# Ozium 804281 Smoke & Odors Eliminator Gel
This is a cheap little product that does what it claims to do on the label, "the anywhere odor eliminator." That's right. You can use it not only in your car but also in your home or on the office desk to keep the environments fresh and free from bad smells.
It is a gel-like product that is kept inside a small container. You have to twist its lid to reveal the built-in vents underneath. Open the vents fully when there is an intense odor like the reek of cigarette smoke inside the car cabin. Close the vents up a bit if there is no strong smell inside the car.
The odor eliminator does not release any overpowering smell, which is great for people who have a sensitive nose.
7# LITTLE TREES U6P-60155Car Air Freshener
This would undoubtedly be among the best car air freshener products because it has stood the test of time. The image of these little trees hanging from the rearview mirror will come to many people's minds when thinking of car air freshener.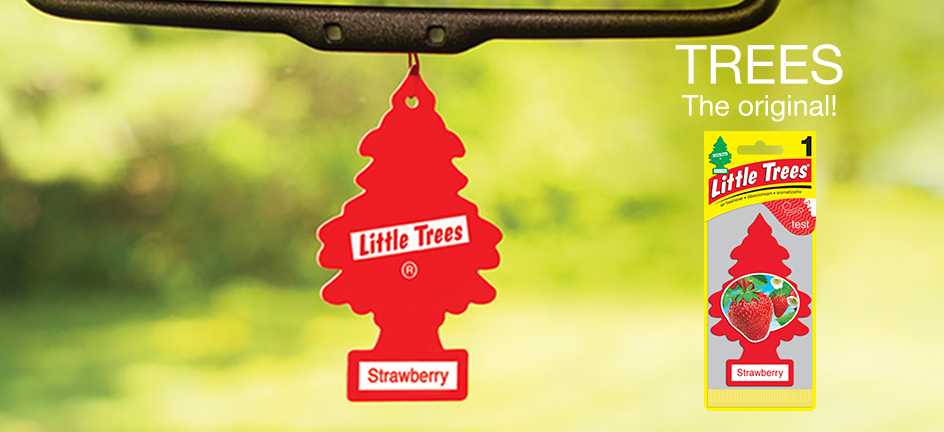 Little Trees air freshener is not a high-tech product to discharge negative ions or absorb moisture. It works in a more traditional way—you just hang a little tree from the rearview mirror and it will release a nice smell.
One tree is not going to last long. But each pack comes with 24 of them so you can just replace the old one when the scent fades.
8# GerTong Aromatherapy Car Diffuser
This GerTong product is more like an aromatherapy diffuser that comes with 11 different flavors. Each refill pad is a fragrant essential oil diffuser, so the freshener can please a wide range of people having different tastes.
The diffuser is a stainless steel locket that has a clip on the back. You will clip it to a slat of the car's air conditioner vents. The refill pads come in a transparent Ziploc bag. The good this is you can use this for an unlimited time period. Just add a few drops of your favorite essential oil onto the pad and the diffuser is ready to go.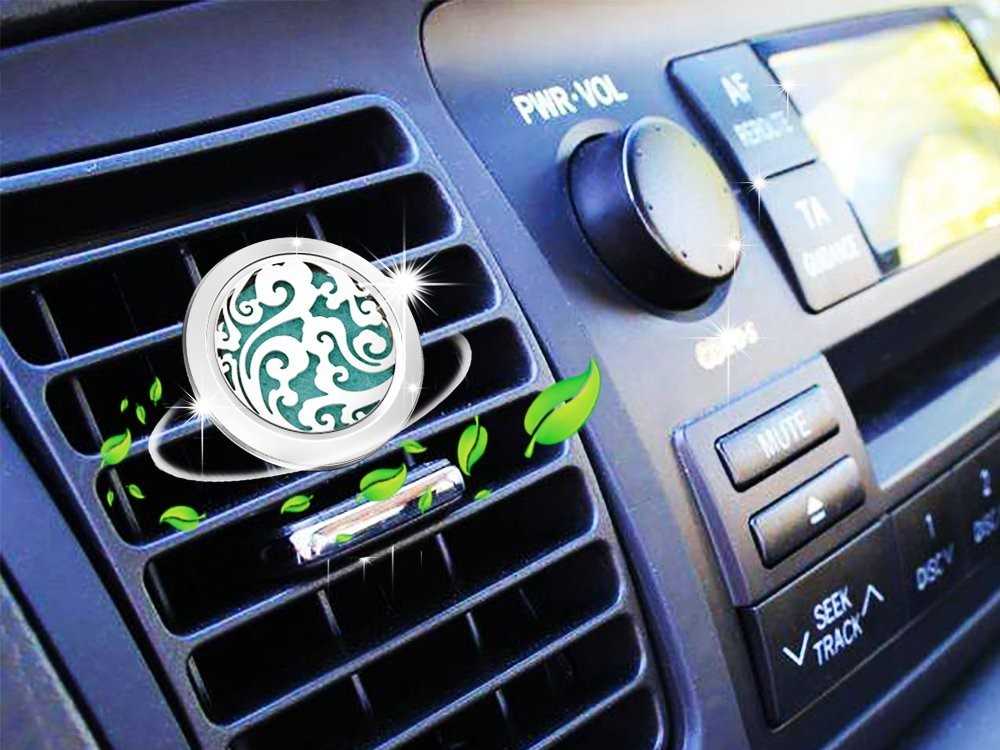 Due to its small size and clip-mounting design, you can use it not only in cars but everywhere you go. The scent is highly soothing and relaxing, and you have the option to use your favorite scent over and over.
Keep this oil diffuser away from children. It is so small that toddlers and young children may try to swallow it, causing a choking hazard.
9# Little Trees CTK-52233-24 Vent Wrap
Another Little Trees product worthy of being the best car air freshener. It works in a simple, straightforward way, like the little scented hanging trees.
The placement of most air fresheners has to be right in front of the air conditioner vents for better circulation all across the cabin. But it is no visually pleasant to see a gadget hanging in front of the vents. These vent wraps don't stick like a sore thumb as they blend with the rest of the car's interior.
Designed with the StediScent technology, these little wraps hug a single slat in the air conditioner vents. They are so small and visually so discreet that the passengers won't even notice where the scent is coming from.
10# Air Spencer CS-X3 Car Air Freshener
This CS-X3 air freshener from Air Spencer is like a vented box that you can use in various places like cars, home, offices, and more.
Although expensive, you can call it one of the best car air freshener products. The smell is a bit overpowering, so purchase it only if you don't have any problem with a strong fragrant smell. However, the box has settings to control the intensity of the scent. Set it low to high depending on whether you want to just freshen up the interiors or mask the bad odors.
The scented cassettes are refillable. If you use the freshener at its full strength, it will last approximately for two weeks. The lifespan will be longer in a lower setting.
The freshener box carries a refillable cassette that contains a gel-like substance. It discharges scented particles into the air and the intense fragrance overpowers the nasty smells and eventually drives them out of the car.
The fresh candy-like scent is very pleasant and kids will definitely love it. Mounting the box to your dashboard or any surface you want is easy as it includes double-sided tape.