What To Do With Your Junk Car In The US
Last updated
Oct 14, 2021
0 comments
Do you or someone you know have an old junk car laying around, and you aren't quite sure what to do with it? Maybe you have been collecting old cars for years, and you are always looking for ways to make use of your old junky cars? Perhaps you have never had to deal with a junk car before, and a recent accident or inheritance is forcing you to do something about it? If any of this sounds like you, then read on to learn some helpful tips and tricks. This article will break down some of the best things to do with your junk car in the United States. There is no reason to leave your old junk car sitting out in your driveway useless. Use some of these ideas to do something with your junk car or even make a quick buck! 
Scrap Metal
All cars are made out of different kinds of metal, and usually, that metal in and of itself is worth a decent amount of money. Scrap metal collection is especially worth it for older car models since newer ones are generally made with a higher percentage of plastic products and parts. Metals like steel, copper, and aluminum can give you a decent amount of scrap metal value. If you have a car that is in particularly bad shape, then selling it for its scrap metal value is probably the best option. 
Parts
A common way to make the most out of an old junk car is to try and sell different parts of the vehicle separately. Some parts of your old junk car might be desirable for collectors, still have some use, or have a high scrap metal value. You might be able to sell the entire vehicle to a collector in order to use it as parts for a much higher price than a junkyard would give you. Depending on the model of your car, some of the parts might even be compatible with modern car designs, or other highly valued vintage models. 
Repurpose
There are many things that you can do with an old junk car rather than stripping it for parts or sending it to the local junkyard. Many people have used old vehicles in order to repurpose them for new things. An old car could serve as a great fort or play place for young children, as long as you have made sure that everything about the car is safe. You could also use it as a way to teach someone about taking apart a car or fixing certain things. There are many organizations and fire safety schools that accept junk car donations to help give students realistic lessons. You could even consider making yourself a large garden planter with the skeleton of your old junk car.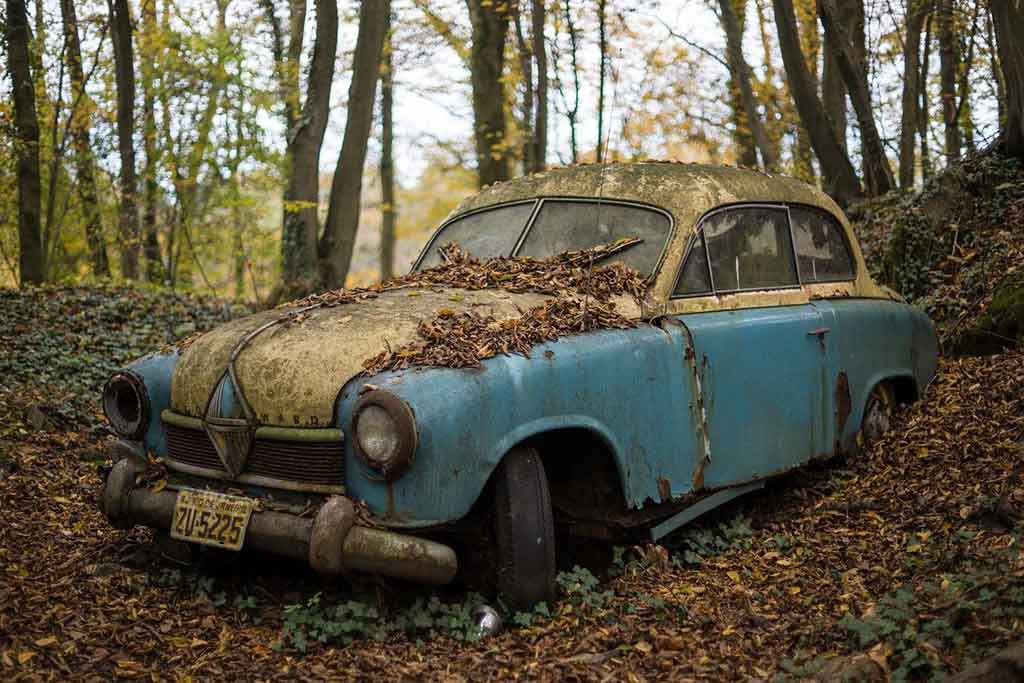 Sell
If you have a car that you think might be fixable, but you can't be bothered to get the necessary work done, then you might want to consider selling your old junk car. Even if your car will not run, there is still a chance that you might be able to find a place that offers cash for junk cars at a fair rate, such as USJunkCars. Selling your car can free up funds to make improvements to other vehicles, or purchase a new one from your local lot. Either way, if your junk car is just sitting doing nothing, then you might as well make some easy cash from your unwanted car. 
Demolition Derby
A tradition in many areas of the United States is to hold a demolition derby during events such as fall fairs, and others. Demolition derbies are essentially bumper cars, but using real cars that have been retrofitted to keep the drivers safe. This can be a great way to use your old junk car for something fun, and maybe even win some money in the process. If you have never been to a demolition derby before, then you should definitely check one out to get the general idea before you start making a car to enter into the derby. 
Fix
If you consider yourself a bit of a handyman, or you just enjoy working on cars, then you might want to consider trying to fix up your old junk car. Many people like to make projects of fixing up crappy old cars, in order to restore them to their original condition. This can be an expensive undertaking in some instances and require a decent amount of know-how and equipment to get the necessary work done. If you know someone who has a garage or is willing to help you fix up your junk car, then this might be something you want to consider.  
Junkyard
One of the most common things to do with your old junk car is to send it to the junkyard. Usually, you can get a bit of money from the junkyard in order to bring your car there, but you will also have to pay a small fee if you need to get your car towed there. A junkyard will allow you to just drop off your old car and forget about the rest since they will take care of the rest of the process for you. 
After reading through some of the different ideas listed above, the hope is that you have found some great ideas to help you decide what to do with your junk car in the US. Having an old junk car sitting in your driveway or on your property can be a real eyesore, and in some cases even be dangerous. Stop letting your old vehicle go to waste and let it be useful for one last thing. Whether you have the room or not, getting rid of some of your old junk cars can give you some fast and easy cash to improve your newer vehicles, or maybe even buy a brand new one. You will never know until you try for yourself. In some cases, you can even get someone to pay you to pick up and get rid of your old vehicle.