Top 10 Japanese Used Car Exporters
Last updated
Aug 20, 2023
0 comments
The world favored Japanese used cars for such good conditions, low prices, and exceptional exported services. For years, many car lovers trusted and used exporters to import cars to their doors. Still, the questions remain, Which site is helpful and easy to use to avoid scams and frauds buying a used car? Take a look at our selection of 10 leading used car exporters from Japan.
1. Al Ain Japan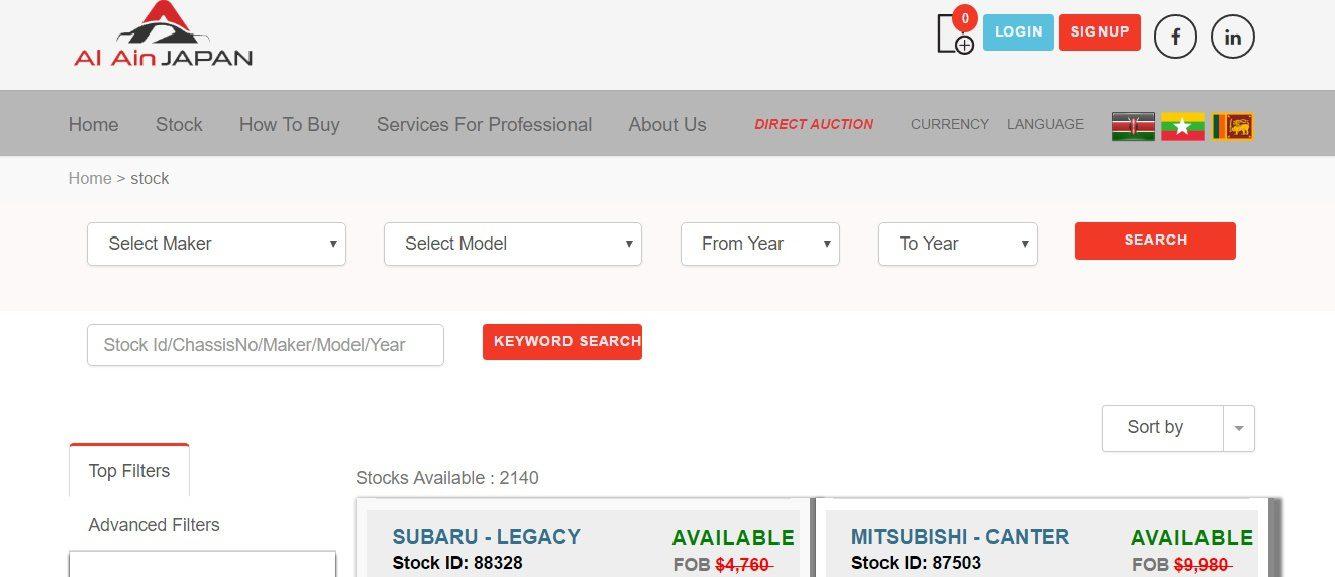 With 20 years of experience, Al Ain Japan is among Japan's top used car exporters. The member of Car From Japan provides a huge stock of used cars with a wide variety of prices for you to choose. Straightforward and direct, the website supports four languages and different region stock pages. Can't find your car yet? Send details of your dream vehicle, and Al Ain Japan will find it for you. Even more, try their auction service to get yourself a unique car. The fast, reliable delivery service will surely satisfy you with the speed of a heartbeat.
Read more:
2. Beforward
Filters allow you to search based on various features for used or certified pre-owned cars. Beforward's selection is versatile: from Japanese-made vehicles to American / European imported, diverse from 4-door sedans to buses, trucks, tractors, and even motorbikes.  Also, the promotion discount is huge: up to 80%. However, the rumors have been flying as you get what you pay for and poor after-sales service. As they announced on their website, be aware of fake Beforward!
3. Royal Trading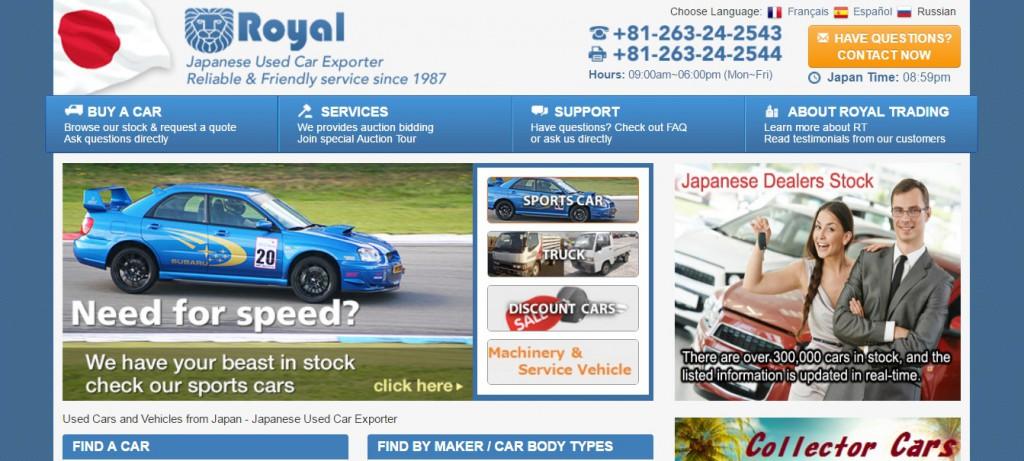 Royal Trading is a great resource for anyone looking for a good condition from a very basic four wheels to commercial vans, or even collector ones. You can filter search results based on the type of car, its fuel economy, or other notable features like steering or the color of your desire. What makes them one of the best Japanese used car exporters? Royal Trading has the best discount price used cars come together with a very accurate total cost estimator for you to check on. Put your country and your delivery port; then Royal Trading will instantly show you the estimated price on detail. No more worry about hidden costs! And their stocks? Over 200,000 and freshly updated!
3. SBT Global
If you are daredevil enough, take your chance at SBT Global. SBT is one of those big used car exporters from Japan with a broad range of vehicles and prices. They are now operating offices in 15 countries with 24/7/365 customer service centers to provide their services globally. What concerns us? There are several bad reviews about delayed shipments as well as losing documents and contracts!
4. Autorec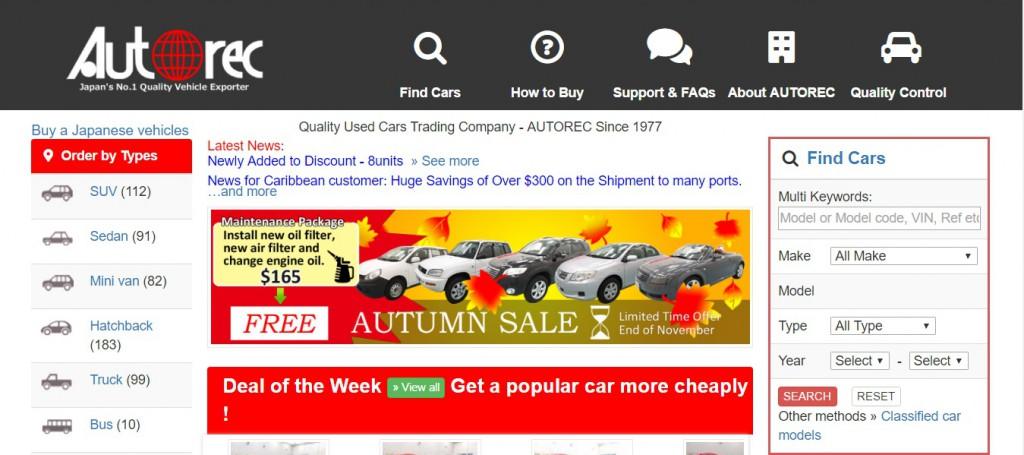 Confidently rate themselves as Japan's No.1 quality vehicle exporter;  AutoRec is one of the oldest and highest reputable for finest quality used and reconditioned cars export company in Japan. They are highly recommended for the ultimate of reconditioning and improving used cars to suit your requirements. Moreover, the website provides top daily deals and budget-based situated on location. It quickly helps you find out what is trendy in your country.
5. Tomisho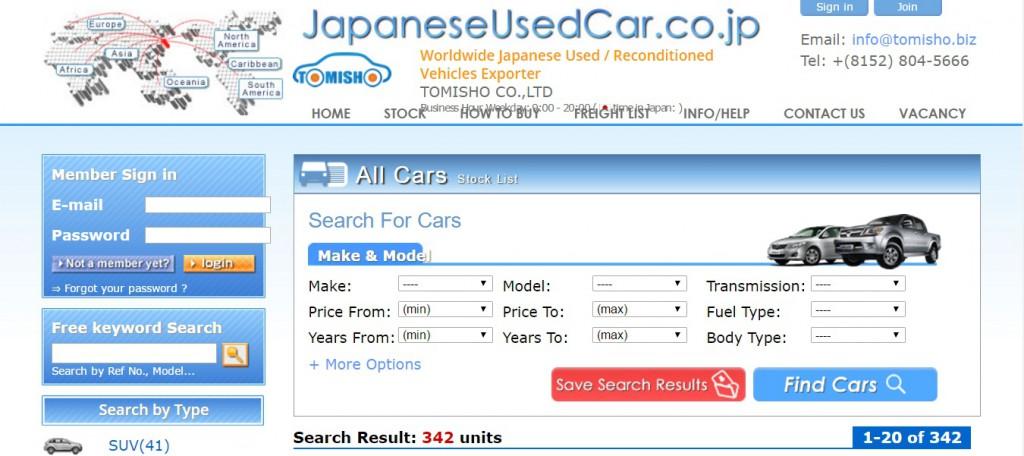 The used car exporter provides details accurate information, and even more, options for you to recondition a single used car into your dream one. Tomisho is also among the earliest exporters for the local market. The website has been trusted for maintaining a thorough quality control process; to ensure their used cars are in the best possible condition coming to your hand.
6. Nikkyo
Nikkyo can be considered a reliable and functional website while supporting different languages and regions' stock lists. The company has its own auction system called JDA and offers many different kinds of auction terminals to help customers. Regardless, this site offers limited resources, and a bit higher price compared to others in the market.
7. RamaDBK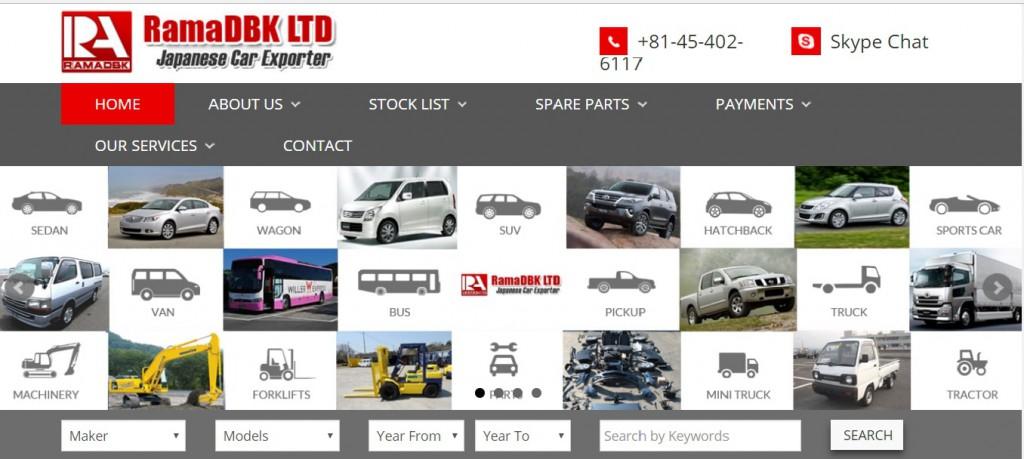 This auto website is highlighted for super fast, useful online live support and after-sales service. RamaDBK is incredibly straightforward and easy to use with: "4 steps to purchase" for a new buyer to find a used car from Japan. With 25 years of experience, this company has gained a reliable reputation amongst not only customers but also the stakeholders of the industry.
8. Trusted
Has been competing in the markets since 1988, Trusted (Japanese vehicles) is also another website to search for used cars from Japan. Recently, this site just builds an Outlet online where you can find used cars at bargain prices. Thou, with so many languages and countries' site support, this site seems to have limited stock and simple search tools. These will give you a hard time finding the one car you're looking.
9. S.K Trading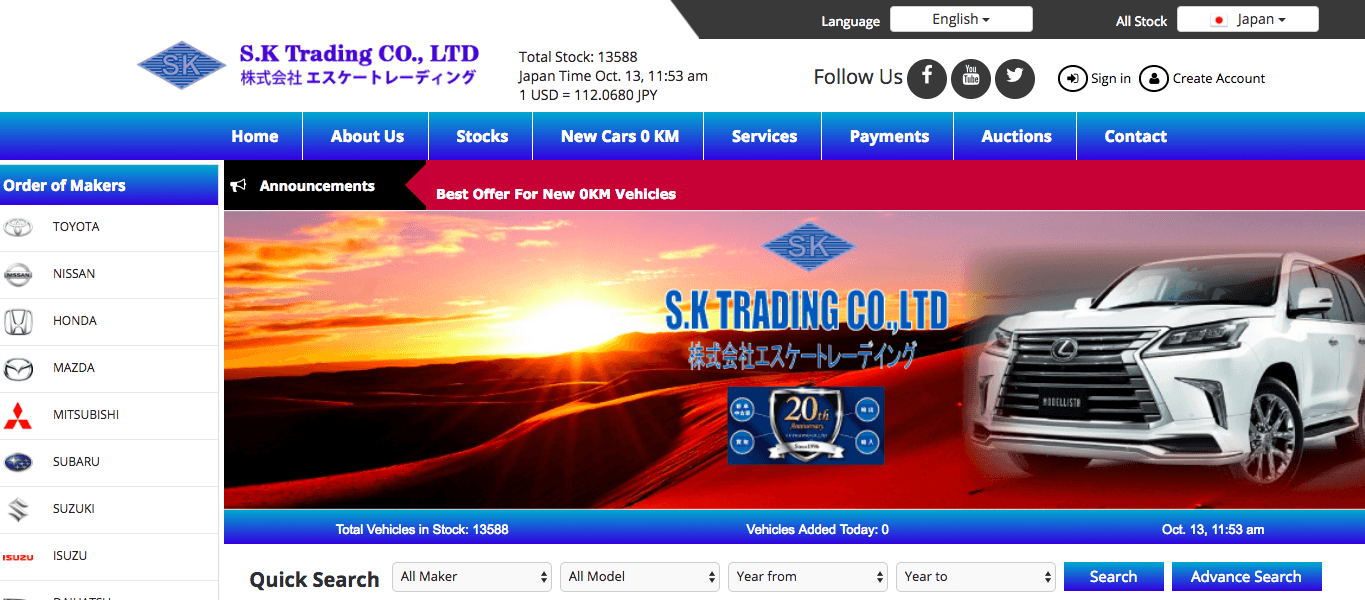 S.K Trading has its empire for the stock of new modish vehicles. If you're looking for a fancy car, go for it. Otherwise, it may be a little loss of time since most of the cars come with negotiating. Or else, you have to make an inquiry and wait for their email to know the price.
See more:
A car is not only to used for travel from place to place. It is also a companion, which serves convenience and safety. Since buying a car is a huge thing to do, choose a good exporter, and make sure you get the right products you paid for. Car From Japan proud to give you an immense list of used car exporters to choose from. We grant you safe trade service so that your money stays safe with us until you confirm you're satisfied with the car.