Top 10 Honda Best Selling Cars In 2016
Last updated
Feb 01, 2018
0 comments
With a couple of last months of 2016, the automobile scenario has been nothing but interesting. There have been some significant additions to the already scintillating range of cars in the market. Among these Honda has managed to keep the sheen on some of the existing Honda best selling cars. Let's take a look at the formidable collection of amazing rides Honda has been able to put up over the years that have a hold over the customers like no other.
Honda Amaze
Ever since its launch in 2013, Honda Amaze hasn't quite ceased to amaze us. It showcases the seamless versatility of best Honda models, in the form of elegant sub 4-meter sedan class style with the comfort and cosiness of a hatchback. With the new CVT transmission and some cosmetic changes in design, best-selling Honda. Honda Amaze is all set to woo the younger buyers this festive season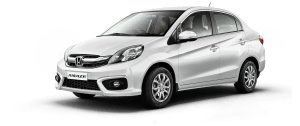 Honda Brio
With the quirky design, Honda Brio did manage breaks the stereotype of it being "old-school". Apart from being easy in the pocket for some of the most innovativeness bundled into the ride, the title of Honda's best selling car could easily be bestowed on new models of Honda Brio
Honda City
This car may not be the new models of Honda, but given the worldwide attention, Honda City grabbed seemed to have rejuvenated with some of the very crucial changes it saw in 2014. With its incredibly classy design and a 1.5 l turbocharged i-Dtec Engine, the Honda City spells luxury.
Honda BRV
This particular model of Honda proves that to make a sweet ride, numbers just aren't enough. Taking a few design lessons from its predecessors Honda BRV sure looks like a car that would garner the attention of serious car lovers.
Honda Mobilio
With features somewhat borrowed from the upcoming BRV, Honda Mobilio has managed to tone down the SUV look and mellowed it down for a perfect family car. The specs look too good to be true in fact given that even with a 1.5l engine (that, is available in both petrol and diesel variations) packs a lot of HP and yet is offers an unmatched ease of handling.
Honda CRV
Packing some of the best features for the upper segment cars, Honda CRV is all about being a power machine. It comes with a 2.0 l and a 1997 cc engine, off the road looks like child's play and is easily among the best Honda new cars yet to be rolled out.
Honda Accord
Taking some design lessons from its previously rolled out car, Honda seems to have perfected the exterior when one speaks of Honda Accord. As a car waiting for roll out sometime early next year, Honda Accord has the prospective buyers filled with excitement.
Honda Civic
Another masterpiece by Honda, the New Honda Civic is all set to give its competitors a run for their money. As goes without saying, Honda Accord has outdone itself as it packs some of the enormous numbers when it comes to its spec and yet at the same time manages to look graceful and classy in its sedan-ish look
Honda Jazz
Okay, we are not going to lie about it, but the engine that this particular make pack are its USP i.e. Honda Jazz gets an excellent 1.2 l I-Vtec engine which is head and shoulder ahead of its competitors in this particular segment. With its sporty look, this hatchback makes a perfect city ride on any day.
Honda HRV
If there is anyone in the automobile industry who could make a fat old lady of an idea and yet make changes to it in such a way that it looks anything but a stretch, well it's Honda for you. And the masterpiece we are talking about is the Honda HRV which has taken the versatility to an entire new level