What Is Subaru EyeSight?
Last updated
Aug 18, 2021
0 comments
Subaru EyeSight is the brand name for the automaker's collection of advanced driving assistance and collision avoidance systems. EyeSight technology from Subaru acts as a "second set of eyes" on the road ahead. EyeSight is a preventative safety system that can warn you of a potentially dangerous situation ahead and even apply the brakes if you don't react quickly enough.
How Does It Work?
Subaru EyeSight employs dual color cameras mounted behind the windshield and on either side of the rearview mirror. These cameras monitor traffic conditions ahead and identify lane markings, allowing EyeSight functions to be adjusted or activated as needed. To help drivers "see" what they can't and keep the vehicle in control, Subaru EyeSight offers 5 helpful features. These features can be turned on and off, most of the EyeSight controls are located on the dash to the left of the steering wheel, directly below the heating vent.
Adaptive Cruise Control
EyeSight's adaptive cruise control functions similarly to traditional cruise control, but with a few additional advantages. EyeSight handles the rest after you activate adaptive cruise control and set a speed. Because highway traffic is rarely consistent, the adaptive cruise control system adjusts your speed in response to traffic fluctuations. Once you've set the distance you want to keep from the car ahead, EyeSight monitors the traffic ahead and adjusts your speed accordingly. Adaptive cruise control can even stop your vehicle in stop-and-go traffic, bringing it to a complete stop if necessary.
To turn off Adaptive Cruise Control and return to standard cruise control, simply press and hold the "set distance" button on the right side of your steering wheel and continue to set the speed as usual.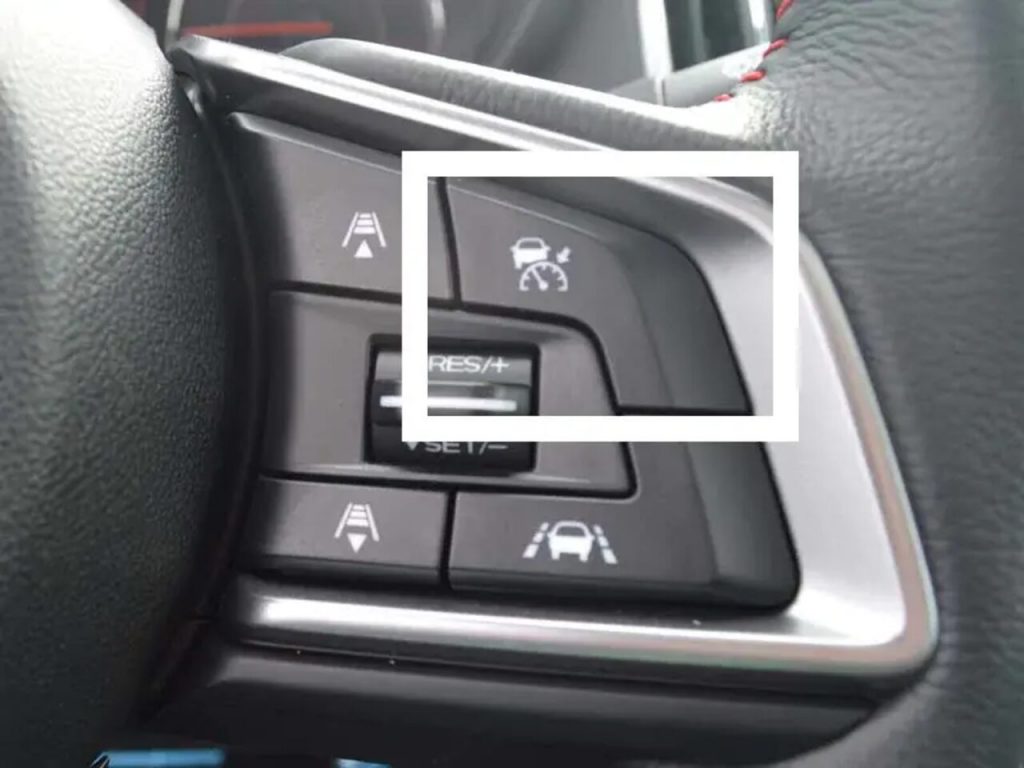 Pre-Collision Throttle Management
The Pre-Collision Throttle Management system in your Subaru is essential for safe driving. The system helps drivers avoid unintentional acceleration and gives them more response time. This system detects when a vehicle ahead has slowed or stopped using dual color cameras. When the system detects a potential danger, it reduces the power sent to the throttle and alerts you with visual and audible alerts.
Lane Departure and Sway Warning with Lane Keep Assist
This convenient system monitors visible lane markings on the road using in-vehicle cameras. If you begin to stray from your designated lane, the lane departure alert system will notify you with both visual and audible alerts. The system will also notify you if you begin swaying back and forth within your lane, allowing you to correct the situation. If you begin to veer too far out of your lane, the lane-keep assist portion of this system will gently adjust your steering (and, once again, send alerts) to get you safely back to the center of the lane.
To disable Lane Departure Warning, find the button featuring an icon of a vehicle veering to the right side, labeled "OFF". Press and hold the button for around 2 seconds to disable the feature. Lane Keep Assist can be a handy feature, so you can easily turn it off directly from your steering wheel. Simply press the lower right button on the right side of your steering wheel to turn off this function.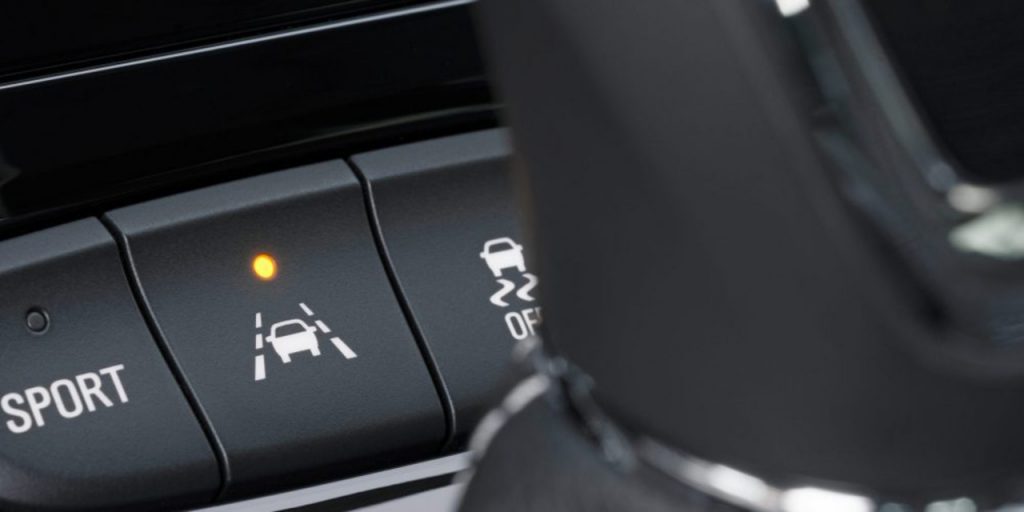 Pre-Collision Braking
This one-of-a-kind safety technology helps to keep you from rear-ending another vehicle. The EyeSight system measures the distance between you and the vehicle ahead of you in real-time. If the vehicle suddenly slows down, the pre-collision braking system will analyze the speed and activate an audible and visual alert if it detects an impending forward collision. If you don't react quickly enough, the system will do it for you! If necessary, pre-collision braking will bring your Subaru to a complete stop and will even apply additional brake force if you react in time but require some assistance.
The button to turn off Pre-Collision Braking is located near the Lane Departure Warning button. This one, on the other hand, depicts two vehicles colliding. Hold this button down for two seconds to turn off Pre-Collision Braking. You should remember to turn off Pre-Collision Braking before entering a carwash so that the EyeSight system does not try to apply the brakes while the car is being washed.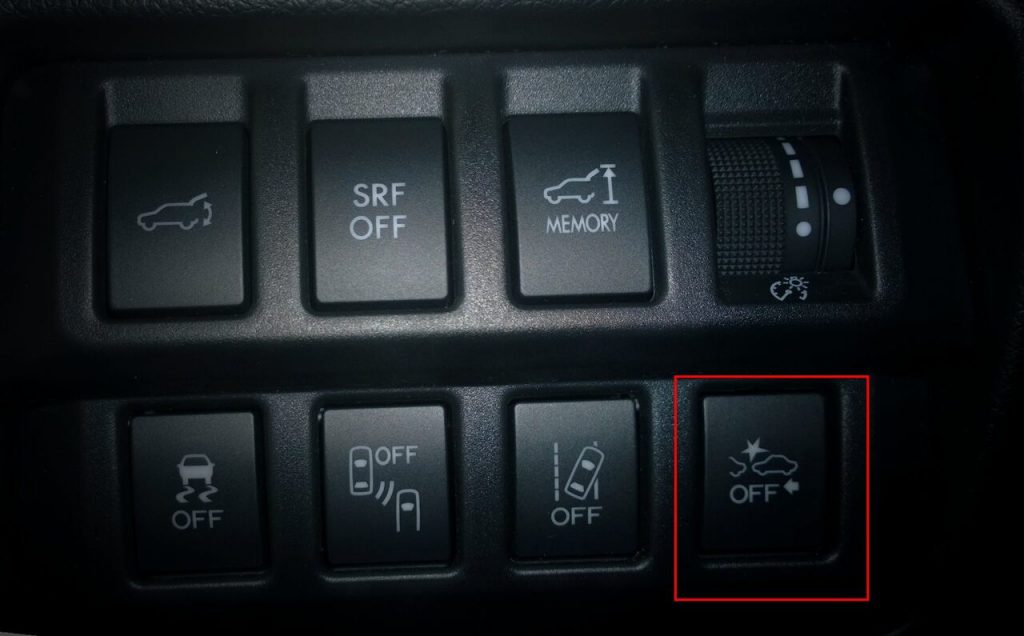 Rear Seat Reminder
Rear Seat Reminder, introduced in 2020, will prompt the driver to check the rear seat for children or pets before exiting the vehicle; this is only triggered if the driver opened one of the second-row doors before starting the vehicle. This feature is standard on Forester, Ascent (2nd and 3rd row), Outback and Legacy (passenger and rear seat), Crosstrek, and Impreza (CVT-equipped models only).
SEE MORE:
Is It Really Useful?
Based on studies of the system's effectiveness, the answer is yes. According to the Insurance Institute for Highway Safety (IIHS), EyeSight has reduced rear-end collisions that result in injuries by 85 percent. This estimate is based on a review of 2013-2015 Subaru model year vehicles through the calendar year 2014. Separately, the IIHS discovered that EyeSight can reduce pedestrian injuries by up to 35%.
Which Models Have Subaru's EyeSight?
Except for the BRZ sports car and the WRX STI performance sedan, Subaru equips all of its models with EyeSight as standard or optional equipment. To be able to equip EyeSight, your Subaru must have an automatic transmission (a continuously variable transmission) rather than a manual gearbox.
Not only that, but these Subaru models also have other safety features, include a blind-spot warning with rear cross-traffic warning, rear automatic braking, steering-responsive LED headlights, automatic high-beam headlight operation, and both a rear camera mirror and front camera display showing 180-degree views of what's in the front or back of the vehicle. Starlink Safety and Security connected services are also available, offering advanced automatic collision notification, SOS emergency assistance, and the ability to program speed, curfew, and geographic boundary alerts.
Conclusion
Besides these amazing features above, however, EyeSight also has its own flaws. Because the system works base on what the cameras can see, EyeSight can be affected by fog, drizzle, or too much backlight (high-intensity headlights, the sun …). It is the same in cases of low-height objects, completely below the nose of the car that causes the camera to be blocked. Cameras can miss things that are beyond 110m, pedestrians in the dark (not enough reflective light), people under 1m tall, pets (dogs, cats, pigs…). Or when many vehicles are approaching at the same time, the system cannot react precisely. 
These flaws emphasize the importance of the drivers. No matter how many safety features a car can have, drives are the biggest factor that ensures the safety of everyone on the road. If you want more information on safe driving, you should visit Driving Tips for useful tips and news!