The Best Ceramic Coating for Cars
Last updated
Dec 23, 2020
0 comments
Nowadays, the term "Car Ceramic Coating" is more popular with car buyers. Because most of the car owners are more proactive in protecting their car shine. There are two processes to keep the car shine. A very common and old process is car waxing. But ceramic coating is the modern process that is the best replacement of car wax.
Ceramic coating is a liquid polymer coating. When applied on the car's body, the liquid polymer or quartz forms a chemical bond with the car paint that creates a layer of protection. Finally, this layer gives a long-lasting shine. It's easy to apply, maintain and remove. If the coating is done perfectly then it can last a lifetime on the car's body.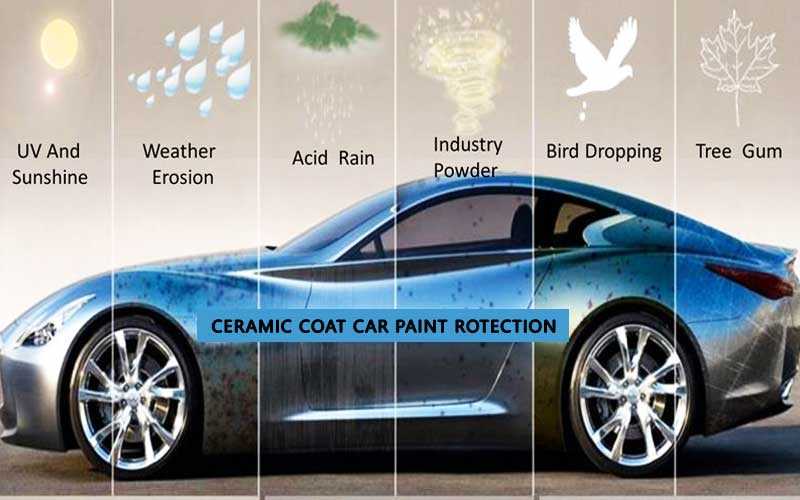 At present, there are many types of ceramic coating in the market. But it's not easy to find out the perfect one for your vehicles. In this article, we are going to discuss the best ceramic coating for cars and the detailing process. Not only that but also we will take a look at how ceramic coating works, how to apply the ceramic coating as well as remove and it's benefits.
Why The Best Car Ceramic Coating Needed
Basically, the ceramic coating provides a strong and protective surface to the car's body. Ceramic coating preserves your car's paint job by forming chemical bonds so that helps the paintwork look great. It also protects the car against chemical stains, UV Ray, water, oxidation, bird droppings, debris.
Everyone wants all in one. The Avalon King Armor Shield IX DIY kit is only one ceramic coating that provides all kinds of service in a single package. It's a high-quality transparent coat that utilizes the latest in nanotechnology which are essentially tiny particles that form a thin layer. This layer is so thin, so it's invisible to the eye.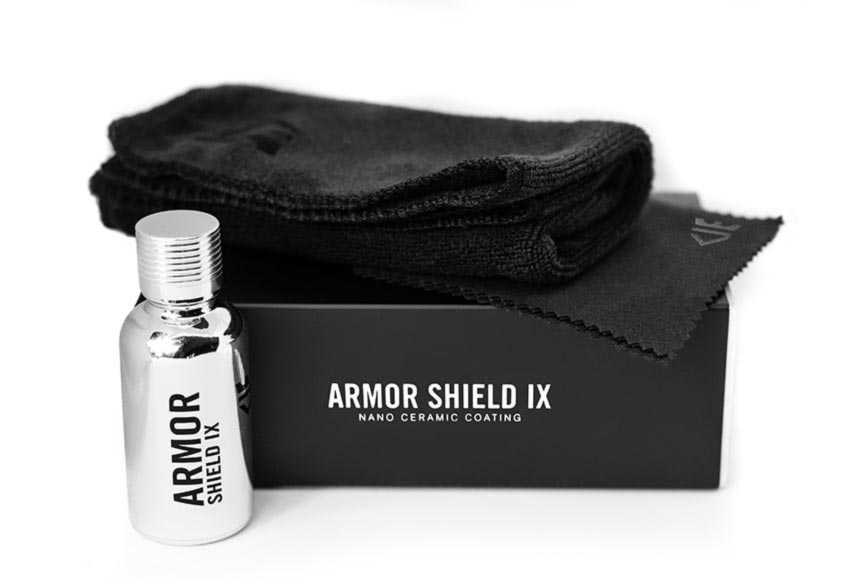 This transparent coat is not only durable but also hydrophobic. It acts as resistant to scratch, mud & dirt Repellent, UV Ray, extreme heat and many other environmental issues.
Why are we telling that Avalonking is all in one provider? Because it provides professional & protective safety gloves (Remember that Safety is First), Applicator Suedes x3, Microfiber Buffering Towel, Application Sponge, and finally the cream of crop 30ml Bottle Armor Shield IX.
Once upon a time, you may hear a revolutionary product for your car but Avalon king also delivers on its promises. If buying a cheap coating is your habit, then it will last not more than one year(if you are lucky then max 2 years). But Avalon King guarantees five years on average though your vehicle is used for daily driving.
If you want a Hollywood shiny car then you should use it one time for a test basis. Avalon King also gifts you a clear instruction of how to apply ceramic coating. If you follow these instructions properly then a shiny car you will get without having to pay a professional fee. Avalon King Ceramic Coating is not only for cars but also you can use a motorcycle or motorbike, marine boat. To see more about Avalon King Ceramic Coating, Click the Product Title. 
Key Features of Avalon King Ceramic Coating
Innovative NANOTECHNOLOGY Ceramic Coating

5 Years Lifespan with Guarantee

To see more, click the above title.

Designed for DIY enthusiasts

Discount Base Product

24/7 Customer Support

Easy to apply and remove
Pros and Highlights
Self cleaning working mechanism with Complete DIY Kits.

Click Title to see more features. 

Proper cleaning instruction with a guide.

1 Kit for Regular Car, 2 Kits for SUV/Truck, 3 Kits for Multiple Cars.

After finishing the coating, you must enjoy the mirror like a car body.
Cons and Flaws
As a professional or consumer, if you are consistently working to find the best coating for cars, then CarPro Cquartz 50ml Kit is an excellent choice that you can consider.
It is a semi-permanent silicon dioxide-based coating that is chart-topping among vehicle owners. It is an improved version purposely designed for customers. You can use it on the surface of your car, specifically in colder environments. Also, you can apply it in hot and humid climates.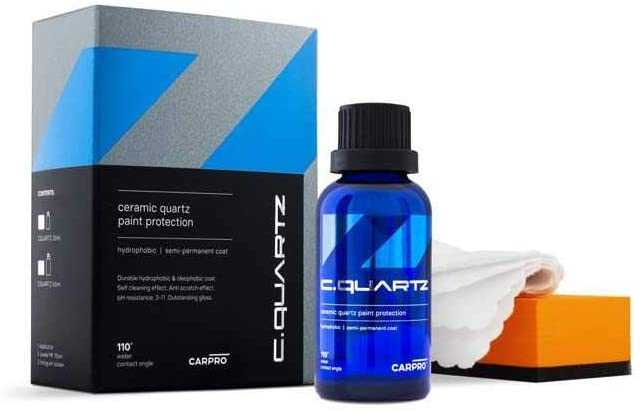 What's more, it can at least last for two years on your car surface. It comes with two variations: 30ml and 50ml. You don't have to panic about the price since it is competitively priced against other lines of coatings—$ 60 for 30ml kit and $78 for a 50ml kit.
Considering the amount of performance you are getting, it has a relatively lower price. This product is a light finishing polish that is basically a primer for the sea quarts coatings. As I used this product personally, I know how much benefit you will get for your car.
More importantly, this type of coatings needs has a minimum cure period. They prefer not to get wet too early. They want to sit for a little bit after applying them to the paint. Because they don't want to be exposed to heavy elements very soon. It is a kind of product that needs a minimum of 72 hours before rinsing it.
What's more interesting, it will be still soft on the paint at a point even after applying it for the second time. So it is not much hardened to have an impact with the water behavior. Moreover, you will not lose any gloss going with the coating compared to a regular wax.
You will feel undisturbed while applying this coating since it works well and smoothly. Plus, it provides plentiful shine with self-cleaning abilities, so you will get an uncomplicated yet speedy washing of your car.
It has tremendous longevity to stay on the paint as a hard glossy coat. Besides, it can save the paint from acid rain, bird droppings, abrasive traffic light, oxidation and damaging UV rays for minimum 2 years. Also, it can hold out against immense heat.
The self-cleaning properties lead to more comfortable maintenance washes. It will sustain better gloss retention over the months compared to waxes. This product doesn't require a topping coating in order to get the hydrophobic behavior where other coatings require a secondary topcoat.
It is better to let the application dry minimum one hour after applying it on the paint. To get the best result, you can wait for 24 hours. During the first one hour, make sure to wipe off gently any water coming to the surface after applying the coating. Don't apply any chemical or other solutions for a minimum of 5 days after applying it.
So I have already mentioned all the things you should know before using this coating from my experience. I can assure your money won't go vain if you use this product.
Key Features of CarPro Cquartz Kit
NANOTECHNOLOGY Coating.

CQUARTZ FINEST – 70% Quartz with 99.9% purity.

Five suede microfibre cloths.

First action formula.
Pros and Highlights
It is very easy to apply.

The coating can last for minimum 2 years easily.

The water beading is exceptional.

It adds a nice shine and gloss like glass.

Water beads off beautifully.

Bird droppings are easy to remove.
Cons and Flaws
You need enough preparation to apply it properly.
Benefits of Ceramic Coating for Cars
Over the years, automobile industries are growing tremendously with advanced technology.  Ceramic coating for cars is another innovation that makes your car look amazing while giving extra protection for both internal and external parts.  Let's scroll a little down why we should use ceramic coating for cars.
Great Safety with Protective Layer
Ceramic coating provides enough protection on the surface of your car. A car undergoes a lot of attacks that hampers its body. A Nano-coating can save your vehicle from a variety of damage.
Dirt, grimes, residue, chemical and other harmful contaminants are common things that always store on the paint. But when you use this protective coating, it ensures that your car is safe from disadvantageous rust. Most importantly, it will guard the surface against UV rays.
Ensure Durability
Surely your car paint job will last longer than typical wax. It won't fade away easily like wax even in UV rays or high temperatures. So the surface will sustain its glossy look while protecting against acidic components and other objects.
Beating off Dust and Mud
Dirt, mud, rag, acidic water and other objects may damage the paint surface. This Nano-coating prevents dust and other contaminants from sticking to the paint surface. It is the reason you will have a smooth and clean surface on your vehicle.
Effortless to Clean
The nature of ceramic coatings is so amazing that they block dust and other harmful ingredients to store on your car surface. When the car doesn't have much dust, it makes your cleaning job easier.
No More Car Wax
Once car wax was essential for vehicle owners until ceramic coatings invented. Car wax is not much protective and durable like ceramic coatings. Ceramic coatings capture the place of car wax by giving more benefits with high durability.
Long-lasting Gloss looks
The shine you get after applying ceramic coating won't fade away soon. It will remain fresh and look like a brand new car even after going through high temperatures or other unfavorable weather conditions.
Cost Effective
Car wax doesn't last longer as you need to repaint them within two or three months. So repainting multiple times will raise the cost. On the other hand, a premium quality professional ceramic coating can last for minimum two years with proper care. That's why it is always said effective one time is better than multiple times.
Types of Ceramic Coating for Cars
The different ceramic coating works differently on various surfaces as they have unique properties. Each type is purposely designed with different formulas and ingredients for some specific users. Some coatings may require professional assistance for the application while others are easy to apply as your own.
The durability and standard of quality may also vary in different ceramic coatings. There are mainly three types of ceramic coatings available in the market: polymer, quartz and hybrid.
Polymer
The polymer is one of the most popular types of ceramic coating that strongly sticks on the paint surface. When you use it on the paint surface, it creates a layer.
It is backbreaking to remove the layer. You need to polish the surface to clear the layer. It is a powerful layer that protects the surface from damage and tough ingredients.
Quartz
Quartz or silicon dioxide coating is the most powerful ceramic coating regarding hardness compared to other ceramic coatings. It doesn't prone to debris or scratches. It can block these particles to store on the surface.
This coating is suitable to apply on various surfaces. Its durability is also higher since it is harder than other coatings. Plus, it won't fade away easily without any repeat application.
You can maintain a shiny and glossy look of your car even after years of use and interference. It also develops a layer of protection that won't break down easily.
Hybrid
This type of coating is a mixture of polymer and quartz coating. Hybrid coatings claim to be the best one as it has two constituents: organic and inorganic. It contains both—a protective shield and a harder layer.
The superior resistance of this coating makes it a top choice among vehicle owners. However, it doesn't any proof that it is the best one to pick in terms of extra protection and other things. But no doubt, it is a powerful one since it is a combination of two types of ceramic coatings.
Ceramic Coating Gone Wrong
A quality ceramic coating even on DIY will last few years easily. And, if you do a professional grade ceramic coating from a shop, it may last 8-10 years.
It will give a shiny look on the vehicle surface while protecting it from dirt and road grime. Showing the best performance is not much uncomplicated for it. Other than this, it will be also trouble-free for you to clean the surface.
However, the Premium quality coating requires a perfect finish. Even the easiest one can be a daunting proposition if you haven't proper experience and knowledge to apply it. You need to follow few steps exactly and make sure it is error-free.
A single mistake may end up the DIY whole session to no purpose. When an error arises, it may require to do the whole session again. Removing the full coating needs serious efforts and carefulness.
You may make it worst instead of better if you failed to follow the instructions in exact terms. It is the reason you need to know how to apply ceramic coating perfectly, accurately and precisely to get the best result.
There are various ways your ceramic coating may go wrong. Some most common problems which people face while applying coating are given below:
High Spots / Streaks / Smears in the Coating
One of the most common issues people face while applying the coating is high spots. It may occur due to a lack of lighting. Proper lighting is essential when you do ceramic coating so that you can do the job precisely. It is better to do the coating session outside in daylight.
But still, you may make some mistakes in high spots on natural light. When one surface has a higher coating compared to other surrounding areas, it is also called high spots. In specific, the paint doesn't have counterbalanced and equably finish over all the areas.
How to Avoid High Spots in Coating
Make sure you have adequate lighting when you are applying ceramic coating. Using an extra light may make your task easier. Even if you make any mistake, you will able to notice the high spots before they become dry and harden in the paint.
It is better to work on small areas and then move forward to the next areas. Most of the people try to do their coating session on a large area at once. It makes their task complicate when they made any mistake as it is hard to remove all the paint on a large area at once.
How to Remove High Spots in Coating
There are different types of ways you can remove high spots in coating. I am mentioning a few effective methods which are easy for most of the users.
When you pinpoint the high spots, immediately level the coating with a microfiber cloth so that it doesn't harden much. Then apply a light layer of coating to the affected area. But don't make the mistake of overdoing it. A small amount is enough to do the job.
If these methods didn't work for you, you can polish the high spots by your hands to remove the coating. A machine polisher can also do the job if hand polishing doesn't work for you.
Why Should You Use Ceramic Coating
No matter how much older your vehicle is a ceramic coating can increase the durability of the exterior paint. It creates a thin layer on the paint surface that works as a powerful protector against many harmful components and surrounding environments.
A question may arise from most of the vehicle owners especially, the newbies- why they should use ceramic coating, when there are so many options available in the market.
High Performer than Wax
Using wax for a long time will increase your cost. Because you need to reapply them again and again. But ceramic coating will cost you for fewer time, just once or two times in 10 years if you managed to do it professionally and precisely.
Water Repellant
Ceramic coatings tend to repel or fail to mix with water as it is nothing but hydrophobic. It is lightweight so it won't affect the performance of the vehicle. So it becomes easy for cleaning.
Protection from UV Damage
UV rays may expose and fade away from your vehicle's original paint over time. The protective thin layer saves your car's paint by decreasing the amount of oxidation from sunlight.
Good Investment
As ceramic coating protects the interior and exterior surface of your car, you will able to resale them substantially higher prices. So it is a kind of good investment due to the reliable performance of your vehicle.
Permanent Protection
Ceramic coatings can be one-time application for ling time if you do it professionally while maintaining it with proper care. But sealants and waxes may need to be reapplied with a few months.
Better Gloss
Ceramic coatings are another great innovation of nanotechnology. This technology ensures the glossy and reflective shine of the paint. It also includes depth and lucidity to the color.
How to Apply Ceramic Coating
We will go through steps by step to help you on how to apply ceramic coating on your car. Once you follow all the tips and tricks that we will mention, it will be easy for you to apply it and you will get great results.
Step 1 — Wash the Car
First, take a pressure washer and splash water through the whole surface of your vehicle. Next, use a snow foam and a foam cannon to wash the car entirely.
It is better to start your washing session by cleaning the wheels as they are the dustiest parts of the cars. Then the paint surface should be adequately washed using protective cleaning tactics.
These protective cleaning tactics include two bucket methods. You will use one bucket that has only rinse water to wash out slightly, and the washing solution will be inside the second bucket. The top portion of the vehicle should be washed initially and then move forward to lower portions.
Step 2 — Chemical Cleanse
During chemical cleansing stages, you will use an irony filings eliminator and a tar eliminator. When you spray these products on a clear surface, they will react by changing color. Then you need to wait 3-5 minutes and wash it out.
Step 3 — Clay Bar
You will need a clay bar and clay bar lubricant for the second cleansing stage. It is a manual process in which you will remove dangerous substances from the surface using these products.
Spraying through the surface of the paint using the clay bar lubricant and applying firm pressure to the surface by moving in different directions. However, the pressure should not be much rather than gentle.
Step 4 — Polishing the Paint
You will do a perfect paint with the high finish before applying a ceramic coating on the surface. If you failed to do a faultless paint, it might leave defection on the surface.
For deep swirls and scratches, you require to do mix two or more elements, including dual action polisher. The reason behind doing this to have a smooth, shiny surface.
Step 5 — IPA Wipe
Once the polishing task is done, you can move forward by spraying an isopropyl alcohol mix on the surface. And dry those spots by rubbing with a piece of fabric to get rid of any unconsumed polishing oils. It will ensure a genuine chemical bond of the ceramic coating.
Step 6 — Ceramic Coating Application
A Ceramic coating comes with a complete set that contains different types of things. Use the foam applier to enfold the micro suede applier around it.
Shake well the ceramic coating bottle in the strict sense before applying it. Then make a line by pouring the coating on your micro suede. Then apply the ceramic coating with intersecting sets of parallel lines in different directions.
Plus, manufacturers recommend working in small sections in side by side in pairs. You don't have to wait much time— 20-30 seconds is enough. Then just remove the remaining ceramic coating from the surface using a suitable cloth.
Step 7 — Final Wipe Down with Silica Spray Sealant
After removing the ceramic coating, you need to wait 30 minutes or maximum one hour and then sprinkle some spray silica on the surface. During the curing session of ceramic coating, the spray silica won't let any water spots to stick over the surface.
Once the curing session is done, you will notice more gloss and glaze to your ceramic coating. So these are all tasks you have to follow. Make sure to keep the coating on the paint for at least 12 to 24 hours without contacting any water.
How Long Does Ceramic Coating Last?
A typical ceramic coating may last three to five years with proper care and maintenance. However, a professional ceramic coating may last ten years or more or even the lifetime of the vehicle.
The longevity of the best ceramic coating depends on three factors. The first one is the prep task and application. When you apply ceramic coating on a contaminant-free and smooth surface, it strongly sticks on the paint surface and cures harder. So it will be highly durable.
The second one is the formula—the ingredients which are used to make this product. All the ceramic coatings are not made in the same quality.  You will find many watered-down ceramic coatings that are not much effective to stick properly on the paint surface. A premium quality ceramic coating will create a thin layer on vehicle surfaces while being adhesive to surfaces.
The last one is SiO2 percentage. The higher SiO2 percentage, the stronger and better it is. You will find minimum 80% SiO2 of formulation in a high standard ceramic coating.  So it will also last longer for being harder.
How do I Maintain My Ceramic Coated Car?
Maintain your ceramic coating car properly is an essential task to ensure a great and long-lasting result.
Wash Your Car Every Two Weeks
Cleaning your car in every two weeks will prevent building up contaminants. You should clean it routinely even if you are not using it regularly.
Do Not Wash the Vehicle in Direct Sunlight
It is better to wash your car inside the garage or shade areas where direct sunlight won't come. Because the harmful UV rays will damage your coatings. The best time to wash your is the early morning or early evening hours when the Sun has the lowest light.
Use an Automotive Specific Car Soap or Shampoo
Some automotive car soaps are good for your car wash as these products don't contain any harsh ingredients or chemicals. You can use these soaps to wash your car surface easily.
Always Use Separate Wash Buckets and Mitts for Wheels
Tires and wheels are the dirtiest parts of the car as these parts contact with the ground. So it is better to use separate wash buckets and mitts for wheels.
Best Ceramic Coating FAQ
1.What is Ceramic Coating Made Of?
Ans: Ceramic coating is made of a special formula that contains multiple ingredients. This special formula creates a thin, semi-permanent protective layer on absorbent surfaces.
Silica dioxide or SiO2 is the primary ingredient for ceramic coating. The higher percentage of SiO2 makes the formula harder and more adhesive to stay on surfaces. However, the layer is not much thick. So you need to be careful while applying it.
The perfect SiO2 is somewhere between 80 to 84%. The formula also contains titanium dioxide which is hydrophobic in nature.
Q2. How Many Layers of Ceramic Coating Does a Car Need?
Ans: A single layer of protection is enough if you can do the coating job correctly with no faultiness.  However, you can do a second coat to ensure all the surfaces are covered without missing any specific area.
But don't make it too much thick. And, make sure to wipe off the excessive coatings after applying them. Wait 30-40 seconds, whenever you apply in a particular area. You can use a premium quality SiO2 Ceramic boost spray to make the layer more protective.
Q3. Can You Apply Wax Over a Ceramic Coating?
Ans: Though you can do it, it is better to avoid it. When you apply wax over a ceramic coating, you may lose the value of applying ceramic coating. Because the layer will be under the wax.
You won't get the benefit of using a coating. Moreover, car surfaces will collect more dust and contaminants from surrounding environments. So you will have to wash it more often for losing hydrophobic properties. To protect ceramic coating, you can use a superior quality SiO2 boost spray that creates an additional protective layer on surfaces.
Q4. Why is Professional Ceramic Coating So Expensive?
Ans: A professional ceramic coating may cost hundreds or even thousands of dollars. The service you will get from any professional store is worth the money. Besides, they have long experience and use expensive equipment to do ceramic coating on your vehicle.
Quality is one of the most essential factors for ceramic coating. A professional ceramic coating may last a decade or lifetime of your vehicle. You can go for consumer ceramic coating but it not as effective as a professional one. Plus, it will save lots of money by keeping car surfaces clean and protecting from harmful contaminants.
Q5. Why You Should Use Ceramic Coating?
Ans: You can use car wax to protect your car surfaces. But it can't protect your vehicle surfaces from oxidation, discolor, or spot. Additionally, residue and stains may store on car surfaces that come from wax. Most commonly, you need to use wax often somewhere between two to three months.
On the other hand, the ceramic coating will last for many years easily with proper care and maintenance. What's more, it can protect your car surface while preventing dust and hard ingredients.