Some Interesting Mazda Facts
Last updated
Aug 20, 2019
0 comments
One need not be a nerd in order to know about Mazda which has significantly contributed to the growth of the automobile industry over the years. The transformation that the manufacturer has undergone over the years starting right from the day of its inception is nothing but awe-inspiring; as opposed to its opulence as of today, Mazda had very humble beginnings. Let us have a look at this concise compilation of interesting Mazda facts:
Fact 1:
Early days:
Mazda was founded by Jugiro Matsuda in 1920 as Toyo Cork Kogyo Co. Ltd. in Hiroshima. Towards the end of this decade it had been transformed into a product line that included several machined product. Finally in the year 1931, Matsuda came up with a three-wheeled truck design which was hugely successful.
Fact 2:
It has the distinctive fortune of having survived the atomic bomb attack on Hiroshima in 1945. Being away from the impact center, it did not suffer much infrastructural damage.
Fact 3:
In terms of market share, Mazda stands fifth in Japan as per the new Mazda facts and figures.
Get access to 20,000 Japanese used cars with discount up to 90% >> Start here
Fact 4:
It entered the US market in the 1970's and with a lucky break became an overnight success with the customers.
Fact 5:
Like every successful automobile maker, Mazda made its mark on the industry by developing the state of art piston less engine that resulted in the Mazda's Wankel rotary engine, which in turn were responsible for its huge success in the motor vehicle segment. When the facts about new Mazda are considered this very contribution usually makes it to the top five.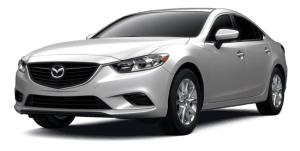 Fact 6:
Name and Logo:
Some of the fun facts about Mazda includes its name, which is closely associated with the name of its founder and also signifies a tribute to the Zoroastrian god of wisdom i.e. Ahura Mazda. The logo of the company signifies expanding its wings to a successful future.
Fact 7:
Year 1973 proved to be a hair pin bend on the history of Mazda, when it was approached by Ford for partnership. This successful business alliance has been one of the best in the recent time even though it ended in 2010.
Get access to 20,000 Japanese used cars with discount up to 90% >> Start here
Fact 8:
Ever since the early days of its finding, Mazda has been active on the racing sports front. It became all the more prolific after it developed the iconic Wankel rotary engine. This proved to be a huge advantage on the part of Mazda as no other competitors had their hands on such a technology.
Fact 9:
Mazda saw a rather financially precarious state between 1990's to 2000's and in the year 2001 it decided to take up a complete corporate shake up and restructuring. In 2001 it also came out with uts one of the most successful sedans i.e. Mazda Atenza
Fact 10:
Even today Mazda takes pride in being the sponsor for many sports teams and not just motor sports team. So, if you ever dream of working for Mazda you would have a huge advantage if you are passionate about motor sports or any sports for that matter.