Head to head: Toyota Rav4 vs Mazda Tribute
Last updated
May 22, 2018
0 comments
It is easy to understand why compact 4WDs have recently become amazingly popular.  As a matter of facts, these off-roaders can drive off-road; while most of the time these four cylinder soft-roaders will spend their time running in the city on normal urban duties. These multi-purpose vehicles offer benefits much more than any other car can. A compact 4WD is a family car with good cargo space, a weekend runabout for the outdoors, and a tough transport in the different variety of conditions. Today, it's a face-to-face fight between Toyota Rav4 vs Mazda Tribute; the two in the market-leading of the compact off-roader.
Toyota Rav4 Brief Introduction
Toyota Rav4 is one of most fuel-economic SUVs on the market. It offers a practical interior and decent cargo space. Rav4 comes with DOHC engine with Variable Valve Timing with intelligence (VVT-i). The 2001-2004 versions received a 4-cylinder engine and a five-speed manual or four-speed automatic transmission. 2006-2012 versions have with either front-wheel drive or four-wheel drive and only an automatic transmission. The second-row seat can recline, slides forwards, backward or folds down for extra cargo space. There is also a large storage under the trunk cover. The RAV4 is reliable, easy to maintain and widely available on the used car market.
Mazda Tribute Brief Introduction
Mazda Tribute, first introduced in 2001; mechanical twin the Ford Escape. Later versions feature a powerful V6 and four-speed automatic or a five-speed manual. The responsive handling and brisk performance from the V6 engines make the Tribute one the sportiest of the compact SUVs. The 60/40 split-fold rear seat allows multiple combinations of people and cargo space. Controls and gauges are simple and super user-friendly. Functional and space-efficient on the inside, practical and tough on the outside and generally fun to drive; the Mazda Tribute is always on top when it comes to utility.
Now lets the fight off Toyota Rav4 vs Mazda Tribute begins.
Toyota Rav4 vs Mazda Tribute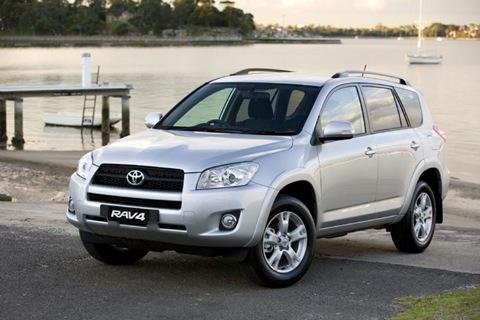 Performance and Fuel Economy
Rav4 works particularly well with the four-speed automatic transmission. DOHC engine and  4WD system give you maximum stability and control in all weather conditions. It handles easily and will offer a very comfortable ride. Road imperfections are nicely absorbed. However, Toyota Rav4 is not designed for off-roading. The Tribute, on the contrary, delivers an excellent ample acceleration. Mazda Tribute can handle well poor weather and dirty off-roads. When equipped with the V6, it offers more power than the Toyota RAV4; and even react faster and more smoothly to changing road conditions and driver input. As for Fuel economy aspect, Rav4 seems to run longer miles in the city and highway driving. But Tributes fuel consumption is lower when coming to a mixture of city, country and off-road altogether.
Safety
Both cars have anti-lock brakes and dual frontal airbags. The RAV4 is a step ahead with Vehicle Stability Control (VSC) and Traction Control (TRAC). Rav4 is also proven to lead in safety aspect through most of the crash test.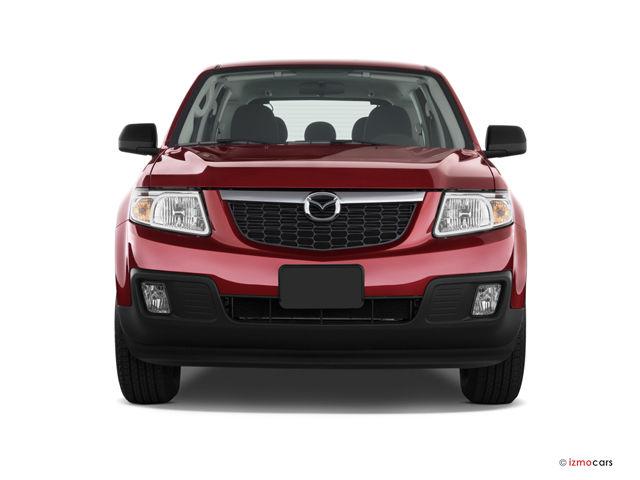 Exterior, Interior, and Comfort
The Rav4's exterior and the interior is simple and comfortable. High driving position offers very good all-around visibility. Therefore, there is no discuss, that Mazda Tribute wins the match Toyota Rav4 vs Mazda Tribute. Tribute has much a better aggressive look over the Toyota Rav4.  The forward-tilted stance, short overhangs, and wide track give Tribute a sense of stability and refined ruggedness. The large multi-reflector headlamps with clear lenses and rear combination lamps with crystal lenses add a sporty dash. Tribute's front bucket seats are comfortable and of higher quality than Rav4. Visibility in all directions is very good as well. The Rav4 is a bit smaller and suffer a relative lack of interior space. However, the clever arrangement helps a bit with giving more leg room for the car.
Toyota Rav4 vs Mazda Tribute Final
In the end, it is hard to say since both cars stand high in the compact market. Take it short, if you are looking for a stable, smoothly ride and won't take it much to the off-road; consider Toyota Rav4 for the fuel economy and, stability, and most important, safety.
If you're looking for a handsome, fast vehicle and can cross multi-road, Mazda Tribute is surely your call.