Kichujio kinachofanya kazi
---
---
---
---
---
---
---
---
---
---
---
---
---
Zilizotumika Honda Freed inauzwa
(1,317 Matokeo)
Picha
Mfano

Mwaka

Km

Injini

Daraja

Bei ya Gari

Jumla ya bei

2009




Jun

85,900


km

1,500


cc

2022




Apr

10,000


km

1,500


cc

2021




Aug

13,000


km

1,500


cc

2020




Oct

25,200


km

1,500


cc

2022




Feb

15,000


km

1,500


cc

2021




Aug

6,000


km

1,500


cc

2010




Dec

72,000


km

1,500


cc

2022




Oct

12,000


km

1,500


cc

2022




Dec

5,000


km

1,500


cc
Picha
Mfano

Mwaka

Km

Injini

Daraja

Bei ya Gari

Jumla ya bei

2013




Dec

87,100


km

1,500


cc

2021




Mar

32,000


km

1,500


cc

2020




Feb

20,000


km

1,500


cc

2021




Jul

36,000


km

1,500


cc

2021




Sep

51,000


km

1,500


cc

2012




Oct

107,000


km

1,500


cc
Mwongozo wa Kununua
The Honda Freed is a mini multi-purpose vehicle (MPV) manufactured by the Japanese automaker Honda since 2008. The vehicle is a substitution for the Honda Mobilio. The Freed is built on the Jazz/Fit platform. Three different variants of the Freed are available: a seven-seat version which features captain's seats in the second row; an eight-seat version; and a five-seat version. A wheelchair-accessible model is offered together with versions with a side lift-up seat and passenger lift-up seat.
Car From Japan mainly sells 2012-2018 models of this Honda Freed. Related to money, used Honda Freed for sale by Car From Japan here got greatly reasonable prices ranging from US$17,790 to US$19,622.
Honda Freed: The Honda Solution For Large Families
1. Exterior Magnificence
The Honda Freed looks pretty much like a JDM car and it is not the first time Honda has designed a vehicle that looks like that. But still, the thought of a Honda in the compact MPV segment was appealing to me – Hondas generally drive quite decently and having a more amazing choice in a market full of Nissan Grand Livinas and Toyota Avanzas made me look forward to it. But then I heard the estimated price range and I was a little disappointed. It should not be an MPV that everyone would be able to consider side by side with its competition, but more of a price leveled up.
The Freed has automatic sliding doors on both sides of the vehicle which can be opened from the remote control. We tested the doors for safety functions and etc and yes, they stop opening upon detection of an obstruction. The little opening that's required for the doors to slide rearward into is neatly integrated into the feature line that emerges from the front to the rear of the Freed so it's not unsightly. Opening and closing the doors happens about 5 seconds.
2. Interior Comforts
There's lots of space! The Honda Freed interior feels spacious, roomy and offers a great view of the road ahead and sides. Nobody will feel any cramped at all! The cockpit is not bad, the speedometer is high and your eyes don't need to travel far to know what speed you're travelling at. The rev and fuel meters are alike to the Honda Civic – which are digital, colored and are nice to look at. The plastics used for the dash and door trimmings don't deliver a 'premium' feel to them (as Honda claims the Freed is a premium mini-van), but they do feel like they will last a long time and everything felt tight and firmly fixed.
To my own surprise, the seating arrangement turned out to be the deal breaker for any family. Where you can access all the rows of seats from within the car is interesting, you may not do a lot of walking while driving. Small babies will have no problem walking from front to back and all over the car, someone with a stern as large as a fully adult will have problems moving around. The seats were comfortable, but seem smaller than the Honda City's, and it should have better lumbar support. 2nd row legroom wasn't too satisfying. The seats do slide back and forth and can fold backward flat so naps can be taken. There is no removal for the 2nd row seats from the car. Getting into the 3rd row was quite difficult, just the same as getting into a two-door car. There would be a lot of bending and twisting. You can't remove the seats on the 3rd row. Like other '7-seater' wannabes, the 3rd row is probably only suitable for kids, and short rides for adults.
3. Operational Excellence
It isn't a super big win over the 1.8 litre Nissan Grand Livina but this was a 1.5 litre MPV so it would be more logical to compare it to the 1.6 litre Nissan Grand Livina instead. And that's a huge price gap. Is the huge mark-up because of the more generous equipment level really worth it when an MPV is essentially a box that's supposed to bring as many passengers as you can as comfortably as possible?
The larger 1.8 litre engine in the Nissan may not be a horsepower champion with less than a 10 horsepower advantage on top of the Honda Freed's, but when it comes to normally aspirated engines there's no replacement for displacement and the 1.8 litre engine has much more torque (174Nm at 4,800rpm) for you to transport all your passengers around easier.
4. Relentless Performance
The 5-speed auto shifts smoothly and is never hesitant to downshift when more power are needed. There is no paddle shift option and the gear lever has D, 2 and 1. A 'D3' button is there to take you out of overdrive when you command it. Everyone would love 7 speed CVT option! The brakes were very responsive and stopped well despite the full car load. On some other 'local' mini mpvs, the brakes are not very assuring under a full load, but the Freed's brakes stopped the car quite effectively. And, please don't believe the rumours about bad drum brakes at the back. They work perfectly well and they're cheaper for maintenance than disc brakes
The Honda Freed cabin was very quiet, except when revved hard. Given that the engine is closer to the cabin, I'm not surprised. After all, revving hard is not the suitable driving style for this car. None of vibration seemed out of the normal Honda experience – which is very good. Even with normal driving, one wouldn't take any corners too fast, and should feel more afraid with the Honda Freed. There seems to be a lot of 'roll'.
A Lucrative Investment
After spending a few hours in the Honda Freed, you will absolutely love it. The comfortable upright seats are ideal for long distance trips. For drivers with large families, this car is highly recommended. The build quality and interior space is excellent.
What you may like
Spacious Interior
Seven seater capacity
Good safety ratings
What you may not
The 1.5L engine feels underpowered when fully loaded.
We, the Car From Japan company, is always ready to deliver the best of the best used Honda Freed for sale to you, with reasonable prices and reasonable quality.
User Reviews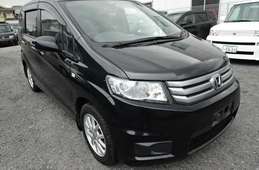 Honda Freed 2010
26

Grace Zorodzayi Tsingano
Mnunuzi aliyethibitishwa

Zimbabwe
Imeridhika
Communication was lagging and that got me worried in the start. Especially after making payment. I need to know progress of vehicle shipment and that came always on demand and late
Baada ya Picha za Uwasilishaji