Kichujio kinachofanya kazi
---
---
---
---
---
---
---
---
---
---
---
---
Zilizotumika Toyota Camry inauzwa
(1 Matokeo)
Picha
Mfano

Mwaka

Km

Injini

Daraja

Bei ya Gari

Jumla ya bei

1987




Nov

54,000


km

1,800


cc
Mwongozo wa Kununua
The Toyota Camry is an international 4-door sedan flagship sold by Toyota since 1982, spanning multiple generations. The Camry was the best-selling passenger car from 1997 to 2016. As the firm's second "world car" after the Corolla, the Toyota Camry can be considered as the global car brand. The Camry collection sold by Car From Japan mainly covers the 2017 version, together with a couple of 2002, 2006 and 2012 Camry cars.
A sedan, also saloon, is a passenger car in a three-box configuration with separate compartments for engine, passenger and cargo. Toyota Motor Corporation, or Toyota as we all know, is a Japanese multinational automotive manufacturer headquartered in Toyota City, Aichi, Japan. In 2017, Toyota is the world's second-largest automotive manufacturer. As a household name worldwide, every Toyota car are of utmost trust for dependability and value for money and thus resale value, especially the big brand name Toyota Camry of the international market. Toyota Camry is designed to lead the world's sedan upper-middle class.
Speaking of money, the drive-away price of Toyota Camry like a new 2018 car range from $31,506 - $37,432 based on models, whereas Toyota Camry second hand as sold by Car From Japan got greatly reasonable prices at down to $4,133 for a 2002 car (Yes! There's still an used Toyota Camry for sale under 5000 that does exist!!!) and up to only $35,528 for the latest 2017 version.
Toyota Camry: The Global Sedan Best-seller
1. Overview
Overall, things to spot easily from Toyota Camry make it an excellent choice for all: sporty performance, exceptional handling, and a long list of technology and safety features. Considered as luxury midsize cars in many parts of the world, Toyota Camry has gone through 10 generations. Each generation witnesses major face-lift that matches the design trend at the time. As our most Camry for sale, 2017 variants possess the best sporty looking, blowing a brand new feel to any die-hard Toyota fans. New platform focuses on driver's enjoyment and dynamics - two factors not often related to the traditional Toyota Camry.
Four-cylinder engine provides adequate power for common use and is relatively smooth and quiet. For better acceleration, the optional six-cylinder is surprisingly capable and is just slightly fuel-thirstier than the four-cylinder engine.
2. Exterior Magnificence
For 2017 models, there are two design styles to choose from: standard and sporty. Things are pretty much the same but everything's gotten bigger, more aggressive and more distorted.
Here are some basic exterior measurements of 2017 models that we sell the most:
| | |
| --- | --- |
| Wheelbase | 2,820 mm (111.2 in) |
| Length | 4,880 mm (192.1 in) |
| Width | 1,840 mm (72.4 in) |
| Height | 1,450 mm (56.9 in) |
The front view features a massive wide grille which sits in the middle of the front face. This unique grille is the most impressive on the front view, looking really threatening, but sporty, and gives out a likable thrilling feel to any auto-heads. It gives the Camry a proud and jutting jawline that look like a bearded gentleman's handsome face. The bonnet center part, which frames the Toyota badge, stretches to the edge, joining newly restyled and thinner headlights.
Moreover, the roof is 25mm lower, while the bonnet is 40mm lower - both of which make a lower, sleeker, aerodynamically faster Camry beast. The rear and side view are so neat so clean, and lastly so cool with the muscular but smooth contour that feel architecturally designed. The tail lights are longer, and stretch to the two sides of the car. New design overall makes the 2017 Toyota Camry look like a giant shiny bullet striding on the highways.
The Camry rides on 17-, 18- or 19-inch alloy-wheels, with a space-saver spared one tucked into its large boot.
3. Interior Comforts
One of the Camry's best features is its interior, which can accommodate five people in supportive, comfortable seats. The airy and spacious cabin is the true premium travel comfort as well. With available upgrades like power adjustable seating and automatic climate control, Toyota Camry can even push the ultimate travel experience beyond the boundary.
2017 model is 30-46mm longer and its wheelbase is 50mm longer, allowing for the genuinely huge cabin, especially more impressive legroom in the backseat and thus more legroom adjusted just for long-legged riders at the front seats.
Up front, two cup holders and USB ports and hidden power sources can ease any long tiring ride. Backseat riders share another two cup holders hidden in the pull-down divider.
From the cool and fancy dashboard, there's a smooth and swirling dash that looks architecturally designed and runs all the way down to the front seat. It creates the feel of defining the driver's private space. The boot is surely spacious though.
For entertainment and connectivity, the Camry can link your smartphone to the onboard system to stream apps like Pandora®, Slacker, iHeartRadio, and Yelp®. This is featured in every trim, along with a navigation app that instructs you turn-by-turn directions through the touchscreen.Other features include wireless smartphone charging to ensure your battery is ready all the time.
4. Operational Excellence
Installed in the 2017 Toyota Camry, three powertrains with a 2.5-liter four-cylinder engine can provide 178 hp of power and 170 lb-ft of torque. And although V-6 engines was talking all competitors by storm, Toyota continues to build the 2017 Camry with a 3.5-liter six-cylinder engine rated at 268 hp of power and 248 lb-ft of torque. Both engines feature direct fuel injection and are paired with a six-speed automatic transmission plus mechanism of front wheel driving.
Four-cylinder powered Camry are offered in four trim levels including LE, XLE, SE, and XSE, with the Camry V-6 available in XSE or XLE trims.
5. Performance And Driving Experience
Traditional Toyota Camry was all worldwide famous for practicality, dependability and fuel economy, and Toyota Camry of modern days offer a 30 per-cent increase in torsional rigidity, with the new double-wishbone rear suspension. Lower centre of gravity and engaging drive are what the 10th generation Camry with a facelift of biggest-ever grille can be boasted about by the dealers.
Revised suspension can be tuned in two ways: softer, like a more billowy than standard setting; and sportier, to soak up dodgy road surfaces with as little fussy as possible.
Connection from the wheels to the road surface is so superb however wet it is, which means their great grip on road surface. And the Camry always remains quiet and comfortable on the road in everyday driving. Driving experience is very smooth, very dependable, very enjoyable thanks to well-equipped and noise-proof interior, all bumps soaked up by top-notch suspension, a standard backup camera and the powered driver seat.
As safety features, ABS is available, comes standard from 2005. Side and front protection airbags are available from 2001, come standard from 2007. ESC is available from 2002, comes standard from 2010. Forward collision warning and automatic emergency braking are available from 2015, come standard from 2018.
The NHTSA marked the 2017 Toyota Camry a five-star rating for Frontal Crash, IIHS scored it "good" for Side Crash and Front Moderate Overlap. Moreover, Toyota Camry XSE and Toyota Camry XLE have a Technology package including automatic high beams, a forward collision prevention system and a lane departure warning feature. A blind spot warning system and adaptive cruise control are also available. Therefore, absolute trust can be placed on this car with your life.
A Prolific Investment
These are some summarized key points on the car:
Pros

Cons

Front-end look with the massive grille are sure to impress everyone on the streets
Cavernous interior in futuristic high trim levels
Available V-6 is strong and reliable
Quiet cabin and pliant ride

CVT transmission may drone
Some cheap-feeling touch points inside
Ventilated seats not available
In a nutshell, if you ever wonder how to buy Toyota Camry, or an old Toyota Camry, or a Toyota Camry for sale by owner, the privileged Toyota Camry is always a easy buy for anyone, because of high value for money and resale value. No need to rack your nerve when deciding on purchase of this big brand name, with Car From Japan, right here, right now!!!
User Reviews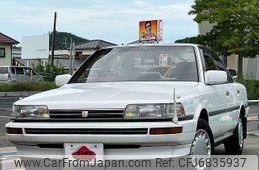 Toyota Camry 1989
9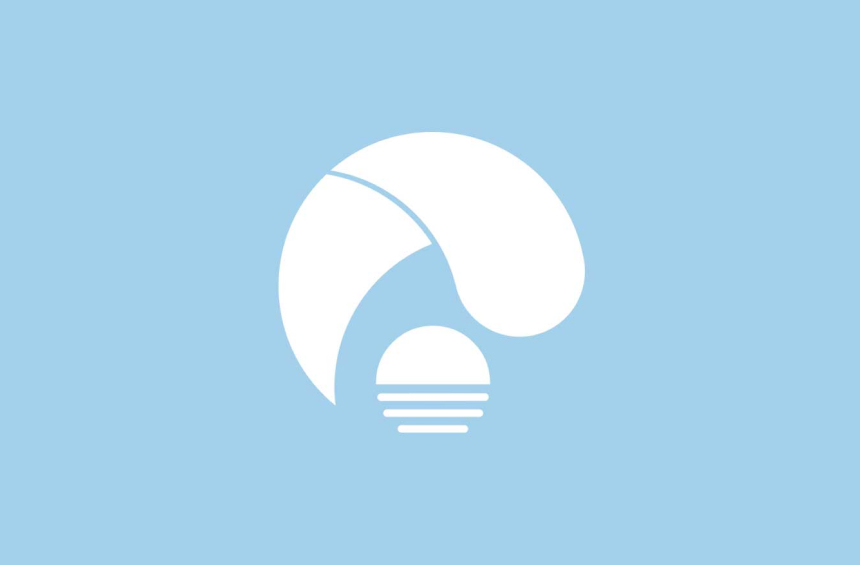 Raffi Ziani
Mnunuzi aliyethibitishwa

France
Imeridhika
I received it today it's perfect. Already driving on the highway thanks Austin!
Baada ya Picha za Uwasilishaji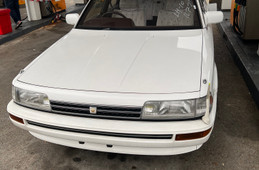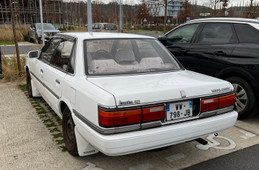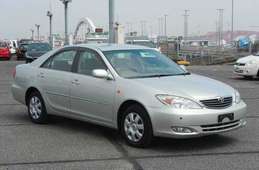 Toyota Camry 2004
29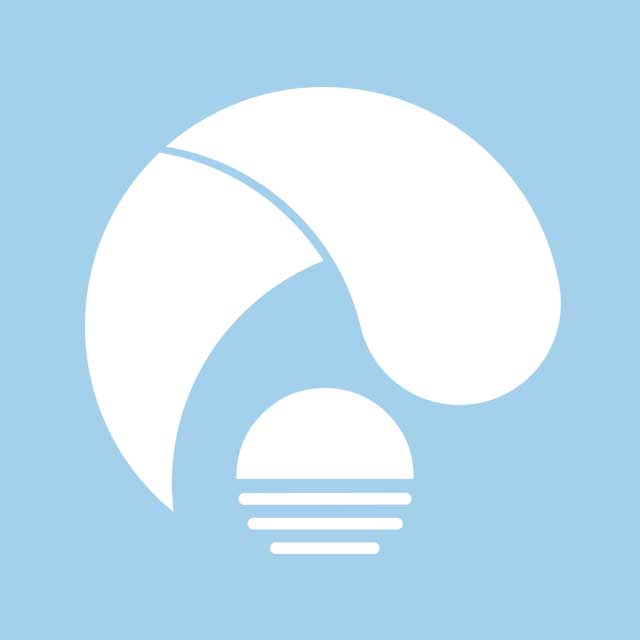 BERNARD GWARADA
Mnunuzi aliyethibitishwa

Zimbabwe
Imeridhika
Your company is too slow in confirming vehicle shipping.
Baada ya Picha za Uwasilishaji