Import Cars From Japan To Kenya – Important Rules And Regulations To Know
Last updated
Jul 04, 2019
0 comments
Kenya is a place where the demand of Japanese used cars increasing a lot. We can say that Japan is a primary source for importing used cars from Japan to Kenya. The reason that Kenyans look at Japanese market is this place provides the wide range of popular vehicles choices with high quality, reliability and affordable prices. To know how to import cars from Japan to Kenya, there are some rules and regulation you need to learn.
I. What To Know If You Want To Import Cars From Japan To Kenya?
The rules are listed below:
Not more than eight years old. The law is very strict about this, according to the Kenya Bureau of Standards KS 1515:2000. For example, for the year 2019, only vehicles manufactured in or after 2012 are allowed.
There is one port of entry for imported used cars from Japan or other countries, and the Port is Mombasa. It is where ships offload their cargo.
The imported vehicle must be Right-hand drive. Left-hand drive vehicles are not allowed for registration unless they are for a particular purpose.
The used vehicles must pass a safety and mechanical inspection.
II. Duty Payments For Importing Used Car From Japan To Kenya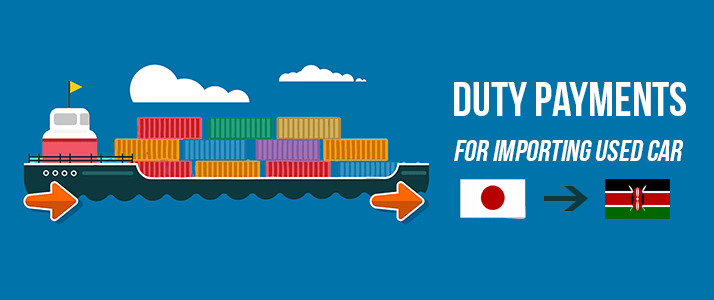 SEE MORE:
When importing cars to Kenya, you will have to pay a lot of taxes. They are expensive, but there is no better options. So to make your buying process smooth, knowing and understanding the taxes below is very helpful.
The following taxes/duties are payable for motor vehicle imports based on customs value.
1. Import Duty (25%)
2. Excise Duty. This duty varies with vehicle category
Private passenger vehicles of Diesel engine whose engine capacity exceeds 3000cc (30%)
Private passenger vehicles of petrol engine whose engine capacity exceeds 2500cc (30%)
All Other Vehicle Categories (20%)
3. Railway Development Levy (1.5%)
4. Import Declaration Fees (2%)
5. Value Added Tax (16%)
It sounds very complicated to understand the above formula. Now it is not a problem anymore, the CIF price for all used cars on Car From Japan website (a famous platform selling used cars for sale in Kenya) are calculated automatically, it will be more easy to find out a suitable car with your budget in a few seconds.
III. What Documents Are Required? 
Apart from knowing duty payments, you do need to know required documents in order to make your importation procedure smooth. Importation Supporting documents should be attached including but not limited to (According to KRA):
1. Original Commercial Invoice
2. Original Bill of lading
3. Original Logbook from the country of importation that has been cancelled from the country of origin, as this will be required by National Transport and Safety Authority to give you an original Kenyan Log Book
4. Copy of your PIN certificate/ Copy of certificate of Incorporation (applicable to companies)
5. Pre-shipment inspection certificate. (certificate of road worthiness)
If you clear all these rules and regulation and you are ready to import cars from Japan to Kenya, Car From Japan is also ready to serve you with a huge stock of used cars at affordable prices.