Best Used Car Site? Welcome to Car From Japan!
Last updated
May 22, 2018
0 comments
Buying a used car from Japan has long been favorite all over the world. And the reasons?  Reasonable used cars come with excellent quality and fast export services. However, when there are so many websites over the internet; how do you know which is the best? It took hours to research and a headache to finally decide a reliable exporter. CAR FROM JAPAN is your best used car site when it comes to looking for a place to buy a used car from Japan.
Your Biggest Super Market For Car
Car From Japan is the platform that connects buyers and car exporters from Japan. Many exporters are members of our website, include those big reputation ones in the market such as Al Ain Japan, Royal Trading, AutoRec, Tomisho… Therefore, when browsingCar From Japan you are not only looking at one single used car household but hundreds of used car storages from hundreds of exporters. Our car stock ensures you the vast selection of cars with the lowest price but highest quality for your best ride.
If choosing your dream vehicle is so difficult in our massive car stock list, just give details of your needs and budget, our sales assistant will do the picking up a part for you. The only thing you need to do is to look at the suggestions from our staff to choose the one that suits you the most.
Watch the video to see how easy it would be to buy car from Japan with our support!
Best Exporters To Your Nearest Port
Not only helping you to choose your car, we can also support you in finding the best Japanese used car exporters with experiences shipping the car to your country. Just give us the name or model of the car you want; we will send you those cars from the shipping experts that can help you go smoothly through those importing paper works without any restraint. Our exporters promise the whole import will be as simple, easy and peace of mind for you.
Join our FREE CAR GIVEAWAY Campaign here
Good Customer Service: Incredible Personal Support
Buyers are Car From Japan highest priority. Whether you're working with our sales assistant or talking directly to the exporters by yourself, Car from Japan is always there to support you. If you're in need of a little bit of translating, bargaining price, a faster reply from the exporters,… anything, ring us on. We're more than happy to help.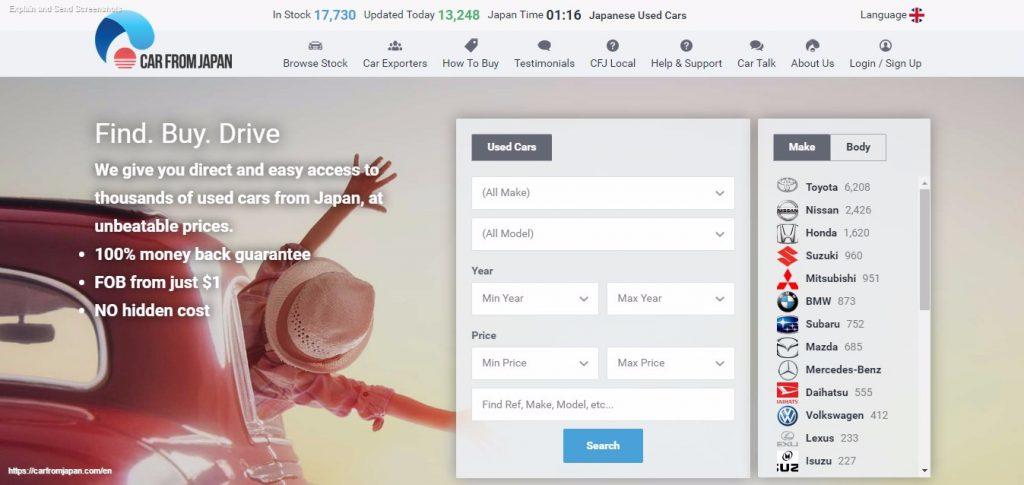 Easy Progress: with only 1 simple step of invoice and payment
No Paypal, no second step, Car From Japan payment system is super easy and at your most convenient. You can choose any of your preferred banks and send the money to our bank account. Scan or even take a photo of your telegraphic transfer and you're done. We will hold your car and wait until we receive your money. Once we received it, you're only a few days away from your dream vehicle.
Best Car Promotions Ever!
Car From Japan's promotions are unique like no others, and of course, preference to customer's profit. Now, whyCar From Japan can offer such promotions that no one else could possibly think of? Because we don't do the promotion on our own but together with our exporters. We are all united for customers best buying experiences.
For the sack of saving lots, go for FREE SHIPPING or FOB $1.
"Buy 1 get 2" or "Buy 2 get 1 Free" are huge deals for car dealers or if you happened to need more than one car.
If you're ready to buy your car but sort of money at the moment; 50-50 promotion can help you to get your car instantly instead of waiting for the next salary.
For surprised gifts such as $200 vouchers, or extremely hot sudden $500 coupon code, make sure you signed on the email list to receive car promotions and news fromCar From Japan.
Safe trade guarantee money from the best used car website
Car From Japan granted buyers money with Safe trade program. For buyers, we're your represent to deal with suppliers in Japan. Your money stays safe with us and will only be sent to exporter once you confirm that you have received the right car. Otherwise, you will get back 100% of the amount that you send to us, and the bank cost will be pay by us. We commit no money will be lost anyhow.
Car From Japan Vision is to connect all car buyers and sellers in the most innovative, efficient and authentic way. With the mission of providing trade solutions with a focus on convenience, opportunity and peace of mind; all Car From Japan staff have been working day and night to serve your well. With your services, we're proud to be your best used car website.