The advantages of using a Toyota Hiace Van bought off Car from Japan website.
Last updated
Feb 06, 2018
0 comments
The 75 years of Toyota are undoubtedly crystal clear reflection of "ever-better" cars. Toyota not only claims to take people places on road but also places in life. The philosophy to improve lives of driver and communities is meant to achieve a win-win situation for all. The aim of the company is to deliver professionalism and ease to the valued customers," the better the product the happy the customer".
One such car that Toyota prides in having made with mastery is the Toyota Hiace Vans that have dominated most African roads.
Toyota Hiace was initially launched in 1967. Ever since its launch it has gone through number of changes to facilitate the buyer.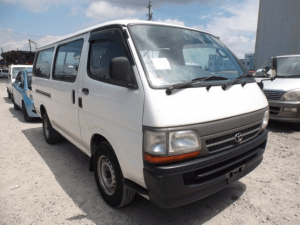 In all these years Hiace has become a trusted choice of government, fleet and private buyers. This reputation has been earned only by meeting the uncompromising demands of the end users. Beyond safe and exciting driving conditions Toyota introduces three Hiace van set-ups that suit the customers' expectations. The three Hiace van setup are:
Long wheelbase van: It's a reliable and handy with 6.0 meters of cargo capacity, sliding door, seating for three and airbags.
Commuter Bus: This is the best choice for comfortable ride. It has got exclusive cooler ventilation system, three point seat belts, increased storage availability and power sliding door.
Super long wheelbase van: It's easy and convenient drive; cargo handling capacity is 9.8 cubic meters, it has remote central locking, high roof and sliding door access.

Toyota Hiace Van Advantages
Comfy Exterior And Interior
Hiace has made the long days on roads more comfortable with its interior and more colorful with its exterior. The interiors have been designed to provide optimal usage and gentleness on nerves. The configurations are customized to meet each individual's needs. The seats are spacious, front windows are standard, heater and air conditioner are efficient. Hiace is well equipped with Bluetooth, audio system, steering control, MID, voice recognition, molded pockets and reversible camera for rear view. Antilock braking system and high rigidity body are its exceptional features.

Durability And Reliability
Toyota Hiace comes up with lifetime of advantages. The quality, reliability and durability of van speak for itself throughout the range. From long wheelbase van to commuter bus the perfection is evident. The genuine Toyota accessories ensure a fit to the model's style and performance. This integration is carefully and closely managed to comply with the maximum quality assurance standards. Being a family vehicle and due to easy availability of spare parts locally, the demand for used Toyota Hiace vans is increasing. Nowadays, used Toyota Hiace for sale is offered by both individuals and dealers. The used Toyota Hiace vans are available in petrol, cng and diesel. Different models of used Toyota Hiace include 2002, 1993, 1997, and 2006.
There are numerous online sources which provide for Toyota Hiace vans for sale. www.carfromjapan.com is however the most recommended site for the purchase of this great vehicle