Nissan Elgrand – Best Family Car
Japanese cars are world famous vehicles with top-quality, used by so many people from the various corners of the planet. There are many brands in Japan, which manufacture and release luxury, comfortable, relevant and affordable vehicles. One of very famous Japanese vehicle brands is Nissan. It has many variations and types of vehicles for all classes and preferences.
Nissan Elgrand General Characteristics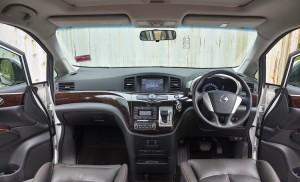 The Nissan Elgrand is one of very famous Japanese family vehicles. It was firstly manufactured in 1997. Elgrand will catch anyone's attention from the first sights. It is luxury, comfortable and really reliable. There are so many various models, likethe E50, the E51 and the E52. This huge vehicle consists of eight-seats; it is quite comfortable and spacious.
Are you looking for an used Japanese car? CLICK HERE NOW
If you want to go for a vacation with your family, this car is a perfect choice. So, if you go to vacations frequently, you need to have this car. The car quality is really perfect, with great power ad amazing style. Nissan Elgrand offers comfort for both the driver and the passengers. It is considered to be one of the best minivans. Comparing the quality of the minivan to its price, the latter is quite reasonable.
Performance
Nissan Elgrand is really powerful, with great specifications. Its engine is 2,488cc with a 16-valve. The fuel consumption is really economical, consuming 9.3 liter fuel per 100km.It has a maximum speed of 180kmh. It has a horsepower of 170bhp at 5,600rpm. When it comes to safety and stability, Elgrand will never compensate on it. What is really interesting, the Nissan Elgrand has a 360 view monitor that enables the driver to see everything. There is obstacle detect sensor, which will help the driver to avoid hitting anything when parking.
Are you looking for an used Japanese car? CLICK HERE NOW
Stylish Exterior
Both the exterior and the interior of Elgrand are really attractive and tempting. You can fall in love with the first sight. Though it is a minivan, you will really like what you see. Nissan Elgrand looks really impressive and unique. Elgrand has additional two sunroofs at the top, which enable the free flow of fresh air to go in and out, allowing sunlight rays to penetrate into the cabin.
The cabin is really spacious, making the ride really comfortable. It has a music box, which supports CD, DVD and USB. Travelling in Nissan Elgrand is a real pleasure and joy for both the driver and the passengers.