Audi Q7 2017-The Second Generation that will lead the Automobile World.
Audi took a lot of time to manufacture this masterpiece. The engineering team had work upon this second generation of Q7 for almost eight years back from now. The new model reveals why it took such long time to get the successor launched in the market. During this period of manufacturing, the car was thoroughly examined and given all the attention by the makers to craft something out-worldly. The Audi Q7 2017 is second generation's pilot vehicle and an important part of the VW group. The predecessor has more than 500,000 units sold in the international market, which is why Audi was in no hurry to replace it with the new successor.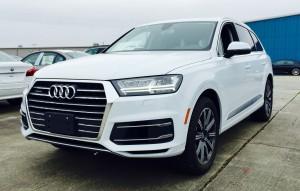 The Aggressive Look That Define Second Generation
About the second generation, the Audi Q7 review shows that the new model has the more aggressive look than the other SUVs in the market. Though it has lost a few inches and has become slightly smaller than its predecessor yet it is more than offset for its new grille and the boxy fenders. These altogether allude to Audi's legendary. The 2017 Audi Q7 has been embellished by decorative silver trim around the lower flanks, making it look fantabulous as always.
New Features in the Audi Q7 2017
It is nearly impossible to believe that the new generation has around 700 pounds less weight than the previous one. The new Audi Q7 has an alluring 148n pounds weight and the body manufactured of Aluminium. Another great thing is its efficiency. The second generation Audi Q7 has 3.0-liter TDI with 272 horsepower, and there is another engine which gives off 3.0-liter V-6 with 333 horsepower. Both cars show the strong points and are lighter, thus more efficient than the previous model. The noise from the diesel engine in the previous generation doesn't exist in the new design. Audi Q7 reliability factors are more, and it seems to be an enticing buy.
The Q7 is emerging as an excellent design leader. It has an elegant and stylish interior which clearly speaks of the royalty Audi vehicle possess. The interior of this model is extremely contemporary, breathtakingly aesthetical and perfectly functional in all spheres. The TFT instrument cluster has an alluring and classy design which everyone would love. Q7's dashboard has the traditional screen, and it provides much useful information.
There is plenty of space for both driver passengers to feel comfortable and enjoy along with an optional third-row seat. The Q7 has plenty of sensors and advanced technologies which have got too many new features. There is auto braking, monitoring for blind spot and cruise control as well. With all these striking modifications and amendments the Audi SUV price has been told to be about $55,750.