Methods to Remove Car Decals Effectively
Who doesn't want their car to look great? We choose the color and model so cautiously as to match with our personality, and then we customize it according to ourselves. And, a very popular way to add character to cars is embellishing them with decals. While they look great on cars, it is often difficult to remove car decals without damaging the paint. It is also, often a problem if you wish to put up your old car for sale. Any scratch or loss of luster reduces a few dollars off the offer price and sell and line it with discounted cars.
So, is there a safe way to take them off while still maintaining the shine of the paint? Of course, there is. There is more than one, in fact. Here are top 4 methods of taking decals off safely.
Top 4 Methods to Remove Car Decals Safely
You can follow any of these 4 methods to remove decals from your car or any other vehicle. But, before that, there are two maintenance tips you must always keep in mind.
– Do not use any sharp or pointed objects to remove the stickers. It is sure to leave scratches.
– Do not use thinner or nail paint remover. I may remove the sticker but may also leave visible stains.
     SEE MORE:
Blow Drying
Simply heat the surface of the decal at the lowest heat setting for 30-40 seconds. Keep the blow dryer at a distance of 5-6 inches from the car surface. Remember that very high heat is likely to chip the paint off. Now start peeling of the decal from a corner with the help of a rubber or silicon spatula. Remember, no sharp objects. Repeat heating, if necessary to take of the entire decal. It may not, however, be a great idea for relatively new cars. Works excellently for old cars, though.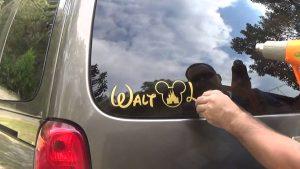 Make sure that you wipe of the residue with some rubbing alcohol dabbed on a lint-free cleaning fabric. If you can, buff and top it up with some protective wax.
Solvents
You can opt for WD-40 or a lighter fluid. Just pour a small amount on a clean rag and start rubbing on the edges with moderate pressure. The decal will start coming off from the edges. Take it from here, peeling it off with your fingers. As for the adhesive stains, clean with rubbing alcohol as mentioned before. If you need buffing and polishing, go for it. It will make the patch look flawless.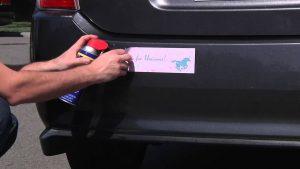 Kitchen Cleaners
Mild kitchen/dish cleaning soaps can do the magic if you let the diluted solutions soak into the decal for a few minutes. Shampoos and conditioners can also work. After you let the solution seep in for a short while, you can simply pull out the stickers. Just make sure that if you are using a kitchen cleaner, it is not harsh or vinegar-based. It can damage the car paint.
Boiling Water
Simply wet a rag with boiling water and put it on the decal. Just make sure that you don't burn yourself. Keep it so for a minute or so. Try to peel off the decal from a corner. It should be easy hereon. You can also pour boiling water repeatedly over decals, just like you do for fixing car minor dents at home.
The basic idea behind all these methods to remove car decal is to safeguard the paint underneath the sticker. If you take care of the riders that we mentioned in the beginning, you can do the job without any damage at all. So, peel away.